Alissa Violet Diet and Workout Plan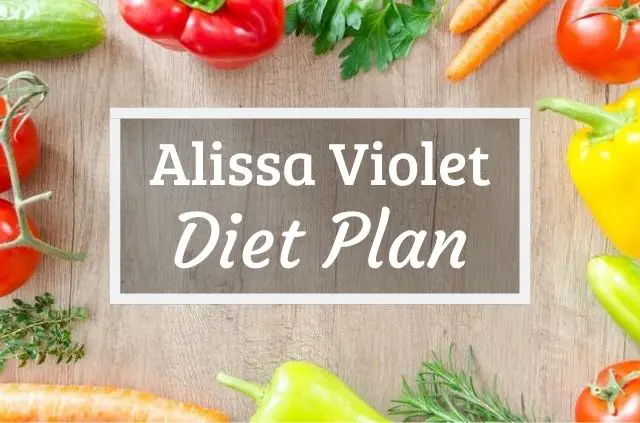 The Alissa Violet diet combines lean protein and low carbs. She eats clean most of the time but also enjoys a cheat meal once in a while. As a model, she needs to maintain a lean and healthy physique year-round for photoshoots. Keep reading for a more detailed look into Alissa's diet and workout plan.
Who is Alissa Violet?
Alissa Violet is a model, actress, and social media influencer. She was born and raised in Brunswick, Ohio, but choose to move to Los Angeles to pursue her dream of modeling. Alissa rose to fame on popular apps such as YouTube, Instagram, and Vine, and has been featured in Milan Fashion Week.
Stats
Height: 5'9″ (176 cm)
Weight: 137 lbs (62 kg)
Year of birth: 1996
Alissa Violet Diet
The below meal plan is just one example day of eating. Alissa doesn't eat like this everyday, but she generally eats clean most of the time. For breakfast she will have eggs whites, with veggies and coffee. Lunch and dinner will either be a large salad with chicken, or lean meat with steamed vegetables. Alissa will also include one light snack during the day.
Breakfast: Coffee with oat milk, 1 cup egg whites, spinach, and hot sauce
Lunch: Salad with chicken breast, mixed greens, spinach, olive oil, peppers, tomatoes, cucumbers, salt, and pepper
Snack: Greek yogurt with blueberries
Dinner: Chicken breast, olive oil, broccoli, salt, and pepper
Carbohydrates
You can see that Alissa's regular diet includes very little carbs. In fact, most of her carbs come from vegetables and fruit. Before hardcore training sessions, Alissa will allow herself to have a cup of oatmeal. This gives her that extra energy to push through intense workouts. Remember, this diet works for her, but it might not work for you.
There are many different diet plans that can aide in weight loss. Carbs are not the enemy, but eating less of them does help your body burn fat. Alissa recognizes that her body still needs to function with carbs, she just eats them in controlled amounts, and only before working out.
Cheat Meals
Once in a while Alissa will treat herself to burgers, pizza, or frozen yogurt. Junk food will not impact your diet when you're only eating it once a week. A cheat meal can actually help your sanity and keep you from getting burned out on a diet. The problem is when a cheat meal turns into a cheat day. This can have a negative impact and slow down your progress.
Alissa Violet Workout
Alissa combines cardio and bodyweight workouts to maintain her toned physique. On some exercises she will use a kettlebell, or dumbbells, at a low weight. The goal for these strength workouts is to improve endurance. This means using lighter weights with more repetitions. With this style of training you can tone your muscles and get a good cardio workout.
Monday
5 minutes of dynamic stretching
5 minutes walking on treadmill to warm up (no incline)
45 minutes walking on treadmill (moderate incline)
5 minutes walking on treadmill to cool down (no incline)
Tuesday
Warm up: 5 minutes of stretching, or walking on the treadmill
1st exercise: Bodyweight squat 2 x 25
2nd exercise: Bodyweight plank 2 x 30 seconds
3rd exercise: Ab crunch 2 x 25
4th exercise: Jumping jacks 2 x 25
5th exercise: Bodyweight lunge 2 x 30
6th exercise: Wall sit 2 x 30 seconds
7th exercise: Bodyweight glute kick 2 x 25
8th exercise: Bodyweight push up 2 x 15
9th exercise: Ab sit up 2 x 25
Wednesday
5 minutes of dynamic stretching
5 minutes walking on treadmill up (no incline)
30 minutes walking on stair stepper (moderate pace)
5 minutes walking on treadmill to cool down (no incline)
Thursday
Warm up: 5 minutes of stretching, or walking on the treadmill
1st exercise: Straight leg deadlift with kettlebell 2 x 10
2nd exercise: Bosu ball jump squat 2 x 20
3rd exercise: Grasshoppers (on core sliders) 2 x 20 for each leg
4th exercise: Pikes (on core sliders) 2 x 20
5th exercise: Knee tucks (on core sliders) 2 x 20
6th exercise: Side-to-side bench jumps 2 x 10 for each leg
7th exercise: Kettlebell deadlift into a squat 2 x 20
8th exercise: Kettlebell side squat 2 x 20 for each leg
Friday
5 minutes of dynamic stretching
5 minutes elliptical warm up (slow pace)
45 minutes elliptical (moderate pace)
5 minutes elliptical cool down (slow pace)
Saturday
Warm up: 5 minutes of stretching, or walking on the treadmill
1st exercise: Standing leg abduction with resistance band 2 x 25
2nd exercise: Standing hip extension with resistance band 2 x 25
3rd exercise: Dumbbell seated biceps curl 2 x 20
4th exercise: Standing hamstrings curl with resistance band 2 x 25
5th exercise: Dumbbell overhead triceps extension 2 x 20
6th exercise: Lying bent leg abduction with resistance band 2 x 25
7th exercise: Lying leg curl with resistance band 2 x 25
8th exercise: Lying lateral leg raise with resistance band 2 x 25
Sunday
1st exercise: Regular crunch 3 x 20
2nd exercise: Reverse crunch 3 x 20
3rd exercise: Ab leg lift 3 x 20
4th exercise: Ab flutter kicks 3 x 20 for each leg
5th exercise: Criss cross crunch 3 x 20 for each leg
6th exercise: Bicycles 3 x 20 for each leg
Search Terms
Alissa Violet diet
Alissa Violet workout plan
Similar Physiques