Are Rice Krispies Gluten-Free?
Avoiding gluten can be challenging – whether you have an allergy or follow a specific diet. It can also confuse things when it comes to finding a safe breakfast cereal. This raises an important question: are Rice Krispies gluten-free?
Rice Krispies are not gluten-free, because they contain additives that may contain gluten. When inspecting the nutritional label on this product, malt syrup is listed as one of the ingredients.
Malt syrup is a type of sweetener that is produced from barley – which naturally contains gluten. The good news is, there are other brands of rice cereals that are gluten-free and safe to eat.
What is Gluten?
According to the Celiac Disease Foundation, "Gluten is a general name for the proteins found in wheat, rye, barley, and triticale – a cross between wheat and rye".
Maybe you have a family member, friend, or co-worker who follows a gluten-free diet. Some of them might think that avoiding these types of foods is healthy and helps with weight loss.
But some individuals have an immune reaction to eating gluten, also known as celiac disease. It's crucial for these people to avoid gluten consumption, or they risk getting very sick.
Wheat is mostly found in:
breads
baked goods
soups
pasta
cereals
sauces
salad dressings
roux
Barley is mostly found in:
malt (malted barley flour, malted milk and milkshakes, malt extract, malt syrup, malt flavoring, malt vinegar)
food coloring
soups
beer
Brewer's Yeast
Rye is mostly found in:
rye bread, such as pumpernickel
rye beer
cereals
Gluten-Free Rice Krispies Brands
Rice Krispies cereal have become a household staple ever since Kellogg's introduced them 1928. In fact, people of all ages have grown to love the famous "talking cereal" (snap, crackle, and pop).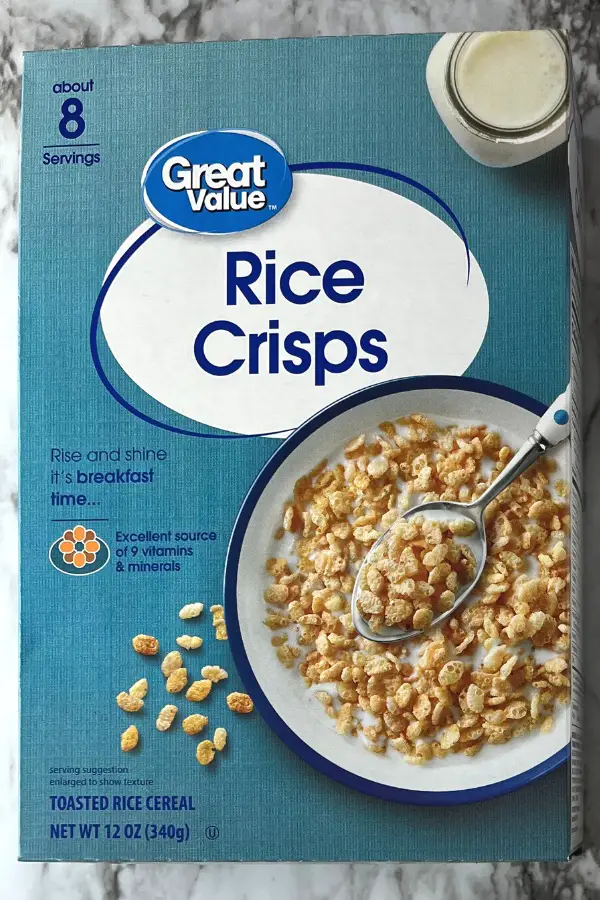 But it didn't take long for other companies to notice how popular Rice Krispies were and make their own crispy rice version. This is good news for people who can't eat gluten, because different ingredients can be used to achieve the same result.
Here's a list of gluten free crispy rice cereal brands:
1. Great Value Rice Crisps
Great Value Rice Crisps are a delicious toasted rice cereal. You can find them across Walmart stores nationwide at a (you guessed it) great price. The ingredients are:
Rice
Sugar
Corn syrup
Salt
Vitamins and minerals
2. Aldi Crispy Rice
Aldi Crispy Rice is also gluten-free. This product is manufactured by Millville and it resembles the classic breakfast cereal. The Aldi Brand Crispy Rice ingredients are:
Rice
Sugar
Corn Syrup
Salt
Vitamins and minerals
3. Wegmans Crispy Rice
This Crispy Rice cereal is another budget-friendly option. It tastes good and only has a handful of ingredients. You can find this gluten-free oven toasted rice product at Wegmans. It's made from:
Rice
Sugar
Corn syrup
Salt
Vitamins & minerals
4. Nature's Path Crispy Rice
This gluten-free brand of crispy rice cereal has 35g of whole grains per serving and it's low in fat. Nature's Path Crispy Rice is also organic and vegan. The ingredients are:
Brown rice flour
Cane sugar
Sea salt
Molasses
5. 365 Brown Rice Crisps
This 365 Brown Rice Crisps cereal can be found in Whole Foods and on Amazon. It's gluten-free, organic, and will provide you with 39g of whole grains per serving. The ingredients are:
Organic whole grain brown rice
Organic cane sugar
Sea salt
Final Thoughts
This article started with a simple question: are Rice Krispies gluten-free? At this point you have learned that Rice Krispies are made with malt syrup – which may contain gluten.
The good news is there are other brands available that make gluten-free rice cereal. Many of these products even look and taste similar – so you won't be able to tell the difference.
Further Reading
Search Terms
Are Rice Krispies Gluten-Free?
Gluten-Free rice cereal