Austin Dunham Diet and Workout Plan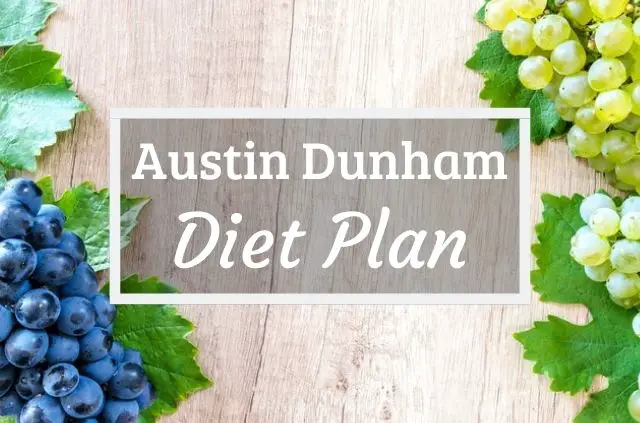 The Austin Dunham diet follows the standard bodybuilding approach to nutrition. He goes through periods of bulking and cutting, and will usually eat around four meals per day. Austin's workout style combines calisthenics and bodyweight exercises. This allows him to train wherever he wants, without relying on a gym membership. Keep reading for more information regarding Austin's diet and exercise routine.
Who is Austin Dunham?
Austin Dunham is a fitness model, entrepreneur, and influencer. He gained a massive amount of popularity after sharing his 3 year natural physique transformation online. Austin's YouTube and Instagram focus on calisthenics workouts, bodyweight exercises, diet, and nutrition advice.
Stats
Height: 5'10" (178 cm)
Weight: 181 lbs (82 kg)
Year of birth: 1996
Austin Dunham Bulking Diet
If you're a naturally skinny guy like Austin, you need to find creative ways to gain weight. For breakfast he would usually drink a bottle of Pedialyte, but has since switched to a Boost weight gain shake. They have over 300 calories in each 8 ounce bottle. These calories can really help with weight gain.
1st meal: 4 whole eggs, 2 cinnamon swirl bagels, strawberry cream cheese, and a Boost weight gain shake
2nd meal: Cereal with Premier Protein shake mixed in and one banana (pre-workout meal)
3rd meal: Bowl with chicken, white rice, black beans, cheese, and chipotle ranch sauce
4th meal: Mass gainer protein shake and a Chobani flip yogurt
3,300 calories | 210 grams protein | 85 grams fat | 400 grams carbs
Austin Dunham Cutting Diet
When it comes time to burn fat, Austin has a specific way of eating throughout the day. He doesn't like to consume more than 500 calories for the first meal. Austin does this because he likes to save a larger portion of his daily calories for later in the day. It gives him more flexibility on what to eat later.
1st meal: 3 whole eggs, 1 packet Quaker Protein oatmeal, 2 slices bread, and 56 grams deli turkey meat
2nd meal: 1 scoop whey protein and 1 cup unsweetened vanilla almond milk
3rd meal: Bowl with chicken, white rice, black beans, and chili sauce
4th meal: Kashi Honey Almond Flax Crunch, 1 cup unsweetened vanilla almond milk, and 28 grams mixed nuts
1,860 calories | 160 grams protein | 69 grams far | 183 grams carbs
Chest Workout
Here is a bodyweight chest workout from Austin that doesn't require any equipment. You want to focus on speed here, as the entire workout should be completed in under five minutes. Due to the short time period and intensity of the movements, you may experience lactic acid buildup in the chest muscles.
1st warm up: Push up 2 x 10
2nd warm up: Push up and hold 2 x 10 seconds
30 seconds of rest before moving on
1st exercise: Hand release push up x 5
2nd exercise: Archer push up x 5
3rd exercise: Push up x 5
30 seconds rest
4th exercise: Alternating shoulder tap x 10
5th exercise: Diamond push up x 5
6th exercise: Shoulder push up x 10
7th exercise: Wide arm push up x 5
8th exercise: Alternating shoulder tap x 10
9th exercise: Push up x until failure
Back Workout
This is a calisthenics focused back workout that can be done almost anywhere. All you need is a pull up bar and a resistance band. This workout from Austin is very intense and it will fatigue your muscles from all of the pulling movements. Try the exercises below for an explosive back workout.
1st exercise: Band assisted chin up 5 x 3-5
2nd exercise: Explosive wide to close grip pull up 4 x 6-8
3rd exercise: L-rows 4 x 6-8
4th exercise: Single arm row 3 x 10-15
5th exercise: Bodyweight pull up 2 x to failure
Shoulder Workout
This is another intense workout from Austin that focuses on building the shoulder muscles. Because it's a bodyweight workout, it involves a lot of pike push ups. If you don't know what a pike push up is, they're basically a combination of push ups and the downward-facing dog yoga pose.
1st exercise: Pike hold 2 x 10 seconds
2nd exercise: Pike push up 2 x 5
20 seconds rest
3rd exercise: Pike alternating shoulder tap x 10
4th exercise: Pike push up x 5
20 seconds rest
5th exercise: Plank twist x 20
30 seconds rest
6th exercise: Pike hold x until failure
7th exercise: Handstand hold x until failure
8th exercise: Pike push up x until failure
Leg Workout
Here is a bodyweight leg workout that is guaranteed to get your heart pumping. What makes this so challenging is the combination of jumping movements and static holds. Any exercise that forces you to freeze a position can get hard very quickly and it also works other muscles in the body.
1st exercise: Jumping jacks to squats x 30 seconds
2nd exercise: Assisted pistol squats x 10 (each leg)
3rd exercise: Bodyweight air squats x 15
30 seconds rest
4th exercise: Bulgarian lunges x 10 (each leg)
5th exercise: Forward lunges x 10 (each leg)
30 seconds rest
6th exercise: Bodyweight squat and hold x 30 seconds
7th exercise: Jumping jacks to squats x 10
Search Terms
Austin Dunham diet
Austin Dunham workout plan
Similar Physiques