Cameron Diaz Diet and Workout Plan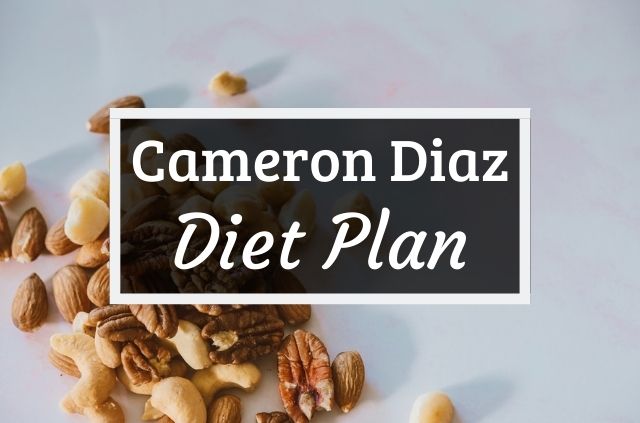 The Cameron Diaz diet follows a Mediterranean way of eating. She consumes lean protein, vegetables, and healthy fats on a daily basis.
Cameron credits eating and getting plenty of sleep as the secret to aging well – a lifestyle she adopted to live a healthy and wholesome life.
Who is Cameron Diaz?
Cameron Michelle Diaz is an American actress, model, author and producer. She was born and raised in California, to a Cuban father and an English and German mother.
Cameron married Benji Madden in 2015 and together they have a daughter named Raddix Madden.
Early Career
Cameron began modeling at the age of 16 when she was signed by Elite Model Management – an agency responsible for launching the successful modeling careers of many top models and actresses.
The actress went on to star in numerous box-topping movies, such as Charlie's Angels , The Mask, My Best Friend's Wedding, There's Something About Mary, Shrek, Being John Malkovich and Vanilla Sky.
She made her mark as the fifth highest earning actress at the US domestic box office, with her films gross earnings being recorded at over USD 3 billion in the US and surpassing USD 7 billion worldwide.
Cameron retired from acting in March 2018 .
Cameron Diaz Diet Plan
As we briefly mentioned in the sections above, Cameron is heavily invested in health and nutrition. She views it as more of a lifestyle choice, rather than something she needs to do for her career.
Once her acting came to an end, Cameron invested in health and biotech startups. She focused on seed health and modern acupuncture, and she also published two health books.
Cameron has also adopted a Mediterranean diet. This diet encourages abundant consumption of fruits, vegetables and whole grains.
In addition, you can eat moderate amounts of dairy, white meat, and low consumption of red meat , processed foods, refined grains and sugars.
Her mantra for meals is protein, carbs , good fats and leafy greens. Cameron prefers to cook for herself at home, even though she enjoys a night out with friends.
Cameron's Breakfast
On a typical day, Cameron starts off with a big glass of water then proceeds to have two breakfasts. One gives her enough energy before the gym and the other is a post-workout meal.
Her choice of first breakfast includes light but protein-rich options such as overnight oats, scrambled eggs and apples with almond butter.
Cameron refers to her second breakfast post-workout as eating dinner for breakfast. This is when she will have chicken, steamed or sauteed veggies, and grains.
This also keeps her from snacking in the course of the day and eating junk food.
Cameron's Lunch
Her lunch includes salads combined with herbs to ensure great taste in the dishes. Cameron also adds a lemon squeeze to salads or marinades.
She enjoys what she refers to as whatever-you-got ramen, which is basically a combination of the vegetables she has at hand combined with instant ramen noodles which are then made into a broth.
Cameron's Dinner 
For dinner, Cameron opts for savory protein-rich dishes with grilled lamb chops being one of her favorites.
She prepares most of her dishes with lemon, garlic, olive oil and salt. To achieve maximum flavor, she will also marinade her meats for a few hours.
However, when she is dining out with friends, Cameron will indulge in meals such as pork belly and calls any meal shared with a friend "a good meal".
She also enjoys recreating the Cuban meals that her dad made for her as a kid.
One of her favorites is the Bistec de Palomilla, which is a pan fried steak marinated in lime juice, garlic, salt, and pepper. She pairs this meal with an avocado salad on the side.
Cameron Diaz Workout Routine
Cameron embraced fitness after filming Charlie's Angels and she is dedicated to various gym and outdoor workouts. This type of work ethic helps her maintain a lean and toned physique.
These workouts are guided by the fact that she listens to her body actively and makes changes to her exercise routine when needed. 
Gym Workouts
Cameron prefers to work out in the morning for at least 10 minutes each day. These morning workouts include cardio, strength training, outdoor activities.
Strength Training
Cameron uses weights for strength training of her upper and lower body. She also incorporates Pilates into her workout, to help build her muscle tone. 
Her core workout also includes challenging plank moves such as waist twist, ab squeeze, standing crunch, and roll-ups among others.
Single leg squats, side curtsies, and calf raises encompass her lower body workout moves.
Cardio Workouts
Cameron's favortie cardio workout is HIIT, which engages her whole body. This stands for high intensity interval training.
She also includes other activities such as dancing, walking, and cycling to keep her heart moving and active.
Outdoor activities 
For her outdoor exercise, Cameron indulges in paddleboarding, hiking, swimming, and golfing. There's nothing better than enjoying an outdoor activity that also improves your fitness!
Similar Physiques
Search Terms
Cameron Diaz diet plan
Cameron Diaz diet workout routine