Cameron Hanes Diet and Workout Plan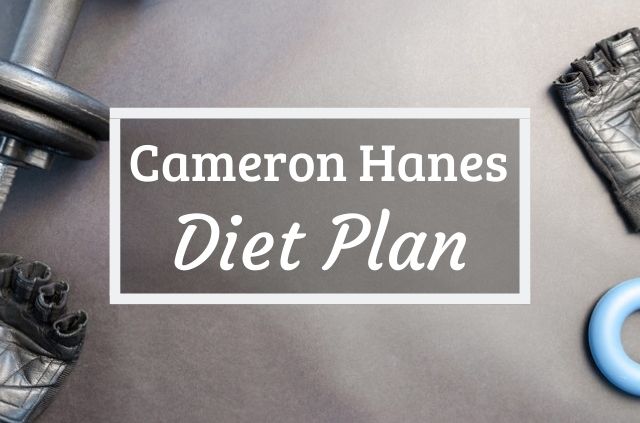 The Cameron Hanes diet is a high calorie, protein packed meal plan. Due to his intense level of endurance training, Cameron needs to constantly be fueling his body every 2-3 hours. He eats wild game meat, avoids added sugar, dairy, and alcohol. Keep reading for a more detailed look into his nutritional plan.
Who is Cameron Hanes?
Cameron Hanes is an athlete, bowhunter, entrepreneur, and author. Born and raised in Eugene, Oregon, he's always had a passion for the outdoors. Cameron is known for his hardcore exercise regime. Some of his training includes 10 mile runs, archery practice, weightlifting, and carrying heavy rocks up mountains. Cameron is a frequent guest on the popular Joe Rogan Experience podcast.
Stats
Height: 5'8″ (172.72 cm)
Weight: 165 lbs (74.84)
Year of birth: 1967
Cameron Hanes Diet
Cameron's body requires a lot of food to keep up with his intense workout routine. He eats smaller meals every 2-3 hours, in order to have energy and feel less bloated. This is a standard way of eating for most high performance athletes. Cameron isn't afraid to eat carbohydrates, because he needs them for running every day.
1st meal: 4 eggs and 2 pieces of whole wheat toast with butter
2nd meal: 2 scoops of whey protein and mixed nuts
3rd meal: 6 ounces of chicken, pasta, marinara sauce, and bread
4th meal: Reduced fat turkey sandwich on whole wheat bread
5th meal: 1 apple and 2 tablespoons of peanut butter
6th meal: 6 ounces of steak, 1 sweet potato, and broccoli
Cameron avoids added sugar, dairy, and alcohol. Protein, complex carbohydrates, and healthy fats are the foundation of his diet. This helps him maintain a solid amount of muscle mass needed for hunting, lifting weights, and running. Cameron doesn't want to look like a bodybuilder, or a runner. His goal is to be a well-rounded athlete.
Post Workout Protein
Cameron makes sure to drink a post workout protein shake, immediately after working out. He will mix water, ice, a banana, two scoops of whey protein, and a handful of blueberries into a high quality blender. This provides both carbohydrates and protein needed to repair his muscles after training.
Wild Caught Game
As a hunter, Cameron is always eating some kind of wild game meat. A majority of his meals are from this type of food. Cameron has a better idea of exactly what he's putting into his body, because he's hunted and prepared it. When buying meat from a grocery store, it's often loaded with hormones and antibiotics. This is one of the benefits to eating wild game meat.
Cameron Hanes Workout Plan
Most of Cameron's workouts are aimed at improving his biggest passion – hunting. This can be a very strenuous activity, as it involves carrying heavy gear across rugged terrain. In addition to bettering himself as a hunter, Cameron is also a marathon runner, weightlifter, and advanced hiker.
Running
Cameron is very experienced when it comes to running however, that wasn't always the case. There once was a time when he had trouble running one mile. Cameron has improved a lot since then and has run marathons, ultramarathons, and does mountain running.
To maintain his physique, Cameron will run 100 miles each week. A majority of his runs are completed during his lunch break, where he will run around 13 miles each. Cameron proves that you can balance a full time job, family, and still be a top level runner.
Hunting Training
One of Cameron's most popular hunting workouts is carrying a 130 pound rock up and down a mountain. This is an intense exercise that tests both your physical and mental ability. It's also a workout that doesn't require a gym membership, or any type of exercise equipment.
You can use a large backpack, or carry the rock on one of your shoulders. Cameron has tried both methods when training, as he's always looking to find new ways to challenge himself. The idea behind this workout challenge is to simulate the amount of weight of an animal carcass from bowhunting.
Weightlifting
Weightlifting is another important part of Cameron's workout plan. His overall goal with weight training is to make his body stronger and help prevent injuries. Cameron isn't looking to build massive amounts of muscle like a bodybuilder. He instead wants to stay lean and strong like a top level athlete.
Weightlifting can also help prevent injuries. Amateur runners often neglect weight training and only focus on running. Cameron says it's important to build strong quads, hamstrings, and calves before going on long distance runs. You also want to have a strong core, to better stabilize your body when in motion.
Heavy compound movements are the best exercises you can do to achieve this. Cameron will do squats, deadlifts, and the bench press for a full body workout. These movements also help when running, because they can prevent injuries.
Search Terms
Cameron Hanes diet
Cameron Hanes workout plan
Similar Physiques