Chloe Ting Diet and Workout Plan
The Chloe Ting diet combines home cooked meals with clean eating. She rarely goes out to restaurants, because of the large portion sizes. Instead, Chloe prepares her own food, so she knows what the macros and calories are for each meal.
Because Chloe eats clean most of the time, she can still have chocolate and other treats. Continue reading for a more detailed look into her nutrition and training style.
Who is Chloe Ting?
Chloe Ting is a social media influencer, YouTuber, and fitness icon. She was born in the tiny nation of Brunei, in Southeast Asia. After high school Chloe moved to Australia, where she still resides.
She began a corporate job as a statistician, but transitioned to YouTube. Her channel focuses on travel, fashion and fitness related content.
Stats
| | |
| --- | --- |
| Height | 5′ 1″ (155 cm) |
| Weight | 115 lbs (52.2 kg) |
| Year of birth | 1986 |
Chloe Ting Diet
It's much easier for Chloe to stay on track when she cooks her own food. Portion sizes can be too much when eating out and you don't know the macros, or calories.
This example day of eating shows some of Chloe's favorite dishes, that can be made in 10 minutes or less. She will usually eat breakfast, lunch, dinner, and a snack each day.
Day of Eating 1
| | |
| --- | --- |
| Meal 1 | Sourdough toast, 2 poached eggs, avocado, and jam |
| Meal 2 | Sandwich with pizza bread, chicken, cheese, tomatoes, yogurt, and spinach |
| Meal 3 | Ginseng chicken, goji berries, chestnuts, rice, and vegetables |
| Meal 4 | Overnight oats, strawberries, and crushed biscuits |
Day of Eating 2
| | |
| --- | --- |
| Meal 1 | 1/2 cup old fashion rolled oats, organic unsweetened almond milk, Stevia, cinnamon, honey, almond butter, and a banana |
| Meal 2 | Salad with Salmon, Greek style feta cheese, cucumbers, tomatoes, red peppers, olive oil, salt, and pepper |
| Meal 3 | Jell-O and Strawberry & Pistachio Pana Chocolate |
| Meal 4 | Shrimp stir fry with cilantro, soy sauce, chili flakes, fish sauce, lime, spinach, tomatoes, and rice |
Chloe doesn't eat like this everyday. These are just some of her favorite meals. In addition to following a clean diet, Chloe also takes supplements.
She loves eating vegetables, but has a very sensitive stomach. To help with stomach bloating Chloe takes gut relief powder, Vitamin C, and fiber.
Chloe Ting Workout
When it comes to her training routine, Chloe likes to keep it simple. She doesn't needs hundreds of different pieces of equipment, or spend hours in the gym each day.
Chloe is a supporter of high intense bodyweight exercises, with limited rest between sets. Getting your heart rate up with the movements shown below will put your body in a fat burning mode.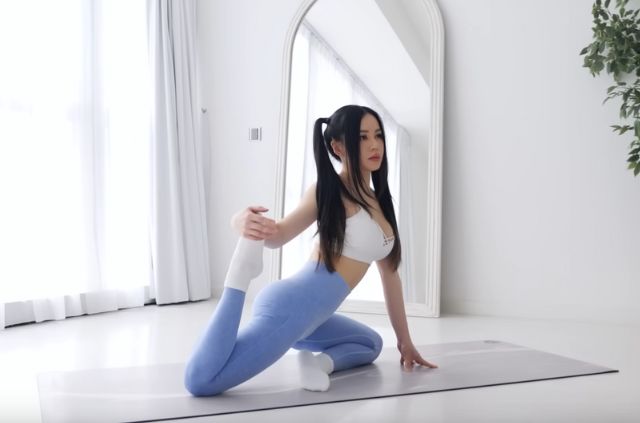 Chloe's workout schedule varies depending on her fitness goals. Your workout and diet plan will change if you want to bulk up and gain muscle, or lose fat.
When it comes to training, the most important factor to consider is finding a workout plan that fits your schedule. Don't workout in the morning if you hate waking up early. If you force yourself to be fit, your workout plan will fail in no time.
Warm Up Routine
Standing march in place x 30 seconds
Cross body alternating toe touch x 30 seconds
Alternating arm overhead reach x 30 seconds
Standing arm circles x 30 seconds
Inchworm x 30 seconds
Lunge tap x 30 seconds
Alternating side lunge x 30 seconds
Squat with arm cross x 30 seconds
Low lunge x 30 seconds
Leg circles x 30 seconds
Standing alternating leg crunch x 30 seconds
Cross jacks x 30 seconds
Abs and Glute Workout 1
Russian twist chop x 30 seconds
5-15 seconds rest
Bicycle crunch x 30 seconds
5-15 seconds rest
Ab leg raise x 30 seconds
5 -15 seconds rest
Alternating toe touches x 30 seconds
10 seconds rest
Side plank crunch (left) x 30 seconds
10 seconds rest
Side plank crunch (right) x 30 seconds
10 seconds rest
U-Boat crunch x 30 seconds
Side-to-side heel touches x 30 seconds
10 seconds rest
Spider plank x 30 seconds
Plank tap x 30 seconds
15 seconds rest
Fire hydrant kick (left) x 30 seconds
Fire hydrant kick (right) x 30 seconds
10 seconds rest
U-raise (left) x 30 seconds
U-raise (right) x 30 seconds
Abs and Glute Workout 2
Side plank hip abduction (left) x 30 seconds
Side plank hip abduction (right) x 30 seconds
5 seconds rest
Single leg glute bridge (left) x 30 seconds
Single leg glute bridge (right) x 30 seconds
5 second rest
Stomach glute flutter kicks x 30 seconds
Stomach hip abduction x 30 seconds
5 seconds rest
In and out crunch x 30 seconds
Glute bridge x 30 seconds
5 seconds rest
Plank kickback (left) x 30 seconds
Plank kickback (right) x 30 seconds
5 second rest
Donkey hydrant kick (left) x 30 seconds
Donkey hydrant kick (right) x 30 seconds
5 second rest
Stomach hip abduction x 30 seconds
Upper Body Workout
Arm circles x 30 seconds
C-rotation x 30 seconds
5 second rest
Triceps wall push-up x 30 seconds
5 second rest
Triceps dip with toe touch x 30 seconds
5 second rest
Knee push-up to child pose x 30 seconds
10 second rest
One leg table top (left) x 30 seconds
5 second rest
Swimmers x 30 seconds
5 second rest
One leg table top (right) x 30 seconds
10 second rest
Side push-up (left) x 30 seconds
5 second rest
Side push-up (right)x 30 seconds
10 second rest
Pike push-up x 30 seconds
5 second rest
High plank rotation x 30 seconds
5 second rest
Inverted plank x 30 seconds
Arm circles x 30 seconds
5 second rest
Back pulses x 30 seconds
5 second rest
Up arm pulse x 30 seconds
Down arm pulse x 30 seconds
Search Terms
Chloe Ting diet plan
Chloe Ting workout routine
Similar Physiques