Dixie D'amelio Diet and Workout Plan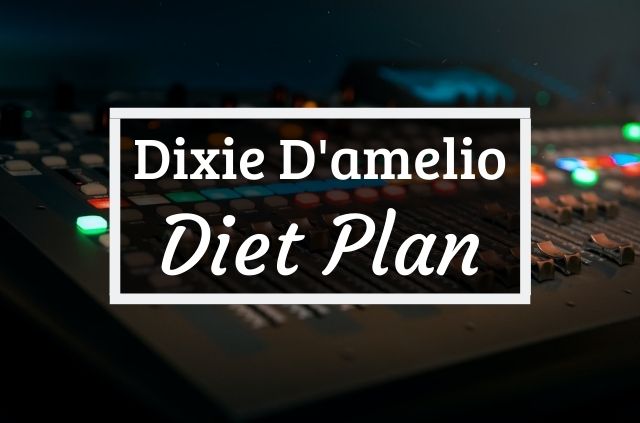 The American Youtube and TikTok sensation, Dixie D'amelio, has been rising in fame with each passing day. Not only do her fans admire her for her humor and sdance moves, but also her skinny and flexible body. For some people she is the ultimate body goals.
If you also want a thin and toned physique like hers, you should continue reading this article that will give you all the information you need on the Dixie D'amelio diet and workout plan. Keep reading to find out how you can train and eat like her.
Who is Dixie D'amelio?
Before we dive into the Dixie D'amelio diet and workout plan, let's first discuss who she is and what she is famous for. Dixie is the older sister of Charli D'amelio, who is also a famous TikTok star and social media influencer. She is also a singer and songwriter who has released a few singles, one of which was in collaboration with Wiz Khalifa.
Recently Dixie has starred in a Youtube web series called Attaway General and also hosts her very own Youtube Talk Show, The Early Light Night Show. The influencer and social media personality currently has over 50 million followers on TikTok.
Stats
Height: 5'6″ (167 cm)
Weight: 121 lbs (55 kg)
Year of birth: 2001
Dixie D'amelio Diet Plan
Dixie does not follow a specific diet, but she recognizes the importance of fitness and eats healthy most of the time. The way she maintains her figure is through intermittent fasting and dancing. She juggles studying, TikTok videos, Youtube shows, and creating music. For these reason, she typically eats what her mom cook for her, or orders in. She also stays hydrated throughout the day by drinking a lot of water.
Dixie does not shy away from consuming junk foods either; her favorite snacks to eat include cereal, fruit roll-ups, and ice cream. She also likes to eat all kinds of pasta and burgers. Keep in mind that all bodies are different and some people have faster metabolisms than others. Dixie can get away with eating junk food and keep weight off in the process because of her age, genetics, and active lifestyle.
Intermittent Fasting
The TikTok star also balances out her diet through intermittent fasting. This is when you can eat whatever you want in your eating window and then fast for the majority of the day. As a result, you keep the weight off. The time in which you fast can vary and Dixie usually fasts for 12 hours each day. In other words, she will have a 12 hour window of fasting, followed by a 12 hour window of eating.
Dixie will normally break her fast after her 8am training session. Intermittent fasting isn't for everyone, but it can help with weight loss. Studies have shown that you can lose belly fat, without needing to consciously restrict calories throughout a 24 hour day. Just know that intermittent fasting isn't the only way to lose weight. And it doesn't mean you can have a 12 hour window of binge eating whatever foods you want.
Finding a Balance
The most important part about Dixie's diet is that she finds a balance between healthy foods and junk food. Does she eat pizza and ice cream? Yes, but she doesn't let it ruin her day. Just because Dixie indulges in these cheat meals once in a while doesn't mean she lets them ruin her day. There are actually a few reasons why it's important to include cheat meals into your diet.
For one, it keeps you mentally strong. Some people who choose to follow restrictive diets will eventually burn themselves out. As a result, they might binge eat and never get back on track. Cheat meals can also be good if you plan them ahead of time. You can look forward to scheduled cheat meals as a way to stay on your diet. There's less reason to binge if you know you're about to go to a restaurant the next day.
Dixie D'amelio Workout Routine
Now that you know about the extremely simple Dixie D'amelio diet let's talk about how she trains. As a student, singer, and influencer, she does not have time to spend hours exercising. This is why she depends mostly on her dancing for her workouts since this is already what she does for her TikTok videos anyway.
Her movements and dances help to burn the calories and make her body more flexible. Moreover, D'amelio has also been quite active throughout her life since she was active in sports during school. She has participated in hockey and basketball.
For most people, the Dixie D'amelio diet and workout plan are quite easy to follow and continue. It is truly the perfect routine for anyone who has a busy schedule. You can eat whatever you want in moderation while fasting and maintain an active lifestyle.
Similar Physiques
Search Terms
Dixie D'amelio diet
Dixie D'amelio workout plan