Erika Costell Diet and Workout Plan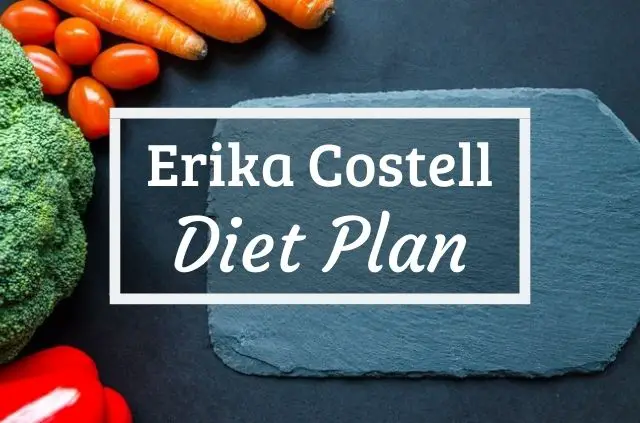 The Erika Costell diet doesn't follow a strict meal plan, but she does eat healthy most of the time. If Erika is craving a specific type of food she allows herself to have it. It can be mentally straining to eliminate certain foods, which can cause binge eating. Continue reading to see how Erika uses moderation to maintain her toned physique.
Who is Erika Costell?
Erika Costell is an American model, singer, and social media influencer. She rose to fame after dating fellow YouTuber, Jake Paul and joining Team 10. Today, Erika continues to work on her music and has partnered up with Victoria's Secret. She also interacts with her fans across her various social media platforms.
Stats
Height: 5'7″ (170 cm)
Weight: 121 lbs (55 kg)
Year of birth: 1992
Erika Costell Diet
Erika doesn't restrict herself when it comes to her diet. If she's craving a certain type of food she will eat it in moderation. This style of eating can be better on your mental health and can also help prevent binge eating. Erika also isn't a fan of weighing herself. Muscle weighs more than fat and she thinks that going by how your clothes fit is a better way to measure progress. The scale can be mean – so don't beat yourself up about a number.
1st meal: Protein oatmeal with banana and almond butter
2nd meal: Celery juice with lemon water
3rd meal: Coconut tortilla wrap with chicken, vegan cheese, and vegetables
4th meal: Smoothie with banana, acai berries, blueberry, pea protein, peanut butter, hemp milk, and hemp seeds
5th meal: Salad with mixed greens, spinach, hard boiled eggs, avocado, cucumbers tomatoes, and olive oil
Lemon Water
The first thing Erika drinks in the morning is hot water with lemon and apple cinder vinegar. It's a good source of vitamin C, aides in weight loss, and improves heart health. Staying hydrated is also very important for maintaining healthy skin. Erika tries to drink at least 100 ounces of water each day.
Abs
Erika is frequently asked how she maintains her shredded abs. The truth is that abs are made in the kitchen and they can only be developed by eating clean. When dieting, most people will lose the fat around their stomach last. It's no secret that you need to eat healthy and stay consistent with your diet to get a six pack.
Erika Costell Workout
Flexibility is very important when you're working out as much as Erika does. She will stretch for around 10-15 minutes in the morning and at night. This type of mobility keeps you injury free and also helps with sore muscles. Erika's workout style consists of bodyweight exercises, light dumbbell movements, boxing, and cardio.
Monday
Complete the following circuit for 3-4 rounds:
Warm up: Walk or jog for 10 minutes
1st exercise: In place step up x 10 (each leg)
2nd exercise: Side lunge x 10 (each leg)
3rd exercise: Jump squats x 10
4th exercise: Donkey kick x 10 (each leg)
5th exercise: Donkey kick pulse x 10 (each leg)
6th exercise: Triceps dip on bench x 10
7th exercise: Jump rope x 3 minutes
Tuesday
1st exercise: Single leg dumbbell row 4 x 12
2nd exercise: TRX row 4 x 20
3rd exercise: Sled push 4 x 5
Cardio: Walk or jog for 20-30 minutes
Wednesday
1st exercise: Kettlebell squat x 12
2nd exercise: Dumbbell shoulder press x 12
3rd exercise: Cable squat row x 20
Cardio: Heavy bag boxing for 20 minutes
Thursday
Warm up: 20 jumping jacks and 20 high knees
1st exercise: Forward resistance band pulse 3 x 10
2nd exercise: Overhead resistance band pulse 3 x 10
3rd exercise: Mountain climbers with slider 3 x 20
4th exercise: Left and right side plank 3 x 20 seconds
5th exercise: Jump rope 3 x 2 minutes
Friday
Warm up: Walk or jog for 10 minutes
1st exercise: Renegade row x 25 (each side)
2nd exercise: Curtsy lunge x 50
3rd exercise: Dumbbell biceps curl x 50
4th exercise: Dumbbell lateral raise x 50
5th exercise: Box jump x 50
6th exercise: Weighted jumping jacks x 50
7th exercise: Triceps dip on bench x 50
8th exercise: Alternating leg plank x 50
9th exercise: Donkey kicks x 50
Saturday
Active recovery (walking or hiking)
Sunday
Rest day
Search Terms
Erika Costell diet
Erika Costell workout plan
Similar Physiques