Gary Strydom Diet and Workout Plan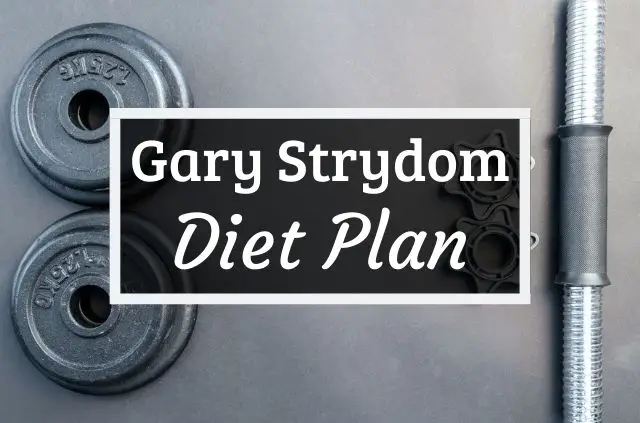 The Gary Strydom diet is a classic bodybuilding meal plan. He ate high amounts of protein and carbohydrates to increase muscle mass.
Gary Strydom made a name for himself in professional bodybuilding, and with challenging work and dedication, you can also achieve your goals.
Who is Gary Strydom?
Born in South Africa in 1960, Gary Strydom made a name for himself in the professional bodybuilding circuit from 1980 to 2000 and has graced the pages of Greatest Physiques and other publications.
Strydom participated in swimming, rugby, and track while in school and was always athletic. His interest in bodybuilding took hold while serving in the military.
The discipline that he received there inspired the way to his ultimate dream of becoming a professional bodybuilder.
Stats
Height: 6′ 2″ (188 cm)
Contest weight: 283 lbs (128 kg)
Off-season weight: 305 lbs (138 kg)
Year of birth: 1960
The Gary Strydom Diet Plan
You may think that there is something special to a bodybuilder's diet. However, the Gary Strydom diet consists of a balance of proteins, leafy greens, and natural carbohydrates.
In short, he eats real food but plenty of it and will load up on chicken breasts, large portions of broccoli, and rice an hour before beginning his workout.
Breakfast will contain plenty of protein-rich foods such as eggs and bacon. A combination of animal and plant-based protein is one that will ensure the body receives all of the essential amino acids to build muscle and help with recovery.
Never skip a meal, do not snack between meals, and only diet when you need to get rid of excess water or subcutaneous fat.
This is done over a period of several months. Crash dieting is never good for the body and once the diet is over the fat will rebound.
More on Nutrition
You will find that eating more is going to help you bulk up. The body needs the fuel. Some foods you should be eating pre-workout are:
Eggs and egg whites
Oatmeal
Turkey
Peanut butter
Tuna
Pasta-whole grain
Post Workout
Brown rice
Grilled chicken
Broccoli
Italian Sausage
The Gary Strydom Workout Routine
A typical Gary Strydom workout is done six days per week, twice per day with one day of rest. You choose which days to workout, but one day of rest is vital for recovery.
Weekly Training Plan:
Sunday: Legs
Monday: Chest
Tuesday: Back
Wednesday: Legs
Thursday: Shoulders
Friday: Arms
Saturday: Rest
Muscle Groups Worked (Routine #2)
Quads – a.m. Hamstrings – p.m.
Biceps/triceps – a.m. Calves, stationary bike – p.m.
Deadlifts – a.m. Upper back – p.m.
Chest – a.m. Abs, shoulders and cardio – p.m.
Begin your workout by warming up with lighter weights and moving to the heavier weights, doing 15-20 reps for the smaller muscle groups and up to 30 reps for the larger muscle groups.
The number of sets you do is entirely up to the level of training you have reached. You do not want to begin a routine at the top.
It is wise to start out slowly and gradually increase the weight, reps and sets.
Beginner Training
1-2 sets with 12-15 reps per set will give you a good start. Once a certain weight becomes easier to lift, add on and increase your reps.
Listen To Your Body
Never push the body past a low pain threshold. An injury will set you back considerably and may even end your career as a bodybuilder.
Hydration
Electrolytes are essential for anybody, but a weightlifter needs this extra hydration before, during, and after working out.
A sugary sports drink is not advised.
Adding a little salt to your food along with some fruit, dairy products and vegetables can give you the needed potassium, sodium, and calcium from a natural source.
Pure water is also what the body needs. 17-20 oz 2 hours before a workout is recommended.
Drinking 2 glasses of skim milk after a workout has been shown to help build more muscle while burning more fat.
Juicing is another added benefit to introduce to your diet and will provide natural electrolytes without added sugar.
Proper Gear
Having the proper gear can help prevent injuries. Consider:
With the proper nutrition, training routine, and gear, bodybuilding can be achieved by anyone willing to work hard but sensibly to achieve their personal goals.
One comment Gary Strydom adds is that you can never over-train. There is only under eating, under sleeping, and under juicing.
You now have a good idea of how the Gary Strydom diet and workout plan can help you achieve your goals to become a bodybuilder.
But you can also follow this plan if you're just looking to lose fat, get healthy, and gain muscle to your physique.
Similar Physiques
Search Terms
Gary Strydom diet plan
Gary Strydom workout routine