Harry Styles Diet and Workout Plan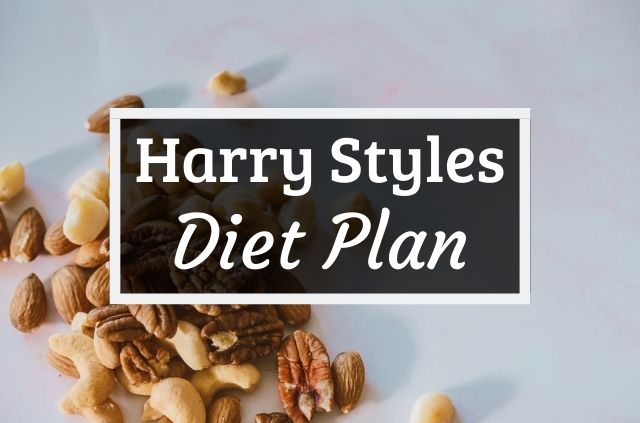 The Harry Styles diet can be described as a vegetarian meal plan. The popular musician avoids eating red meat, and instead sticks to vegetables and whole grains.
Harry enjoys eating eggs for breakfast, so he's not a vegan. Most of his nutrition comes from nuts, seeds, vegetables, and various protein sources.
Continue reading for a more in depth look into Harry's favorite foods and training routine.
Who is Harry Styles?
Harry Styles is an British signer, songwriter, and actor. His career started at a young age as he was a member of the famous band One Direction.
Harry has also had a successful stint as an actor. One of his more popular movies, Dunkirk, got a lot of attention in the box office.
Fans can keep up with Harry's life across Instagram, Twitter, and other social media channels.
Harry Styles Diet
Harry recognizes the importance of a healthy diet. It's key to performance and longevity – but can be hard to stick to.
He swears by having several healthy meals spaced throughout the day. This helps his body stay full and avoid junk cravings.
Harry follows a simple but effective plan to help him stick to his diet goals. His focus is to keep food habits in check and maintain his physique.
This meal plan includes low-calorie and nutrient-rich foods. For the most part Harry follows a vegetarian-based diet.
Emphasis is placed on nuts, seeds, whole grains, and plenty of vegetables to provide the body with vital nutrients.
Day of Eating
For breakfast, he usually drinks a cup of coffee with toast and eggs. Lunch is more vegetarian-oriented. It contains items like whole-grain pasta and salads.
Dinner is almost the same as lunch, but Harry will enjoy a glass of red wine.
Harry eats eggs and fish to get his protein. He staves off food cravings by having a lot of wholesome grains. He also drinks a lot of water and green tea.
We know green tea can provide the body with many benefits, for its antioxidant and fat-burning properties.
Harry Styles Workout Plan
It's not always possible for Harry to squeeze in a fitness routine. But, he also has to keep in shape because of his hectic daily schedule.
He has to make sure he takes good care of his body. Even if it means doing his workouts at midnight.
No matter what, he works out 5 or 6 days a week with the trainer. Harry also does weight training, cardio, Pilates.
Cardio
Cardio exercise helps burn excess fat. They also keep your heart healthy. A crucial part of Harry Styles' fitness routine is made up of cardiovascular exercises.
For example, Harry will run in the morning for about 30-40 minutes.
If unable to do so, he will do interval training workouts on a treadmill with his trainer. Most of this is usually an uphill run to increase the level of intensity.
The kicker is, they increase the incline level and speed every few minutes. This allows Harry to use more power and maintain his balance.
Weight training
His weight training program consists of upper body and lower body movements. He has two sessions each a week. Some of his core exercises include:
Dumbbell press
Cable crossover
Military press
Cable rows
Tricep dips
Isolation curls
The Secret Sauce
Harry Styles will try any fad. With his good looks and fantastic shape, he's the picture of wellness and health. But the English singer has gone to great lengths to keep up his great form.
There are rumors of several extreme choices. For instance, he tried a several day juice cleanse to get in shape for a Vogue cover. And he has even tried cryotherapy.
What is it?
It is a medical procedure that freezes and removes abnormal tissues. It's a great option for repairing sore muscles after intense training sessions.
With cryotherapy, you expose the body to frigid temperatures. The average lies between -200 and -300 degrees Fahrenheit.
It treats a variety of ailments, like mood disorders, migraines, and nerve irritation. It can also treat arthritis pain and dermatitis.
The Versatitily of Cryotherapy
Cryotherapy is also versatile. You can do it on just one area or the entire body. You can administer localized cryotherapy using ice massage, ice packs, and cruel sprays.
Other options are ice baths and tissue probes. Whole-body cryotherapy session lasts an average of 3 minutes.
They occur inside a special chamber that blasts the body with ultra-cold air.
Meditation and Mindfulness
Harry Styles loves Pilates and does it as much as possible. He also integrates mindfulness techniques into his exercise routine.
He meditates twice a day and credits it to changing his life. It helps him become more present and enjoy the things happening at the moment.
Meditation brings the stillness that benefited his mental health.
The singer, actor, and songwriter has what he describes as a wellness routine. The combination of these aspects of diet, exercise, and mindfulness keep him in both good mental and physical shape.
Practicing some of Harry's methods above can help you improve your physical well-being.
Similar Physiques
Search Terms
Harry Styles diet plan
Harry Styles workout routine