Helen Owen Diet and Workout Plan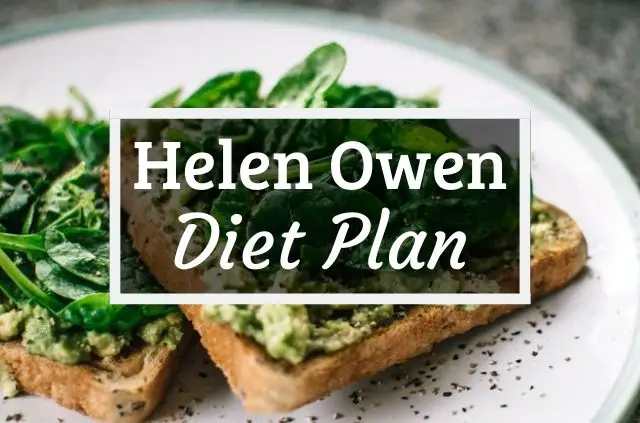 The Helen Owen diet is a clean eating meal plan. She does not track her calories or weigh her food, but rather practices intuitive eating. This method is all about balance, as you can eat the foods you want in moderation. Continue reading for a more detailed look into Helen's diet and training routine.
Who is Helen Owen?
Helen Owen is a model, YouTuber, and social media influencer. She currently lives in West Hollywood, Los Angeles but is always traveling. Helen has had a successful modeling career and was featured in GQ as Instagram Girl of the Week. She creates lifestyle, diet, and fashion content on her YouTube channel and Instagram account.
Stats
Height: 5′ 7″ (170.18 cm)
Weight: 121.25 lbs (55 kg)
Year of birth: 1992
Helen Owen Diet Plan
As we briefly mentioned above, Helen's diet can be best described as intuitive eating. This way of eating really isn't a diet at all. No foods are off limits, because you can eat whatever you want in moderation. With that being said, Helen still eats healthy most of the time and allows herself to indulge once in a while.
1st meal: Oatmeal and banana pancakes with eggs, blueberries, maple syrup, peanut butter, and cinnamon
2nd meal: Kabocha and sage flatbread pizza
3rd meal: Smoothie with banana, spinach, cacao, cashew, peppermint, and chlorella
4th meal: Chicken or salmon bowl with rice, kale, zucchini, broccoli, and peanut sauce
You can see from this example day of eating that Helen enjoys eating natural foods. She prefers organic ingredients because of the vitamins they can provide to the body. Organic foods don't have any pesticides, antibiotics, or synthetic hormones. Helen avoids processed foods and eats lean protein, complex carbohydrates, and healthy fats.
Celery Juice
Every morning Helen has the same routine of drinking celery juice and a cup of coffee. This not only kick starts her day, but also provides many health benefits. Celery juice is loaded with Vitamin A, Vitamin C, and Vitamin K. It has also been linked to relief inflammation in the body and prevent cancer.
Plant-Based Eating
Helen isn't a vegan, but she does experiment with plant-based dishes once in a while. This approach is all about eating vegetables, nuts, seeds, and fruit. Plant-based diets can help lower blood pressure and aid in weight loss. There are also many animal rights and environmental reasons why someone might follow this diet.
Helen Owen Workout Routine
Helen works out on a regular basis to maintain her toned physique. She mostly sticks to running, hiking, bodyweight exercises, and light dumbbell movements. Her goal isn't to build muscle, but rather to keep a lean body. Let's take a look at what an example training routine might look like for Helen.
Full Body Workout
1st exercise: Standing alternating knee tuck 2 x 45 seconds
15 seconds rest
2nd exercise: Bunny hop stand up 2 x 45 seconds
15 seconds rest
3rd exercise: Pulse squat 2 x 30 seconds
15 seconds rest
4th exercise: Good morning 2 x 45 seconds
15 seconds rest
5th exercise: Inch worm with plank knee tuck 2 x 45 seconds
15 seconds rest
6th exercise: Hip thrust 2 x 45 seconds
15 seconds rest
7th exercise: Double knee bicycle sit up 2 x 45 seconds
15 seconds rest
8th exercise: Side plank reach 2 x 45 seconds (side to side)
15 seconds rest
9th exercise: Bird dog 2 x 45 seconds
15 seconds rest
10th exercise: Glute bridge with side tap 2 x 45 seconds
15 seconds rest
11th exercise: Side dip on knees 2 x 45 seconds (left and right)
15 seconds rest
12th exercise: Spider plank 2 x 45 seconds
15 seconds rest
13th exercise: Fast squat 2 x 45 seconds
15 seconds rest
14th exercise: Sway reach 2 x 45 seconds
Glute Workout
1st exercise: Dumbbell goblet squat 2 x 45 seconds
15 seconds rest
2nd exercise: Back lunge curtsy (left) 2 x 45 seconds
15 seconds rest
3rd exercise: Back lunge curtsy (right) 2 x 45 seconds
15 seconds rest
4th exercise: Standing abduction hold 2 x 45 seconds
15 seconds rest
5th exercise: Dumbbell deadlift 2 x 45 seconds
15 seconds rest
6th exercise: Side-to-side dumbbell squat 2 x 45 seconds
Upper Body Workout
1st exercise: Stars 2 x 45 seconds
15 seconds rest
2nd exercise: Landscapers 2 x 45 seconds
15 seconds rest
3rd exercise: Shoulder press into Y press 2 x 45 seconds
15 seconds rest
4th exercise: Row to fly 2 x 45 seconds
15 seconds rest
5th exercise: Row to triceps kickbacks 2 x 45 seconds
15 seconds rest
6th exercise: Straight arm kickbacks 2 x 45 seconds
15 seconds rest
7th exercise: Bicep curl 2 x 45 seconds (right side)
15 seconds rest
8th exercise: Bicep curl 2 x 45 seconds (left side)
15 seconds rest
9th exercise: SA alternating swim 2 x 45 seconds
15 seconds rest
10th exercise: Triceps extension 2 x 45 seconds
15 seconds rest
11th exercise: Triceps extension on knees 2 x 45 seconds
15 seconds rest
12th exercise: Push up triceps hold 2 x 45 seconds
15 seconds rest
13th exercise: Front row to lateral raise 2 x 45 seconds
Ab Workout
Crunch x 30 seconds
Side-to-side crunch x 30 seconds
Middle crunch x 30 seconds
Bicycle crunch x 30 seconds (right side)
Bicycle crunch x 30 seconds (left side)
Alternating table top taps x 30 seconds
Russian twist on heels x 30 seconds
Alternating toe touches x 30 seconds
Alternating leg downs x 30 seconds
Side crunch x 30 seconds (left side)
Side crunch x 30 seconds (right side)
Plank x 30 seconds (left side)
Plank x 30 seconds (right side)
Knee tap plank x 30 seconds
Heel taps x 30 seconds
Single leg bicycle crunch x 30 seconds (left side)
Single leg bicycle crunch x 30 seconds (right side)
Crunch with 3 second hold and rest x 30 seconds
Reach left x 30 seconds
Reach right x 30 seconds
Similar Physiques
Search Terms
Helen Owen diet plan
Helen Owen workout routine