Holly Dolke Diet and Workout Plan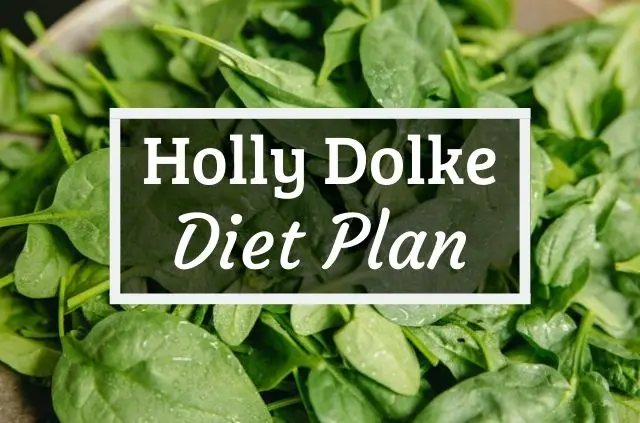 The Holly Dolke diet is a clean eating meal plan. She is very carefully about what foods she puts in her body and makes sure it will provide nourishment. Holly sticks to lean proteins, complex carbohydrates, and healthy sources of fat. Continue reading for a more detailed look into her diet and training plan.
Who is Holly Dolke?
Holly Dolke is a fitness instructor, YouTuber, and social media influencer. She has been able to build a massive following online, where she creates content around diet and exercise. Holly developed the Pink Dragon app, a fitness program designed to help women get lasting results at home, with no equipment.
Stats
Height: n/a
Weight: n/a
Year of birth: 1992
Holly Dolke Diet Plan
The Holly Dolke diet is all about balance. She eats healthy most of the time, but isn't afraid to have hot chocolate and cookies for dessert. This helps Holly maintain her physique, while still satisfying her sweet tooth. She eats a small amount of cookies in moderation and doesn't binge eat. Let's take a look at what an example day of eating looks like for her.
1st meal: Protein pancakes with 1.5 scoops chocolate protein, 2 whole eggs, baking powder, peanut butter, bananas, and raspberries
2nd meal: Tuna, red kidney beans, zucchini, and red pepper
3rd meal: Turkey mince Shepard's pie, plantains, and roasted brussel sprouts
4th meal: Hot chocolate with unsweetened almond milk, hot water, and protein cookies
You can see from the above day of eating that Holly normally consumes around four small meals each day. This keeps her hunger in check and it also helps avoid bloating. You don't want to eat a large meal before a workout, so it's better to have smaller amounts of food more often.
Holly enjoys cooking her own meals and tries to avoid processed foods as much as possible. She is a big fan of preparing her meals ahead of time, because it helps her stay on track when trying to eat healthy.
Protein with Every Meal
One of the most important things about Holly's diet is that she eats protein with every meal. Consuming enough protein can aid in weight loss and it can help enhance muscle growth. The specific amount of protein you need each day depends on your age, activity level and sex.
This is critical when you're training on a regular basis, because having protein in every meal will help the muscles recover and grow. Even when Holly isn't eating animal protein, she still includes synthetic protein powder in her diet.
This can be in the form of shakes, pancakes, or oatmeal. You can really add protein powder to any food you like, as long as it will break down when mixed. Try Holly's protein pancake recipe above if you're looking for a new approach on a breakfast favorite.
Holly Dolke Workout Routine
In order to maintain her physique, Holly sticks to a strict workout routine. She mostly does bodyweight exercises, Pilates, and cardio. This helps tone the muscles, without getting too bulky. The best part is you can do these workouts at home without any equipment. Take a look at some of Holly's favorite exercises below.
Full Body Workout
Side push up (left) x 50 seconds
Rest x 10 seconds
Side push up (right) x 50 seconds
Rest x 10 seconds
Push up and raise x 50 seconds
Rest x 10 seconds
C bicycles x 50 seconds
Rest x 10 seconds
2 pulse crunches x 50 seconds
Rest x 10 seconds
Arm cross crunches x 50 seconds
Rest x 10 seconds
Cross leg and kick crunch (left) x 50 seconds
Rest x 10 seconds
Cross leg and kick crunch (right) x 50 seconds
Rest x 10 seconds
In out steps x 50 seconds
Rest x 10 seconds
Superman up and tap x 50 seconds
Rest x 10 seconds
Bear plank and leg raise x 50 seconds
Rest x 10 seconds
Clam kickback (left) x 50 seconds
Rest x 10 seconds
Inner thigh lift (left) x 50 seconds
Rest x 10 seconds
Clam kickback (right) x 50 seconds
Rest x 10 seconds
Inner thigh lift (right) x 50 seconds
Glute Workout
Superman x 50 seconds
Rest x 10 seconds
Glute pulse x 50 seconds
Rest x 10 seconds
Superman lift and close x 50 seconds
Rest x 10 seconds
Glute bridge x 50 seconds
Rest x 10 seconds
Narrow feet glute bridge x 50 seconds
Rest x 10 seconds
Fire hydrant pulse and kick (left) x 50 seconds
Rest x 10 seconds
Fire hydrant pulse and kick (right) x 50 seconds
Rest x 10 seconds
Donkey kick (left) x 50 seconds
Rest x 10 seconds
Donkey kick (right) x 50 seconds
Rest x 10 seconds
Rainbow kick (left) x 50 seconds
Rest x 10 seconds
Rainbow kick (right) x 50 seconds
Similar Physiques
Search Terms
Holly Dolke diet plan
Holly Dolke workout routine