Iggy Azalea Diet and Workout Plan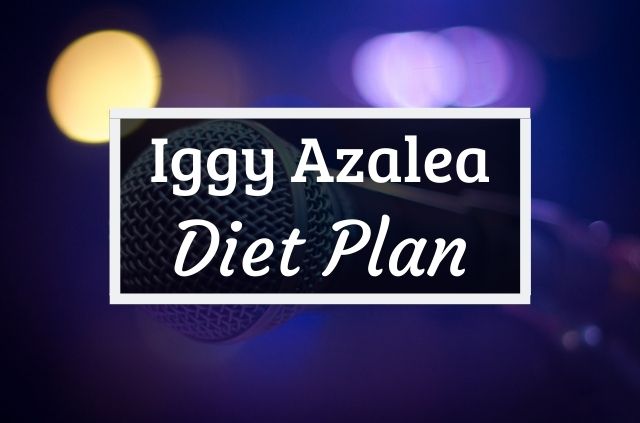 The Iggy Azalea diet is all about eating clean foods most of the time, with the occasional cheat meal. She is known for her pop songs and excellent rapping skills. With several hit songs that have reached the top of the charts, the superstar has gained a large following of fans.
But the reason for her popularity does not just come from her songs and fashion sense, but also her gorgeous curves. The model turned singer dons the perfect hourglass figure comprised of a tiny waist, one she has worked exceptionally hard for.
If you have been motivated to emulate the same curvaceous body, then read on to find out the foods she eats and how she trains that helped her achieve such a famous figure.
Who is Iggy Azalea?
Iggy Azalea, whose real name is Amythest Amelia Azalea, is an Australian rapper, songwriter, and former fashion model. She has over fourteen music videos, multiple hit records and has been on various fashion magazines, including Vogue.
Iggy moved to the United States to pursue a music career, and since then, she has released multiple songs and albums. Some of her famous songs include 'Fancy,' 'Problem,' and 'Work.' Some of the rapper's awards and achievements include winning two American Music Awards, three Billboard Music Awards, an MTV Music Award, People's Choice award, and four Grammy nominations.
Stats
Height: 5'10" (177.80 cm)
Weight: 150-160 lbs (68.04-72.57 kg)
Year of birth: 1990
Iggy Azalea Diet
For an artist like Iggy, finding the time to prepare meals and stick to a diet plan is difficult. Yet, she makes it possible through her determination and motivation. She jokingly mentioned in one of her interviews, "I'm never allowed to eat what I want."
It's important to remember that genetics plays a major role in Iggy's physique. Because of her tall height, it's easy for her to have curves and still maintain a slim waist, compared to a shorter person. This also means that Iggy's body needs more calories to maintain her weight over the course of a day.
Lean Protein
Iggy Azalea's diet for the most part is clean and simple. It involves lots of protein in the form of lean meats, vegetables, and organic foods. She primarily eats nutrient-dense and wholesome foods while keeping herself always hydrated with water and cold juices. Her favorite protein source is chicken.
Chicken comes in many different cuts, so it's important to pay attention to what kind of chicken you're buying. Iggy prefers skinless chicken breast when looking to lose weight, because it has high protein and low fat. High protein foods can help you build muscle and keep you full for a longer period of time.
Cheat Meals
But despite that, she does manage to squeeze in a few cheat meals in a week. In an interview with a leading magazine, she said, "I like to eat healthily and stay fit, I do enjoy the junk food and other things as well once in a while, that is necessary to keep you going for the long run."
It's no secret that Iggy enjoys a cheat meal once in a while. In a 2015 interview with Vogue she mentioned that tacos were her favorite food. You can also find Iggy eating chips, pizza, cake, and other treats on her social media accounts. There's nothing wrong with having an occasional cheat meal, as long as you're able to get back on track.
Iggy Azalea Workout
You might think Iggy's diet plan isn't that strict, but her workout plans are. She focuses mainly on core and lower body exercises to maintain her tiny waist, flat stomach, and big glutes. The Australian rapper puts in a lot of effort to maintain the body she has and it shows. Iggy normally works out five to six days a week.  
She does ab and lower body exercises in the gym along with cardio. On days she can't go to the gym, she makes sure to exercise at home or in her hotel. Iggy enjoys training and and getting a sweat in, because it's a great stress reliever. She makes sure to train all of the muscles in her body, in order to keep her physique balanced. Some of the exercises she does include:
Squats
Deadlifts
Hip thrusts
Hip extensions
Lunges
Crunches
Planks
Cardio
Iggy also does plenty of cardio, in addition to the standard isolation exercises listed above. She says that playing team sports is her favorite way to burn off cheat meal calories, while having fun in the process. A consistent cardio routine helps her maintain a slim waist, without having to worry about gaining extra weight.
When she's not playing team sports, Iggy will either bike, run, walk, or go on hikes. These are all effective forms of cardio that vary depending on the level of intensity. Dancing is another fun way to burn off some calories. Iggy is known for her popular dance moves on stage and on social media.
Search Terms
Iggy Azalea diet
Iggy Azalea workout routine
Similar Physiques