James Harden Diet and Workout Plan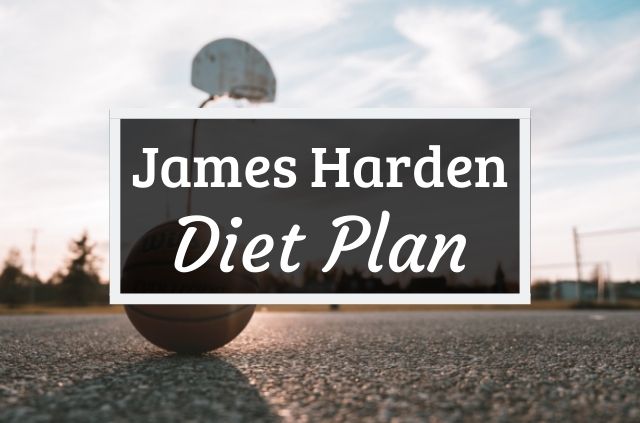 The James Harden diet isn't as strict as you might think. Most professional athletes follow an intense meal plan to help fuel their body. But James instead focuses on the game of basketball and doesn't bother eating chicken and broccoli for every meal. Continue reading for a more detailed look into his favorite foods and training routine.
Who is James Harden?
James Harden is an American professional basketball player who is currently signed with the Brooklyn Nets. He has had a very successful career in the NBA as a shooting guard and is considered one of the best at his position. James has also played on the Oklahoma City Thunder and Houston Rockets.
Stats
Height: 6′ 5″ (195.58 cm)
Weight: 220 lbs (99.8 kg)
Year of birth: 1989
James Harden Diet Plan
As we briefly mentioned in the introduction, the James Harden diet plan isn't really much of a diet to begin with. He doesn't count his calories, weigh his food, or track what he eats. Most athletes have nutritionists to plan out their needs and chefs to cook each meal.
James simply operates by intuition and how his body feels. Even though this way of eating has worked for James most of his career, it has also negatively impacted him at times. He has gone through periods of rapid weight changes over the last few years.
By the beginning of the 2020-2021 season James showed up to training camp carrying around 40 pounds in extra weight. On January 14, 2021 he was traded to the Brooklyn nets and appeared to have slimmed down back to his original physique.
Full Day of Eating
Even though we don't have a exact meal plan for James Harden, it's possible to guess what he might eat throughout the day. In interviews he has said that his fridge always has eggs, turkey, bacon, potatoes, and fresh fruit. At the same time he loves cheat meals in the form of cookies, ice cream, and brownies.
1st meal: Eggs, bacon, 1 bagel, and a side of fruit
2nd meal: Turkey sandwich with Greek yogurt
3rd meal: Grilled chicken with pasta and marinara sauce
4th meal: Protein shake, grilled chicken, and potatoes
James Harden Workout Routine
When it comes to his workout routine, James Harden does not miss a beat. As a professional basketball player in the NBA he spends hours in the gym and weight room each day to perfect his craft. Here are some of the training drills he does on a regular basis.
Shooting Guard Training
Dynamic stretching warmup: 5-10 minutes
1st exercise: In the box dribbling 2 x 2 minutes
2nd exercise: Bust out and retreat dribbling 2 x 1 minute
3rd exercise: 2-minute combo move weak hand finish x 1 set
4th exercise: Step back crossover to floater finish 3 x 6 makes
5th exercise: Ball screen and turn the corner 2 x 5 shots
6th exercise: Ball screen and pull-up jumper 2 x 5 shots
7th exercise: Ball screen refusal 2 x 5 shots
8th exercise: Feeding the post passing 2 x 8
9th exercise: Combo move partner passing 2 x 1 minute
Cool down: Static stretching 5-10 minutes
Explosive Training
1st exercise: Plate jump 4 x 8-12
2nd exercise: Frog squat jump 4 x 8-15
3rd exercise: Box squat jump 4 x 8-12
4th exercise: Dumbbell swing threw jump 3 x 6-10
5th exercise: Standing triple jump 3 x 4-8
6th exercise: Finger clean 4 x 3-6
7th exercise: Dumbbell jerk 4 x 8-10
8th exercise: Ravers 3 x 15-25
9th exercise: Concentric box jump 4 x 6-10
10th exercise: Long box jumps 3 x 4-8
Vertical Jump Training
Jump rope warm-up 2 minutes
Rim touches with ball 3 x 15 seconds
One leg jump touching backboard 3 x 10
Squat jump with kettlebells 3 x 10
Deadlift straight into a jump 3 x 8
One step dunk (left) 3 x 5
One step dunk (right) 3 x 5
Seated box jump 3 x 10
Hop to box jump 3 x 8
Medicine ball dunk 3 x 10
Strength Training
Medicine ball squat to shoulder press 3 x 15
Single leg jump over hurdle 3 x 10 (each leg)
Bodyweight pull-up 3 x until failure
Goblet squat with kettlebell 3 x 20
Barbell Romanian deadlift 3 x 10
Alternating dumbbell press 3 x 10 (each arm)
Physio ball leg curl 3 x 15
Lateral bound 3 x 10
Glute bridge 3 x 20
Lateral lunge 3 x 12 (each leg)
Shooting Drills
Free throws x 50
Top elbow jump shot (left) x 50
Baseline jumper (middle) x 50
Top elbow jump shot (right) x 50
Baseline jumper (left) x 50
Baseline jumper (right) x 50
Dribble to layup (left) x 25
Dribble to layup (right) x 25
One step layup (left) x 25
One step layup (right) x 25
Similar Physiques
Search Terms
James Harden diet plan
James Harden workout routine