Jen Selter Diet and Workout Plan
The Jen Selter diet is all about making smart and healthy choices, to stay toned year-round. Fitness is truly a lifestyle choice and it requires consistency and commitment.
Jen says you should avoid cleanses, detoxes, or anything else that promises you can lose weight fast. Continue reading to learn more about her favorite foods and diet principles.
Who is Jen Selter?
Jen Selter is an American fitness model and social media influencer. Her quick rise to fame came from posting physique progress photos on Instagram.
Today, many people join her on social media using #seltering – a fitness movement where you extend one leg back and both arms forward.
Jen grew in up New York City, New York. She was very active as a teenager and began to take fitness seriously at 15 years old. She is known for her shapely legs and glutes, but still maintains a toned and fit upper body.
Stats
| | |
| --- | --- |
| Height | 5′ 6″ (167.5 cm) |
| Weight | 125 – 135 lbs (56.7 – 61.2 kg) |
| Year of birth | 1993 |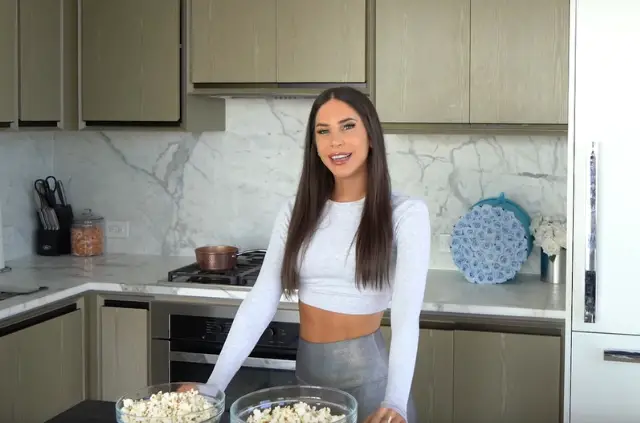 Jen Selter Diet Plan
Jen Selter doesn't necessarily have a diet plan but instead lives a healthy lifestyle. Diets imply that you're only eating healthy foods for a short amount of time.
However, Jen eats clean year-round to maintain her toned physique. After diets people can gain weight back quickly, because they begin to eat the junk foods they couldn't have.
Breakfast: Jen believes that breakfast is the most important meal of the day. She will start off her morning with egg whites and toast, or oatmeal with a glass of fresh juice.
Lunch: For lunch, Jen will usually have some type of big salad. Her choice of protein will either be grilled chicken or salmon, combined with a ton of mixed vegetables.
Dinner: Depending on her mood, Jen will either have grilled chicken or salmon for dinner. She will pair that with brown rice and steamed vegetables. Every so often Jen will eat out and have sushi or pasta.
Keep in mind, this is just a sample day of eating. Avoid eating the same thing every day, because you will get tired and burned out very quickly. Jen also makes sure to drink a ton of water throughout the day to stay hydrated.
Healthy Snacks
In between meals Jen enjoys having a healthy snack. These keep her appetite in check and they can prevent you from eating junk food on the go.
The most important step to eating healthy is planning your meals in advance. If you always have something healthy to eat, you won't eat crap and regret it later!
Bananas
Apples
Kale Chips
Protein Bars
Trail Mix
Greek Yogurt
Banana Muffins
Peanut Butter Protein Bites
Protein Shakes
Almonds
Cheat Meals
Jen Selter is a big fan of cheat meals. Indulging in some junk food occasionally is perfectly okay too. In fact, it can help you in a few different ways. So how can junk food be good for you?
Cheat meals can keep you from binge eating. Being too strict on your diet can drive you crazy. You might get sick of eating healthy food, so you decide to binge eat for a day or two. This is a good way to quickly stop your fitness progress. An occasional cheat meal will keep you on track and you'll have something to look forward to all week.
Cheat meals are good for your metabolism. Believe it or not, cheat meals can help your metabolism. You see, when you're eating healthy meals, your body adjusts to eating the same number of calories. Eating a cheat meal will shock your body – because it's not used to all that fat. The good news is that your body will burn this meal off much quicker.
Cheat meals can give you more energy. Greasy food tastes great, but it can make us tired right after eating it. But if you time your cheat meal right, you can use it to help fuel your next workout. Try eating a cheat meal around dinner time – then workout the morning after. These extra calories will give you more energy to lift heavier weight.
Jen Selter Workout Routine
Listed below is a week-long workout routine from Jen Selter. There's a wide range of movements here and they're perfect for people of all fitness levels. You will see bodyweight exercises, plyometric exercises, and everything in between.

Jen believes that it's very important to first warm up your body, before jumping into any workout. This will not only get your muscles ready, but it can help prevent injuries. Remember to always listen to your body.
Monday
(Complete 4-5 rounds of this workout)
Push-ups or Spiderman walks x 10
Air squats x 25
Strict plank x 30 seconds
Mountain climbers x 20
Sit-ups or V-ups to toe touch x 25
Tuesday
(Complete as many rounds of this workout as you can in 20 minutes)
Burpees x 10
Box jumps x 25
Mountain climbers x 30
Jumping jacks x 60
Air squats or in place jumping lunges x 60
Wednesday
Stretch and warm up
30-45 minutes on treadmill or elliptical
Stretch and cool down
Thursday
(Complete 4-6 rounds of this workout)
Air squats or in place jumping lunges x 15
Sit-ups or Russian twists x 15
Burpees x 10
Donkey kicks x 15
Friday
Do as many pushups as possible in 60 seconds
Do as many air squats as possible in 60 seconds
Take a short break
Strict plank x 20 seconds
Jumping squats x 15
Strict plank x 20 seconds
Sit-ups x 30
Strict plank x 20 seconds
Jumping jacks or tuck jumps x 45
Saturday & Sunday
If you're a total beginner, you can use these two days to rest. And if you're more advanced, you can use these two days for cardio. All you need to do is repeat day three and always make sure to warm up first.
Full-Body Warm Up Routine
Try this warm up routine before each workout. If you still feel like your body isn't ready, you can always add an additional round. The key to these movements is to get your heart rate going and your muscles loosened up for the workout.
Jumping jacks x 30 or burpees x 10
Air squats x 12
Walking lunges x 15
High knees in place x 20
Similar Physiques
Search Terms
Jen Selter diet plan
Jen Selter workout routine