Jon Jones Diet and Workout Plan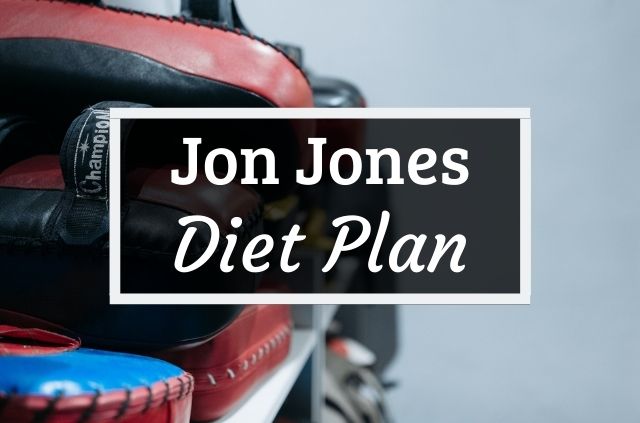 The Jon Jones diet combines lean meats and healthy vegetables. Jones is not only one of the most talented fighters in UFC history, but he's also one of the most ripped. It's no secret that healthy eating habits and success go hand in hand.
Jones didn't always have a team of experts telling him what to eat and how to train. He learned the importance of diet and exercise during his college years, where he competed in wrestling. Let's take a closer look at how he eats and trains.
Who is Jon Jones?
Jon Jones is an American mixed martial artist who competes in the UFC light heavyweight division. He has won the title of UFC light heavyweight champion twice and is one of the youngest champions in the history of UFC.
Jones has been athletic from a very young age and his brothers are also renowned athletes in the NFL. Though he has faced several bumps along the road, Jones is determined to be the best athlete by training regularly and consuming the right types of foods.
Stats
Height: 6′ 4″ (193 cm)
Competition weight: 205 lbs (93 kg)
Off-season weight: 230 lbs (104 kg)
Year of birth: 1987
Jon Jones Diet Plan
For many MMA athletes, diet and nutrition play key roles in their success inside the ring. It is what helps them build muscle mass and stamina. The same goes for Jon Jones, as his diet is pretty strict. It consists of high lean protein, vegetables, and complex carbohydrates. He also drinks a lot of water to constantly stay hydrated throughout the day.
Typically for breakfast, Jones has eight large egg yolks and a bowl of porridge. For lunch he eats pasta with chicken or lean beef, and for dinner he has some type of fish with vegetables. In between meals Jones will also drink protein shakes to help his muscles recover after training.
Eating More Vegetables
In a 2020 interview with TMZSports, Jones said that his diet is around 80 percent plant-based. He made this decision so he would better be able to cut weight for the Dominick Reyes fight. Eating more vegetables also gave Jones the energy he needed to make it through a grueling training camp.
We can see why Jones decided to eat more vegetables by looking at the benefits. A vegan diet is rich in nutrients, can help you lose excess weight, and it can improve heart health. Although some people would say you shouldn't eliminate a certain food group, Jones has found a balance that works for him.
Cheat Meals
Every so often Jones will allow himself to have a cheat meal, that he can also use as a refeed day. He will usually have pancakes with butter and syrup, scrambled eggs, avocado, and chicken breast. Even though this is a cheat meal, Jones will normally burn off the extra calories during a training session.
And because Jones eats this meal in the morning, it provides him with sustainable energy throughout the day. Having a cheat meal is very common when training for a fight. When the weight cutting is going well, his coach will tell let him have extra calories needed to provide energy and help fuel the body.
Jon Jones Workout Routine
Just like Jones' diet, his workout is also tailored specifically for his body, goals, and needs. The athlete trains regularly and his workouts are not fit for beginners or those who moderately workout, since he always pushes himself to the maximum level.
His workout plan includes doing strength training and cardio for three days a week to build muscle and strength. These include full body workouts and exercises targeted to the core since that part of the body needs to be extra strong. Moreover, he also occasionally tries to incorporate HIIT exercises and Tabata. Some of the exercises he does include:
Ring twists
Lying leg curl
Clean from knees with a jump
Medicine ball throws
Medicine ball squats
Sprints
Wrestling
Another reason why Jones his such a ripped physique is his background as a NCAA wrestler. Wrestling workouts are known to be intense, as they combine bodyweight exercises, weightlifting, and cardio. It's a sport that takes a lot of hard work, determination, and stamina.
In addition to such a physical exercise, wrestling is also mentally tough. In competitions wrestlers often find themselves being held in awkward positions. This can not only be painful to the body, but you need to be able to successfully find a way out. Jones already had this mental toughness, before entering MMA.
In addition to these exercises, he trains with equipment and machines that mimic actual wrestlers. During these workouts, he also adds resistance to build more strength. That is all that is included in the famous and talented athlete Jones's diet and workout plan. With commitment, patience, and time, you too, can train just like him.
Search Terms
Jon Jones diet
Jon Jones workout routine
Similar Physiques