Katya Henry Diet and Workout Plan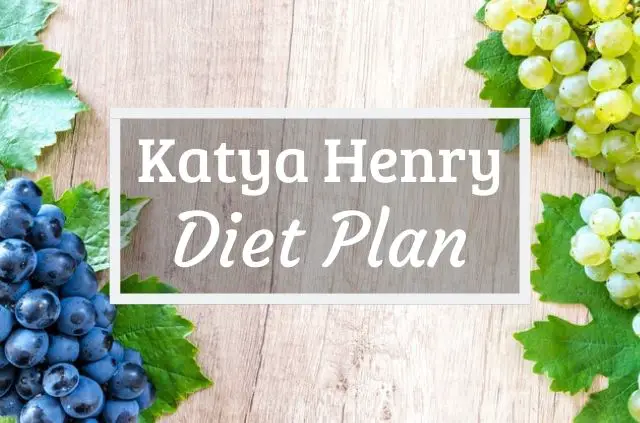 The Katya Henry diet is a plant based meal plan that will get your body toned. You can still build muscle and have plenty of energy on a vegan diet.
Who is Katya Henry?
Katya Elise Henry is a fitness model, entrepreneur and social media influencer. She founded Workouts by Katya that inspires people to be the best version of themselves.
She shares workout tips and diet advice across various social media platforms. You can check out Katya's Instagram or her YouTube Channel for more information.

Katya Henry Stats
Height: 5'2″ (157.5 cm)
Weight: 115 – 125 lbs (52.2 – 56.7 kg)
Year of Birth: 1993
Katya Henry Diet
Katya does most of her plant based grocery shopping at Whole Foods or Publix. These stores tend to have more selections, where you can find vegan and organic food items. Don't think that you have to eat plain on the Katya Henry diet

Katya has a wide rage of choices when it comes to meals. She will eat plant based burger patties, fishless filets, vegan pizza, and plant based deli slices. She says these vegan options taste just as good as the real thing.
As a post workout snack she likes to eat gluten free and vegan protein bars. She can also get her sweet tooth fix in, with hemp milk paired with organic frosted flakes and non-dairy frozen fudge bars.
Carbohydrates
When it comes to carbs, Katya likes to eat rice, russet potatoes, small red potatoes, brown rice pasta, and oatmeal. Carbs are not the enemy – they're actually very important for fueling your workouts.

Most bodybuilders and fitness professionals stick to rice and oatmeal, which can get very boring. But as Katya shows us, there's many different combinations you can use for carbs.
Protein
It can be more challenging to eat enough protein on a vegan diet – but it's not impossible. Katya's favorite protein blend of choice is Blessed Plant Protein from EHPlabs. This super food tastes delicious and it's easy to mix.
So, how is plant based protein different from whey proteins?
For starters, it's dairy/lactose free – whey proteins are not. Whey is also acidic, where plant based protein is not. Whey tends to have a strange aftertaste – you won't get that with a plant based protein.
Vegetables
It wouldn't be a plant based diet without vegetables, right? Katya loves adding all sorts vegetables to her meals, because it keeps them fresh and makes her body feel great. Check out Katya's favorite vegetables below.
Zucchini
Mushroom
Asparagus
Red onion
Avacado
Fruit
It's also a good idea to incorporate some fruit in your diet. Fruits have antioxidants, vitamins and minerals that will help replenish your body after an intense workout. Check out Katya's favorite fruits below.
Raspberries
Blueberries
Bananas
Grapefruit
Oranges
Katya Henry Workout Routine
One of the reasons why Katya gained so many followers is due to her intense workout routines. In the gym her main focus is building the leg muscles – but she also likes to keep a toned upper body.

Leg Workout
This is a sample leg workout Katya normally goes through. You can do 5 minutes of cardio first to get warmed up. On the glute exercises, make sure to squeeze all the way through – in order to contract the muscles.
Exercise One: Kettlebell squats 4 x 20

Exercise Two: Butterfly dumbbell hip thrusts 4 x 25
Exercise Three: Dumbbell walking lunge kickbacks x 4
Exercise Four: Lateral leg raise with plate 4 x 15
Exercise Five: Barbell squats 4 x 10
Shoulder Workout
This is an intense shoulder routine Katya went through with Colossus Fitness. You don't need to go crazy with the weight here. Go slow and focus on the full range of motion with each rep.

Exercise One: Seated dumbbell overhead press 4 x 12-15
Exercise Two: Seated dumbbell lateral raise 4 x 12-15
Exercise Three: Seated dumbbell front raise 4 x 12-15
Exercise Four: Reverse grip seated dumbbell front raise 4 x 12-15
Exercise Five: Reverse cable crossover (for rear delts) 4 x 12-15
Full Body Workout
Here's a full body routine from Katya you can try. All you need is a kettlebell – so it's a perfect workout if you can't make it to the gym. Limit the rest in between sets for more of a challenge!
Exercise One: Standing front raise 4 x 15-20

Exercise Two: Bent over rear delt raise 4 x 15-20
Exercise Three: Kneeling triceps extension 4 x 15-20
Exercise Four: Kettlebell swing 4 x 15-20
Exercise Five: Seated oblique twist 4 x 15-20
Exercise Six: Goblet pulse squat 4 x 15-20
Exercise Seven: Single arm kettlebell curl 4 x 15-20
Exercise Eight: Standing calf raise 4 x 15-20
Exercise Nine: Single leg deadlift 4 x 15-20
Exercise Ten: Bent over row 4 x 15-20
Helping Others
Katya has talked about how she was bullied in elementary school and high school. It's good that she opened up to share this story with her followers, because it makes her even more relatable.
It's far too easy to judge someone based on their appearance or status and assume they're life is perfect. But everyone knows how hard it is to escape cyber bullying – especially when we use technology everyday.
It just goes to show you that popular fitness influencers like Katya are just regular people. At the end of the day, it doesn't matter how much fame or success someone has, they can also be a target of bulling.
Katya believes that going through these life events really sucks when it's happening. But it only helps build you as a person and makes you stronger than ever. Be confident in yourself and don't care what other people think.

Similar Physiques
Search Terms
Katya Henry diet
Katya Henry workout plan