Lilly Sabri Diet and Workout Plan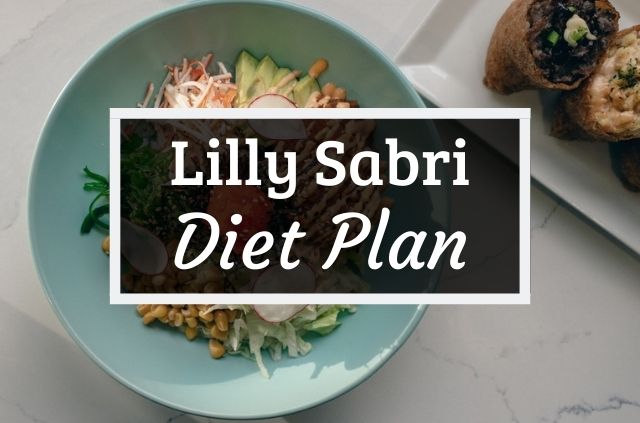 The Lilly Sabri diet combines fresh ingredients and high protein throughout the day. She likes to eat vegetables with most of her meals and needs protein to help recover after training.
It's important to note that Lilly doesn't track macros or count calories. At this point in her fitness journey she knows exactly what her body needs to stay in shape year-round.
Continue reading for more information on Lilly's favorite foods, training plan, and even a sample day of eating.
Who is Lilly Sabri?
Lilly Sabri is an English fitness influencer, qualified physiotherapist, entrepreneur, and Pilates instructor. She is also a former physiotherapist for Everton FC, Chelsea FC, and the English women's national team.
Lilly created the Lean with Lilly app, which is a membership based health and fitness program. There are training plans and workout guides available for all active members on the Lean app.
Stats
Height: 5′ 10″ (177.8 cm)
Weight: 132 lbs (59.87 kg)
Year of birth: 1990
Lilly Sabri Diet Plan
As we briefly mentioned in the sections above, the Lilly Sabri is an intuitive eating meal plan. She does not believe in cutting out certain food groups, and rather instead eats what she wants in moderation.
If you are craving a specific food for example, try replacing it with a healthy alternative. Instead of eating a candy bar for example, try replacing it with a rice cake and peanut butter, or hazelnut-chocolate spread.
Here's what a typical day of eating looks like for her:
Breakfast: 1 avocado with lemon juice and olive oil, 2 whole eggs, and 2 pieces rye bread
Snack: Smoothie with protein and mixed berries
Lunch: Poke bowl with quinoa, chickpeas, tuna, tomatoes, avocado, seaweed crackers, and olive oil
Snack: Vegan banana bread
Dinner: Cajun salmon, lemon juice, olive oil, rice, broccolini, and kale
Quality Foods
The foundation of Lilly's diet is consuming quality foods. Things like rice, quinoa, vegetables, and sources of protein will help keep your body full, for a longer period of time.
Processed foods like potato chips, cookies, and white bread are higher in calories and don't satisfy your appetite. For example, a bowl of oatmeal will keep you full for a longer period of time, compared to a bowl of high sugar cereal.
Lilly Sabri Workout Routine
Lilly also follows a diverse workout routine. She does a combination of cardio, weightlifting, HIIT training, and bodyweight exercises.
This split allows her to stay toned year-round and maintain a consistent body weight. Check out an example training routine in the sections below.
Full Body Workout
1st exercise: Standing alternating knee tuck 2 x 45 seconds
15 seconds rest
2nd exercise: Bunny hop stand up 2 x 45 seconds
15 seconds rest
3rd exercise: Pulse squat 2 x 30 seconds
15 seconds rest
4th exercise: Good morning 2 x 45 seconds
15 seconds rest
5th exercise: Inch worm with plank knee tuck 2 x 45 seconds
15 seconds rest
6th exercise: Hip thrust 2 x 45 seconds
15 seconds rest
7th exercise: Double knee bicycle sit up 2 x 45 seconds
15 seconds rest
8th exercise: Side plank reach 2 x 45 seconds (side to side)
15 seconds rest
9th exercise: Bird dog 2 x 45 seconds
15 seconds rest
10th exercise: Glute bridge with side tap 2 x 45 seconds
15 seconds rest
11th exercise: Side dip on knees 2 x 45 seconds (left and right)
15 seconds rest
12th exercise: Spider plank 2 x 45 seconds
15 seconds rest
13th exercise: Fast squat 2 x 45 seconds
15 seconds rest
14th exercise: Sway reach 2 x 45 seconds
Glute Workout
1st exercise: Dumbbell goblet squat 2 x 45 seconds
15 seconds rest
2nd exercise: Back lunge curtsy (left) 2 x 45 seconds
15 seconds rest
3rd exercise: Back lunge curtsy (right) 2 x 45 seconds
15 seconds rest
4th exercise: Standing abduction hold 2 x 45 seconds
15 seconds rest
5th exercise: Dumbbell deadlift 2 x 45 seconds
15 seconds rest
6th exercise: Side-to-side dumbbell squat 2 x 45 seconds
Upper Body Workout
1st exercise: Stars 2 x 45 seconds
15 seconds rest
2nd exercise: Landscapers 2 x 45 seconds
15 seconds rest
3rd exercise: Shoulder press into Y press 2 x 45 seconds
15 seconds rest
4th exercise: Row to fly 2 x 45 seconds
15 seconds rest
5th exercise: Row to triceps kickbacks 2 x 45 seconds
15 seconds rest
6th exercise: Straight arm kickbacks 2 x 45 seconds
15 seconds rest
7th exercise: Bicep curl 2 x 45 seconds (right side)
15 seconds rest
8th exercise: Bicep curl 2 x 45 seconds (left side)
15 seconds rest
9th exercise: SA alternating swim 2 x 45 seconds
15 seconds rest
10th exercise: Triceps extension 2 x 45 seconds
15 seconds rest
11th exercise: Triceps extension on knees 2 x 45 seconds
15 seconds rest
12th exercise: Push up triceps hold 2 x 45 seconds
15 seconds rest
13th exercise: Front row to lateral raise 2 x 45 seconds
Ab Workout
Crunch x 30 seconds
Side-to-side crunch x 30 seconds
Middle crunch x 30 seconds
Bicycle crunch x 30 seconds (right side)
Bicycle crunch x 30 seconds (left side)
Alternating table top taps x 30 seconds
Russian twist on heels x 30 seconds
Alternating toe touches x 30 seconds
Alternating leg downs x 30 seconds
Side crunch x 30 seconds (left side)
Side crunch x 30 seconds (right side)
Plank x 30 seconds (left side)
Plank x 30 seconds (right side)
Knee tap plank x 30 seconds
Heel taps x 30 seconds
Single leg bicycle crunch x 30 seconds (left side)
Single leg bicycle crunch x 30 seconds (right side)
Crunch with 3 second hold and rest x 30 seconds
Reach left x 30 seconds
Reach right x 30 seconds
Similar Physiques
Search Terms
Lilly Sabri diet plan
Lilly Sabri workout routine