MadFit Diet and Workout Plan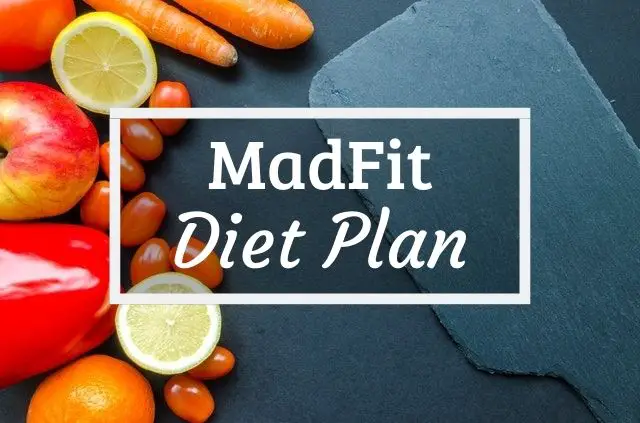 The MadFit diet is all about eating plenty of vegetables, fruits, and small amounts of animal protein. She is a former vegan who now includes small amounts of animal products into her meals. Maddie says this was mostly for health reasons and she feels much better after making the switch. Continue reading to learn more about her favorite foods and workout routine.
Who is MadFit?
Maddie Lymburner (also known as MadFit) is a YouTuber, fitness influencer, and entrepreneur. Born and raised in Canada, this former health food store employee is now a top fitness YouTuber. She has two popular channels, called MadFit and Maddie Lymburner. The first centers around bodyweight workouts, while the later is more of a lifestyle type of channel.
Stats
Height: 5′ 6.5″ (168.91 cm)
Weight: 115 lbs (52 kg)
Year of birth: 1995
MadFit Diet
For the first meal of the day Maddie likes to eat Greek yogurt and a bowl of fruit. This gives her the energy and protein needed to power through a morning workout. Plus, fruit is also an ideal source of food before training because it digest quickly. You want to avoid going to the gym on a full stomach.
1st meal: Greek yogurt, apples, blueberries, pineapple, and strawberries
2nd meal: Rice cakes with avocado and cherry tomato
3rd meal: Oatmeal with peanut butter, apples, figs, blueberries, coconut, and oatmilk
4th meal: Celery, cucumber, peanut butter, and a cup of tea
5th meal: Soup with brown rice, vegetable stock, kale, potatoes, carrots, celery, onion, garlic, ginger, black beans, avocado, and matzo
Fruits and Vegetables
The foundation of Maddie's diet is fruits and vegetables. Both of these food groups are an essential part of a healthy diet and physique. A nutritional plan with high amounts of fruits and vegetables can lower blood pressure, help with digestion, promote weight loss, and can also keep your appetite in check.
As a former vegan, Maddie has become used to eating a large portion of fruits and vegetables. These meals provide her with the energy needed to fuel her workouts, and the protein needed to recover. The only difference now is Maddie includes small amounts of animal products in her cooking.
Animal Products
Maddie was vegan for almost six years before transitioning back to a diet with animal products. She still eats mostly the same, with a large focus on fruits and vegetables. Maddie wasn't feeling her best, which is why she decided to add a small amount of animal protein to her meals.
At the end of the day, a vegan lifestyle isn't for everyone. Some people can develop micronutrient deficiencies with vitamin D, calcium, omega 3-fatty acids, and zinc. It's important to recognize the benefits and drawbacks when it comes to eliminating a certain food group from your diet.
MadFit Workout Routine
Maddie's workouts mostly involve bodyweight exercises. This is very useful if you're a total beginner, or you don't want to spend the money on a gym membership. Bodyweight workouts are great at toning muscle and improving cardiovascular health. Plus, you can do them from the comfort of your own home.
Full Body Circuit
The below workout is a 30 minute full body circuit. Complete each exercise for 2 rounds, for a total of 45 seconds each round. The good thing about this circuit is that it requires minimal equipment, which means you can do it at home. All you need is a pair of dumbbells and you're ready to go.
Dumbbell sumo pulse squat 2 x 45 seconds
Bent over dumbbell row 2 x 45 seconds
Single leg dumbbell deadlift 2 x 45 seconds (right)
Single leg dumbbell deadlift 2 x 45 seconds (left)
Kneeling squat with press 2 x 45 seconds
Chest press with leg raise 2 x 45 seconds
Seated leg raise over dumbbell 2 x 45 seconds
Plank with kick through 2 x 45 seconds
Sit up with punches 2 x 45 seconds
Single leg glute kickback 2 x 45 seconds (right)
Single leg glute kickback 2 x 45 seconds (left)
Plank push up with overhead raise 2 x 45 seconds
Lateral lunge with front dumbbell raise 2 x 45 seconds (right)
Lateral lunge with front dumbbell raise 2 x 45 seconds (left)
Standing toe touches 2 x 45 seconds
Glute Workout
Here's a 10 minute glute workout you can do from home. All you need is a resistance band for this quick circuit. Remember to really squeeze the glutes when it comes to movements like kickbacks and hip thrusts. This tip is very important as it activates the glutes during the motion, which will help build the muscle.
Side-to-side squat x 45 seconds
Single leg glute kickback x 45 seconds (right)
Single leg glute kickback x 45 seconds (left)
Back on ground hip thrust x 45 seconds
Back on ground hip abduction x 45 seconds
Hip thrust x 45 seconds (back on ground)
Glute bridge with hip abduction x 45 seconds
Hip abduction x 45 seconds (right side)
Hip abduction x 45 seconds (left side)
Squat with pulse x 45 seconds
Ab Circuit
For this ab circuit there will be 2 exercises back-to-back, followed by a 15 second rest period. For example, you will do the first exercise then go immediately into the second exercise, before resting for 15 seconds. You can perform this workout one time through, or with multiple rounds depending on your fitness level.
Side-to-side crunch x 30 seconds
Alternating bicycle crunch x 30 seconds (keep arms straight)
Inchworm plank x 30 seconds
Knee to elbow plank x 30 seconds
Side-to-side crunch x 30 seconds
Toe touch crunch x 30 seconds
Inchworm plank x 30 seconds
Lying down knee to elbow x 30 seconds (right)
Side plank x 30 seconds (right)
Lying down knee to elbow x 30 seconds (left)
Side plank x 30 seconds (left)
Elbows to hands plank x 30 seconds
Search Terms
MadFit diet
MadFit diet plan
Maddie Lymburner diet
Similar Physiques