Maggie Q Diet and Workout Plan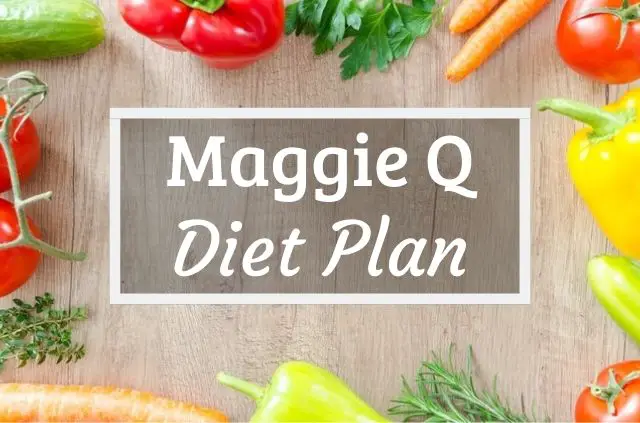 The Maggie Q diet is a plant-based meal plan. She has been eating this way for over twenty years, because of her passion for animal-welfare issues. Maggie avoids things with added sugar, overly processed foods, and preservatives. Keep reading to discover some of Maggie's favorite foods and her specific workout routine.
Who is Maggie Q?
Margaret Denise Quigley (better known as Maggie Q) is an actor, model, entrepreneur, and environmental activist. She has starred in the major films Mission: Impossible III, Live Free or Die Hard, and Divergent. Maggie is also known for doing all of her own stunts, which is why she needs to eat right and train on a regular basis.
Stats
Height: 5'7″ (170 cm)
Weight: 103 lbs (47 kg)
Year of birth: 1979
Maggie Q Diet
Maggie learned all about animal-welfare issues from a PETA employee while attending a concert. She discovered how consuming meat not only impacted the food market, but also the fashion and entertainment industries. Since then, Maggie has made the switch to plant-based eating and hasn't consumed meat for more than twenty years.
1st meal: Acai bowl with coconut meat, aloe, blackberries, blueberries, cherries, goji berries, coconut oil, ginger, turmeric, fennel, and almond milk
2nd meal: Smoothie with a banana, peaches, pea protein powder, almond butter, maca powder, cashew milk, fresh mint leaves, and ice
3rd meal: Kitchari with basmati rice, mung beans, vegetable stock, mustard seeds, cumin, ginger, sea salt, coriander powder, turmeric, and cilantro
Heavy Grains
Critics to vegan eating often question how this type of diet can keep you full. This is a common misconception where meat-based protein is the only type of food that can keep you full. The truth is that satisfying your hunger doesn't have to do with meat, but instead it relates to eating the right kinds of foods.
Maggie says that she likes to combine heavy grains with her vegetables, in order to combat hunger. Her favorites are brown, black, and red rice. When not eating rice Maggie will choose lentils, beans, or another high filling grain. These nutritious food sources keep her full and provide natural energy.
Creating New Recipes
In the beginning Maggie says it was very difficult making the switch to plant-based eating, because of her Vietnamese roots. The problem was that most of these traditional dishes contain beef. This can be a common issue for anyone starting out with a new diet plan.
But all you need is a little creativity to solve this problem. Maggie worked with her mother to create Vietnamese options that were vegan friendly. Her family enjoys these new dishes and they have started eating plant-based foods. Maggie says that she loves experimenting with new ingredients when cooking plant-based meals.
Maggie Q Workout Routine
Maggie is able to maintain her toned and strong physique due to a strict fitness regime. She keeps her workouts diverse and frequently practices yoga, boxing, swimming, and Pilates. This combination of exercises not only gives Maggie a full body workout, but helps when it comes to filming moves and doing her own stunts.
Yoga
Yoga is a very important part of Maggie's workout routine and she has been practicing the art for over twenty years. This method of fitness can increase strength, improve respiration, and help with injury prevention. Maggie needs to be flexible, especially when performing her own stunts. Some of her favorite yoga poses are the crow pose, shin cradle, and forearm stand. Try these movements out and hold them for an intense full body workout.
Boxing
Boxing is another form of exercise that Maggie regularly includes in her workout routine. It's not only a great cardiovascular workout, but it can also help tone the muscles in the upper body. It's no secret that walking on the treadmill for 45 minutes each day can get boring. That's why it's so important to switch up your workout routine. Maggie enjoys moving her body in new ways because it keeps things interesting and helps with stress relief.
Swimming
Born and raised in Oahu, Hawaii, Maggie always felt a strong connection with the ocean. She not only enjoys being in the water, but says that swimming can be a great form of exercise. Swimming builds muscular endurance, tones muscles, and improves cardiovascular fitness. As an animal rights activist, Maggie also loves being in the ocean, because it brings her closer to animals. She has even gotten the opportunity to swim with a whale shark!
Pilates
Maggie also likes to incorporate Pilates into her workout regime. Pilates can be very beneficial for weight loss, but it can also improve flexibility, stabilize the spine, and improve posture. Just because Pilates is a low-impact form of exercise, doesn't mean it's easy. Many of the exercises target the core, which forces you to hold positions for prolonged period of a time. It's similar to yoga in the sense that you can get a hard workout, with very little movement.
Search Terms
Maggie Q diet
Maggie Q workout plan
Similar Physiques