Neymar Diet and Workout Plan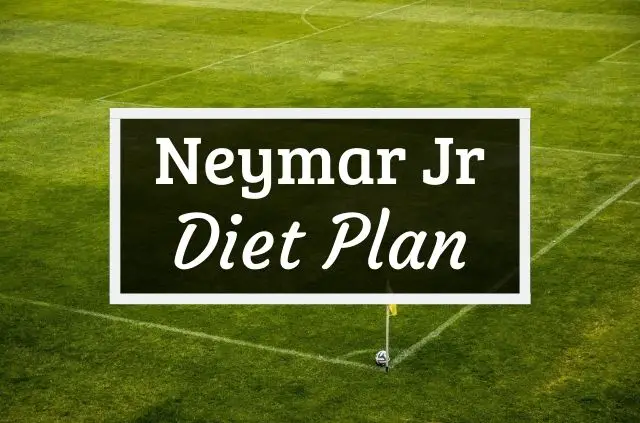 The Neymar diet is a clean eating meal plan. As a professional athlete, he needs to keep his body in top shape year-round.
The footballer didn't have a strict diet in his youth. But as athletes age the importance of nutrition becomes critical to play at a high level.
This helps Neymar perform well on the field and keeps him injury free. Continue reading for a more detailed look into his eating habits and training routine.
Who is Neymar?
Neymar da Silva Santos Júnior is a Brazilian professional football player. He is currently signed to Ligue 1 club Paris Saint-Germain and also plays for the Brazil national team.
Neymar mostly plays striker, winger, or attacking midfielder. He has had a very successful professional career and is known as one of the best footballers to every play the game.
Stats
Height: 5′ 9″ (172.7 cm)
Weight: 150 lbs (68.04 kg)
Year of birth: 1992
Neymar Diet Plan
As we briefly mentioned in the sections above, Neymar's diet is a clean eating meal plan. He makes sure to include protein, complex carbohydrates, and healthy fats in each meal.
In order to be one of the best footballer's in the world, you need to fuel your body with the right foods. Most of Neymar's meals include high amounts of protein and carbs to help his body recover on the field.
Here's what a sample day of eating might look like for him:
1st meal: 2 whole eggs with onions and peppers, and a bowl of oatmeal with milk and banana
2nd meal: Protein shake with water
3rd meal: 4 ounces chicken breast, 300 grams white rice, broccoli, cauliflower, carrots, and salsa
4th meal: Protein shake with water and mixed fruit
5th meal: 4 ounces salmon, 250 grams white rice, 1/2 cup kidney beans, broccoli, and salsa
6th meal: Protein shake with water
Recovery
One of the most important things about Neymar's diet is his ability to recover. This can be accomplished with a combination of protein and carbs after intense training.
It's recommended for athletes to eat around 3-12 grams of carbs per kilogram of bodyweight during the day. But this also depends on age, activity level and other factors.
Neymar is known to have a shake after each game that consists of protein, vitamins, sodium, and amino acids. This mixture helps hydrate his body and recover after long periods of exercise.
Neymar Workout Routine
When it comes to working out, Neymar's routine is intense. He not only practices football drills, but his trainers also include lifting weights, running, and plyometric exercises.
Plyometric exercises are some of the best movements for athletes. They can improve speed, strength and explosiveness. We can see just how well this translates on the field when watching him play.
Here's what an example training plan might look like for him:
Strength Exercises
Barbell box lunge 3 x 10-12 (each leg)
Barbell squat 3 x 8-10
Dumbbell step-up 3 x 10 (each leg)
Barbell walking lunge 3 x 10 (each leg)
Kettlebell swing 3 x 15
Bodyweight pull-up 3 x to failure
Barbell row 3 x 8-10
Barbell bench press 3 x 8-10
Dumbbell curl 3 x 12
Dumbbell triceps curl 3 x 12
Plyometrics Training
Jump off box landing 3 x 6
Box jump 3 x 8
Side-to-side jump 3 x 8
Resistance band broad jump 3 x 8
Squat jump 3 x 10
Medicine wall ball 3 x 12
Medicine ball slam 3 x 12
Single leg box jump 3 x 8 (each leg)
Lunge to plyo lunge 3 x 8
Hurdle jump 3 x 6
Chest Workout
1st exercise: Flat barbell bench press 3 x 6-8
2nd exercise: Incline dumbbell bench press 3 x 10
3rd exercise: Incline hammer press 3 x 10
4th exercise: Standing cable fly 3 x 10-12
5th exercise: Decline dumbbell bench press 3 x 10
Back Workout
1st exercise: Bent over barbell row 3 x 10
2nd exercise: Wide grip lat pulldown 3 x 8-12
3rd exercise: One arm dumbbell row 3 x 8-12
4th exercise: Standing cable lat pulldown 3 x 8-12
5th exercise: Barbell rack pull 3 x 10
Shoulder Workout
1st exercise: Seated dumbbell shoulder press 3 x 8-12
2nd exercise: Seated dumbbell lateral raise 3 x 10
3rd exercise: Standing cable lateral raise 3 x 10
4th exercise: Incline dumbbell rear delt raise 3 x 10
5th exercise: Rear delt fly machine 3 x 10
Leg Workout
1st exercise: Romanian deadlift 3 x 10
2nd exercise: Leg press (quad focus) 3 x 12
3rd exercise: Lying leg curl 4 x 10
4th exercise: Leg extension 4 x 12
5th exercise: Bulgarian split squat (glute focus) 3 x 10
6th exercise: Hip thrust (on rowing machine) 3 x 12
Similar Physiques
Search Terms
Neymar diet plan
Neymar workout routine