Olivia Ponton Diet and Workout Plan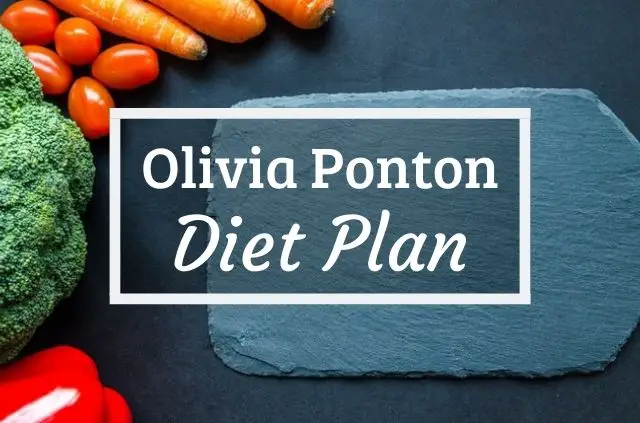 The Olivia Ponton diet is a healthy based meal plan. The model pays close attention to what she's putting in her body and only eats foods that will provide essential nutrients that give her energy. Continue reading for a more detailed look into Olivia's favorite foods and training routine.
Who is Olivia Ponton?
Olivia Ponton is an American model and social media influencer. She was born and raised in Naples, Florida and enjoys spending time outdoors. Growing up Olivia loved being active, as she ran track competitively and water skied. She has since moved to Los Angeles to further her modeling career.
Olivia is a current member of the Hype House – a group of young social media influencers who make viral content for Tiktok, Instagram, and YouTube. Today, she is able to connect with her loyal fans through social media and shares cooking, exercise, modeling, and general lifestyle advice.
Stats
Height: 5′ 8″ (172.72 cm)
Weight: 123.46 lbs (56 kg)
Year of birth: 2002
Olivia Ponton Diet Plan
As a model, Olivia makes sure to follow healthy eating habits. She eats eggs, oatmeal, vegetables, fish, and meat. One of her favorite breakfasts foods is a sandwich with eggs, spinach, mushrooms, and onions. Olivia will put all of these ingredients on a fresh bagel with cream cheese and says it's one of the best things to eat in the morning.
She also enjoys making smoothies for an easy meal. Olivia will put protein powder, peanut butter, fruit, water, and ice into her smoothies. This can be a quick way to supply carbs and protein to the muscles after an intense workout. It can be difficult to get enough protein through solid food, which is where supplements can help.
Eating the Mediterranean Way
One of the most interesting things about the Olivia Ponton diet is her love for charcuterie boards. She says this dish is a staple in her diet and she eats them almost every day. A charcuterie plate will normally have a variety of cheeses, cured meats, olives, nuts, fruit, and bread.
This way of eating is very similar to the Mediterranean diet, which can provide many health benefits to the body. This meal plan is rich in protein, healthy fats, and complex carbs. The Mediterranean diet can promote heart health, protects the brain function, and supports healthy blood sugar levels.
Olivia Ponton Workout Routine
Olivia says that working out is a really big part of her life. It's important fer her to exercise on a regular basis, as it increases energy, helps improve your mood, and promotes body confidence. Olivia has been able to build her lean and toned physique through cardio, bodyweight, and kettlebell exercises.
Running
The foundation of Olivia's workout routine is running. As we briefly mentioned above, she grew up running track in high school. Olivia competed in the 100, 200, 400, 4 x 1, 4 x 4, and 300 hurdles. She says how challenging track was, because her morning training sessions required her to be up at 5m every day.
In addition to being a great cardio workout, track can really help the body build endurance. This can improve the health of your lungs, heart, and circulatory system. Olivia still runs to this day, but not to the same amount or intensity of her competing days. She also focuses on other forms of exercise to improve her body.
Full Body Workout
Olivia also likes to incorporate full body movements with light dumbbells, or kettlebells. Her goal isn't to develop a bulky muscular physique, but rather maintain a toned figure. She is able to accomplish this by lifting lighter weights, paired with higher repetitions. Take a look at this example full body workout below and give it a try yourself.
Dumbbell sumo pulse squat 2 x 45 seconds
Bent over dumbbell row 2 x 45 seconds
Single leg dumbbell deadlift 2 x 45 seconds (right)
Single leg dumbbell deadlift 2 x 45 seconds (left)
Kneeling squat with press 2 x 45 seconds
Chest press with leg raise 2 x 45 seconds
Seated leg raise over dumbbell 2 x 45 seconds
Plank with kick through 2 x 45 seconds
Sit up with punches 2 x 45 seconds
Single leg glute kickback 2 x 45 seconds (right)
Single leg glute kickback 2 x 45 seconds (left)
Plank push up with overhead raise 2 x 45 seconds
Lateral lunge with front dumbbell raise 2 x 45 seconds (right)
Lateral lunge with front dumbbell raise 2 x 45 seconds (left)
Standing toe touches 2 x 45 seconds
Yoga
Yoga is another big part of Olivia's workout routine. These exercises can help increase muscular strength , tone, improve energy, and protect the body from future injuries. Many people neglect stretching, but it's a critical part of physical fitness. Yoga helps increase Olivia's flexibility, so she can avoid injuries when running.
Similar Physiques
Search Terms
Olivia Ponton diet plan
Olivia Ponton workout routine