Shawn Mendes Diet and Workout Plan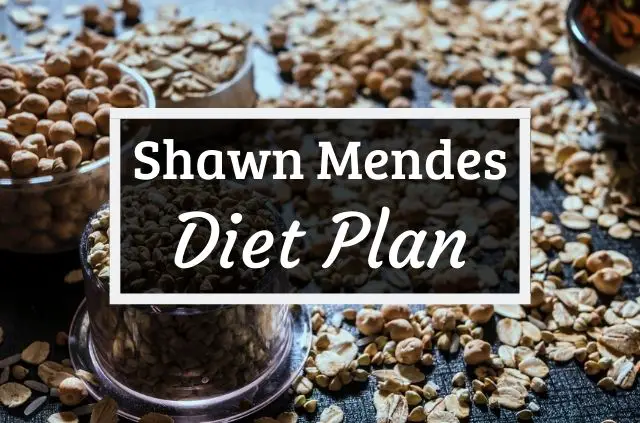 The Shawn Mendes diet is a balanced meal plan. He eats clean most of the time, but enjoys a cheat meal once in a while.
As a singer who is constantly on tour, Mendes has to be careful about what he eats and how often he works out. 
A healthy diet and consistent workout routine are key for him to maintain energy and endurance levels on tour.
Without a healthy diet and workout plan, Mendes would not be able to keep up with his demanding schedule. 
So, what does Shawn Mendes eat to stay healthy on the road? And what kind of workout routine does he follow to keep his body looking so fit? Let's take a closer look at Shawn Mendes's diet and workout plan.
Who is Shawn Mendes?
Shawn Mendes is a Canadian singer and songwriter. He gained his fan following in 2013, posting song covers on the video-sharing application Vine.
The following year, he caught the attention of artist manager Andrew Gertler and Island Records A&R Ziggy Chareton, which led to him signing a deal with the label. 
Mendes went on to release an EP and his debut studio album Handwritten, whose single "Stitches" reached number one in the United Kingdom and the top 10 in the United States and Canada.
He is also known for the singles "Treat You Better," "There's Nothing Holdin' Me Back," and "In My Blood." All three have reached the top 10 in several countries, including the US, UK, Canada, and Australia.
Shawn Mendes Diet
The Shawn Mendes diet consists of healthy and nutritious food items that help him stay fit year-round. He consumes a lot of protein to fuel his muscles and works out regularly to stay in great shape.
Most of his diet consists of lean protein, fruits, vegetables, and whole grains. Shawn Mendes's workout routine is intense and helps him maintain his muscular physique.
Staying Hydrated
It's also common for Mendes to drink a lot of water to keep himself hydrated throughout the day.
On average, he drinks over one gallon of water each day and includes a lot of healthy fruits and vegetables in his diet to make sure he's getting the nutrients he needs. 
Mendes has stated that some of his favorite foods are muffins, omelets, almonds, and chocolate chip cookies, but he tries to eat healthy on most days.
Shawn Mendes Workout Routine
Shawn Mendes's workout plan is intense and focuses on both weight training and cardiovascular exercises. He works out 5-6 days per week for 60-90 minutes at a time. Shawn
Mendes's workout routine includes a variety of isolation exercises that help him maintain his muscular physique. 
Getting Enough Sleep
According to his interview with Men's Health, he used to sacrifice nearly 2 hours of sleep each day to ensure he had enough time to exercise. He has also openly discussed his struggles with working out and finding balance in his life. 
Now that he is in a better place mentally and emotionally, Shawn Mendes works out because he loves how it makes him feel. He is no longer trying to achieve a certain body type but rather working out for the sake of his health and well-being. 
Some of Shawn Mendes's favorite exercises include weight lifting, running, swimming, playing soccer, and yoga. He often mixes up his routine to avoid getting bored and to challenge his body in different ways.
Sample Workout Plan
If you're looking for a workout routine that will help you get in shape like Shawn Mendes, try incorporating some of his favorite exercises into your routine. Here is a sample workout plan that you can follow:
Warm up with 5-10 minutes of light cardio 
3 sets of 12-15 reps of chest presses, pull-ups, and shoulder presses 
4 sets of 10-12 reps of bicep curls, tricep extensions, and lateral raises 
3 sets of 12-15 reps of squats, lunges, and calf raises 
Cool down with 5-10 minutes of light cardio 
Stretch for 5-10 minutes
Modifications
This workout routine can be modified to fit your own fitness level and goals. Be sure to listen to your body and take breaks when you need to.
Remember that consistency is key when getting in shape and seeing results. No matter your fitness goals, a healthy diet, and regular exercise routine are essential for achieving them.
If you're looking to get in shape like Shawn Mendes, start by incorporating more lean protein, fruits, and vegetables into your diet. Then, create a workout plan that includes a mix of weight training and cardiovascular exercises.
And finally, make sure to stay hydrated by drinking plenty of water each day. With a little hard work and dedication, you'll be on your way to achieving the body of your dreams.
Similar Physiques
Search Terms
Shawn Mendes diet plan
Shawn Mendes workout routine