Sydney Sweeney Diet and Workout Plan
The Sydney Sweeney diet is best described as a balanced meal plan. She eats fresh fruit, vegetables, grains, and meat. But Sydney also isn't afraid to have a cheat meal once in a while.
She also makes sure to stay hydrated throughout the day. From the moment Sydney wakes up in the morning, you can bet that drinking water is on the menu.
This gives her plenty of energy when she's on set filming, or running to a meeting. Continue reading for a more detailed look into her favorite foods and training routine.
Who is Sydney Sweeney?
Sydney Bernice Sweeney is an American actress and model. She was born in Spokane, Washington and was raised in northwestern Idaho. Sydney's father works in the medical field and her mother is a doctor.
She was very active growing up and played soccer, baseball, and was on the snow slalom ski team. Sydney has has a very successful career starring in numerous TV shows, such as Sharp Objects and Euphoria.
Stats
| | |
| --- | --- |
| Height | 5′ 3″ (160.02 cm) |
| Weight | 118 lbs (53.52 kg) |
| Year of Birth | 1997 |
Sydney Sweeney Diet Plan
As we briefly mentioned in the sections above, the Sydney Sweeney diet is all about moderation. She has a basic understanding of nutrition and knows exactly what her body needs to stay healthy.
At the same time, Sydney recognizes the importance of a balanced diet. This includes pairing healthy meals with some junk foods. These small rewards keep her mind sane and her diet in check.
Here's what a sample day of eating looks like for her.
Breakfast: Croissant toast with cinnamon sugar, honey butter, and berries on the side
Lunch: Meat and cheese board with a leafy green and cherry tomato side salad
Dinner: Fish or chicken, with rice, and fresh vegetables
Just remember that the above meal plan is just one sample day of eating. Sydney doesn't eat the same thing everyday, but these are the current foods she is enjoying at the moment.
Snacks
In addition to breakfast, lunch, and dinner, Sydney will also include a variety of snacks in her diet. One of her favorite foods to snack on is popcorn – but she probably isn't eating this all the time.
Crackers, meat, cheese, and fresh fruit are some other things she enjoys munching on. Eating foods like this in moderation between meals can help curb hunger and improve your energy levels.
Cheat Meals
Even though Sydney eats clean most of the time, she still allows herself to enjoy a cheat meal once in a while. Her favorite junk foods are pizza, truffle burgers, popcorn, cookies, and ice cream.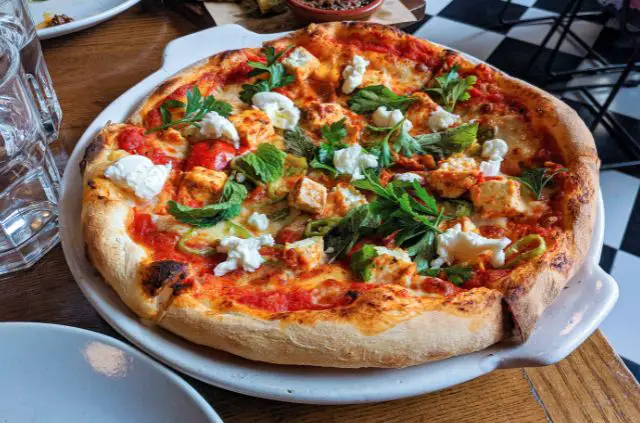 It may seem impossible to eat this stuff and look like Sydney. But the truth is, she isn't eating this way every day. Sydney will reward herself with pizza, or a burger 1-2 times a week.
In fact, there's nothing wrong with eating small amounts of junk food like this in moderation. But Sydney is also very active (with regular MMA training), has a fast metabolism, and is young.
Sydney Sweeney Workout Routine
Sydney loves being active which makes exercising fun for her. She played many different sports as a teenager, before switching to MMA training.
Sydney began training in MMA when she was fourteen years old and had her first grappling competition at the age of eighteen.
Today, she continue to train MMA and does other workouts to stay fit. Sydney combines jogging and other cardio exercises in addition to bodyweight movements.
Full Body Workout
1st exercise: Standing alternating knee tuck 2 x 45 seconds
15 seconds rest
2nd exercise: Bunny hop stand up 2 x 45 seconds
15 seconds rest
3rd exercise: Pulse squat 2 x 30 seconds
15 seconds rest
4th exercise: Good morning 2 x 45 seconds
15 seconds rest
5th exercise: Inch worm with plank knee tuck 2 x 45 seconds
15 seconds rest
6th exercise: Hip thrust 2 x 45 seconds
15 seconds rest
7th exercise: Double knee bicycle sit up 2 x 45 seconds
15 seconds rest
8th exercise: Side plank reach 2 x 45 seconds (side to side)
15 seconds rest
9th exercise: Bird dog 2 x 45 seconds
15 seconds rest
10th exercise: Glute bridge with side tap 2 x 45 seconds
15 seconds rest
11th exercise: Side dip on knees 2 x 45 seconds (left and right)
15 seconds rest
12th exercise: Spider plank 2 x 45 seconds
15 seconds rest
13th exercise: Fast squat 2 x 45 seconds
15 seconds rest
14th exercise: Sway reach 2 x 45 seconds
Ab Workout
Crunch x 30 seconds
Side-to-side crunch x 30 seconds
Middle crunch x 30 seconds
Bicycle crunch x 30 seconds (right side)
Bicycle crunch x 30 seconds (left side)
Alternating table top taps x 30 seconds
Russian twist on heels x 30 seconds
Alternating toe touches x 30 seconds
Alternating leg downs x 30 seconds
Side crunch x 30 seconds (left side)
Side crunch x 30 seconds (right side)
Plank x 30 seconds (left side)
Plank x 30 seconds (right side)
Knee tap plank x 30 seconds
Heel taps x 30 seconds
Single leg bicycle crunch x 30 seconds (left side)
Single leg bicycle crunch x 30 seconds (right side)
Crunch with 3 second hold and rest x 30 seconds
Reach left x 30 seconds
Reach right x 30 seconds
Conclusion
Sydney shows us that you can have a healthy body, without restricting yourself from certain food groups. She proves that moderation is key when sticking to a successful weight loss plan.
You can achieve the body of your dreams as long as you eat healthy most of the time. There's nothing wrong with having pizza or a burger once a week, because it can keep your mind sane.
Similar Physiques
Search Terms
Sydney Sweeney diet plan
Sydney Sweeney workout routine