Sza Diet and Workout Plan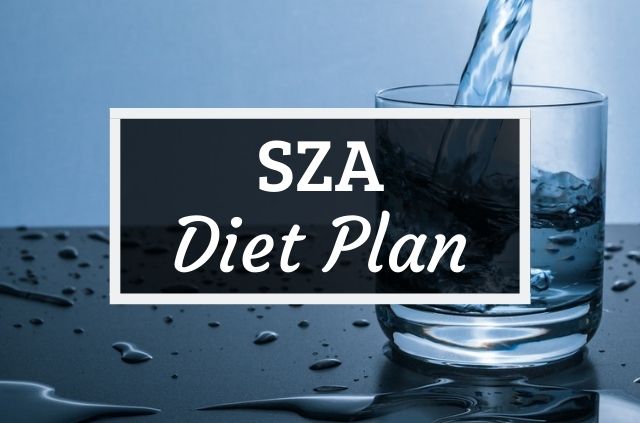 The Sza diet isn't as strict as you might think. The famous singer was able to lose weight by cutting out a few unhealthy habits from her daily schedule.
Early on in her career, Sza weighed around 200 pounds. She was able to slim down by avoiding sugar, eating less carbs, as well as some other tricks.
The most important thing about Sza's eating plan is to practice moderation. You can still enjoy the foods you love once you understand portion control.
Continue reading for a more detailed look into Sza's diet plan and training style.
Who is Sza?
SZA (real name Solána Imani Rowe) is an American singer and songwriter.
She rose to fame in the mid-2010s with her album CTRL and 'All the Stars' which was featured on the soundtrack of Black Panther.
She even wrote songs for other female artists such as Beyonce and Rhianna.
Sza Diet Plan
Sza didn't stick to one diet routine. Instead, she tried what worked for her and stuck with it.
Sza focused on drinking plenty of water and cutting out red meat. She also added more veggies and fruits to her meals, while cutting carbs and sugars from her diet.
Sza has made headlines on Instagram from her weight loss journey. Many have wondered what made her want to start this weight-loss process.
The truth is, it's a story that needs to be told from the beginning.
Weight-loss Journey
Before taking her music career to the next level, Sza found herself unhappy with her life.
She has stated that her life wasn't so simple, which led to her not controlling her emotions and having an eating disorder.
This means she most likely ate unhealthy foods to make herself feel better and binge ate on a regular basis.
Even though it has been stated that she was a gymnast and ballerina as a child, she also stated in an interview that she loves to wear baggy clothes as she felt more like a '90s person.
"I'm low key into the '90s style. I've consistently been dressing in baggy clothes because I was heavy. I was 200 pounds, but that's not really public knowledge. I was a lot bigger, so wearing baggy clothes was not so much as a '90s thing, it was what was comfortable and what fits."
As stated above, Sza had reached two hundred pounds and made a link to her music career. She realized that if her music career was going to change, so would she.
"It was just a matter of where I was in my mind, but I did also come out of that space where I was like, I feel like I want to change. I want to be different. I want to grow. I want to learn. I think it's one thing to be comfortable, but then it's one thing to not see your full potential and your full picture. The standard should really come from within."
How did Sza Lose Weight?
At one point, she told an audience at Dove Girl that she felt that she was a misfit for the industry, due to the fact that she was aware of her weight.
"Honestly, my manager, Punch, never asked me to 'get dressed' once. People would come to him like, 'we need to clean her up,' and he would say, 'It's fine. She's fine."
Around that time, Sza's weight didn't bother her or her image of wearing baggy clothes. She even admitted that she never had a problem with it nor her fans.
However, as her fame grew and more people came near. The idea of changing her image started to come to her mind.
Sza Workout Routine
As crazy as it may seem but not quite unheard of, Sza does not have a workout plan. All she does is stay more active by talking to a long walk, or hiking.
To go further, she sent this reply to a fan when asked about her workout routine as she was seen on social media sporting abs.
"No crazy diet, no shakes, no cute ass "tea," no supplements, still no gym (yet). Just being more active (light hikes n strolls etc.) LOTS uh water + doing and eating what feels right for ME and my body (less cheese less sugar). Whether I'm slim jimmy or thicker than a lil bit, it's all a journey, and I'm in no rush from 168-152 at my own lil pace and still going."
As she has admitted, she doesn't do anything that doesn't feel right for her or her body and has not joined a gym as of yet.
One has to wonder what other activities she does to stay in shape, because it's common knowledge that you can't get abs without the proper workout.
Similar Physiques
Search Terms
Sza diet plan
Sza workout routine