What Are Korean Corn Dogs?
Corn dogs are a popular American fried food item you can enjoy on the go. They can be found at fairs and even your local grocery store. But what are Korean corn dogs?
Korean corn dogs (also known as gamja hot dogs) have similarities to the American version. The main difference is that they can be filled with many different things – other than hot dogs, or sausages.
Korean corn dogs can have cheese, fish, squid, spam, rice cake, or a combination of foods. If you're looking to sample authentic street food in Seoul, look no further than this famous dish.
Korean Corn Dogs vs American Corn Dogs
As we briefly mentioned above, Korean corn dogs can be filled with more than just hot dogs and sausage. But there are also some other key differences that separate the Korean and American versions.
For starters, Korean corn dogs are not made from cornmeal batter. In the United States, this common food coating is used on the outside of hot dogs, before being placed in a deep fryer.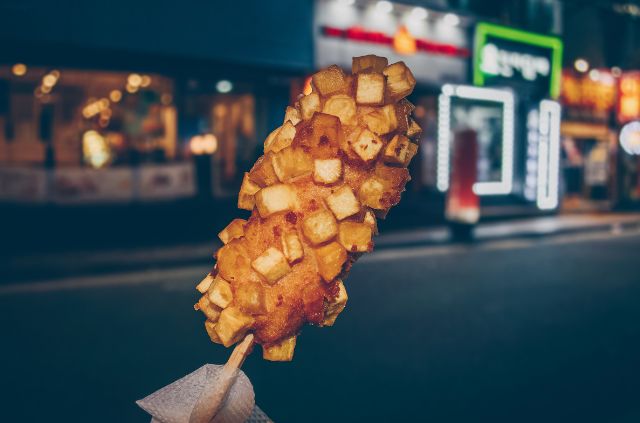 But Korean corn dogs use panko breadcrumbs on the exterior instead. This helps make the cuisine noticeable more crunchy. Ramen, cornflakes, and even French fries can also be used for coating the outside.
Korean corn dogs are also sweeter than the American kind. Once they have been fried to a crispy golden brown, sugar is used to coat the outer shell. This makes Korean corn dogs more of a desert than their American counterpart.
Korean Corn Dog Recipe
If you're looking to make real Korean street cuisine, try out the recipe below. The good news is Korean corn dogs don't require that many ingredients and you can make them in under one hour.
Filling
6 hot dogs or meat of your choice
12 mozzarella cheese sticks
12 skewers or wooden chopsticks
Batter
1 1/4 cup flour
2 tbsp sugar
1/2 tsp baking powder
1/2 cup milk
1 whole egg
Toppings
1 cup panko breadcrumbs
1 large diced potato
Directions
Begin by slicing the hot dogs (or meat of your choosing) and mozzarella sticks in half.
On a large baking sheet, coming the panko breadcrumbs and diced potato. Spread them evenly across the entire baking sheet.
Then place the hot dogs and mozzarella on skewers. Arrange them by putting the cheese on first, then the hot dog, followed by another piece of cheese. This will trap the meat between two pieces of mozzarella and make for a mouth-watering corn dog.
In a large bowl, mix together the batter ingredients. If the batter is too watery, try adding more flour. And if the batter is too thick, you can add more milk.
When the batter has been thoroughly mixed, begin dipping the skewers. Make sure to fully coat the hot dog and cheese, before moving on the the next step.
Finally, you can roll the corn dog over the breadcrumbs and diced potatoes. Again, make sure to coat the outside so the outer layer will have an even coating.
Deep fry each skewer at 175°F for 3 -5 minutes. Avoid cooking more than three at a time, as this will only crowd the deep fryer.
When the outside has had enough time to cool down, you can add sugar to the exterior and serve. Congratulations! You have successfully made Korean street food.
Further Reading
Search Terms
What are Korean corn dogs?
Korean corn dog vs American corn dog