Zyzz Diet and Workout Plan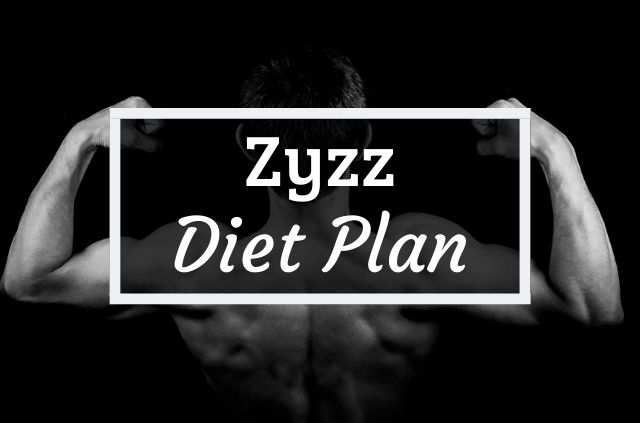 The Zyzz diet resembled a classic bodybuilding meal plan. He ate clean foods throughout the day and would eat smaller meals more frequently. The one key difference is that Zyzz drank alcohol.
As you may know, this is not very common in the bodybuilding world. But Zyzz loved to party and wasn't afraid to have fun. Continue reading for a more detailed look into his favorite foods and training routine.
Who Was Zyzz?
Aziz Shavershian (more commonly known as Zyzz) was a fitness model and social media influencer. He was able to grow a large and loyal following on his YouTube channel where he showcased his bodybuilding lifestyle
He was so entertaining to watch due to his party lifestyle and honest personality. Zyzz was able to transform his skinny frame to one of the most aesthetic physiques in the fitness community.
Stats
Height: 6'1″ (185.5cm)
Weight: 205 – 215 lbs (88.5 – 93.0 kg)
Born: March 24, 1989
Died: August 5, 2011
Zyzz Diet Plan
As we briefly mentioned in the sections above, the Zyzz diet was a unique approach when it came to nutrition. He ate clean most of the time, but he also wasn't afraid to include alcohol in his diet. Most nutritionists would say that consuming alcohol when dieting can negatively impact fat loss – but Zyzz made it work.
1st meal: 2 whole eggs, 1 cup egg whites, and 40 grams oatmeal
2nd meal: 1 banana and 1 scoop whey protein
3rd meal: 5 ounces chicken breast and 100 grams white rice (cooked weight)
4th meal: 3 rice cakes, 1 tbsp peanut butter, and 1 scoop whey protein
5th meal: 5 ounces steak and 100 grams brown rice (cooked weight)
6th meal: 200 grams tuna and 1 cup fat free cottage cheese
He would normally eat around 5-6 meals depending on his current goals. This nutritional plan helps to provide your body with consistent nourishment throughout the day. It's also a great way to avoid bloating, because you won't have to eat three large meals (breakfast, lunch, and dinner).
Zyzz Workout Routine
The Zyzz workout routine followed the standard bodybuilding approach to training. He would focuses on 1-2 muscles groups during each gym session. These isolation exercises are the most efficient way to build muscle. Here's what a typical split may have looked like for him.
Chest Day 1
1st exercise: Hammer strength press 5 x 8
2nd exercise: Incline barbell bench press 4 x 6
3rd exercise: Decline smith machine press 3 x 25, 15, 8
4th exercise: Dumbbell flat bench press 3 x 8
Chest Day 2
1st exercise: Incline barbell bench press 5 x 6-12
2nd exercise: Flat dumbbell bench press 5 x 8-12
3rd exercise: Incline dumbbell bench press 5 x 8-12
4th exercise: Standing cable chest fly superset with machine chest press 4 x 10-15
5th exercise: Pec deck machine superset with bodyweight push up 4 x 10-15
Back Day 1
1st exercise: Single arm lat pull down 5 x 8-12
2nd exercise: Dumbbell seal row 5 x 8-12
3rd exercise: Kneeling cable pull over 5 x 10-15
4th exercise: Reverse pec deck machine 5 x 10-15
5th exercise: Bicep curl giant set (pronated curl 3 x 8, hammer curl 3 x 8, supinated curl 3 x 8)
Back Day 2
1st exercise: Dumbbell lat pulldown 4 x 10
2nd exercise: Barbell deadlift 5 x 8-12
3rd exercise: Wide grip bodyweight pull up x 4 sets to failure
4th exercise: T-bar row 4 x 8-12
5th exercise: Seated dumbbell shrug 4 x 15
Shoulder Day 1
1st exercise: Standing barbell overhead press 4 x 8-15
2nd exercise: Arnold press 4 x 10-15
3rd exercise: Alternating front dumbbell raise 4 x 12-15
4th exercise: Single arm cable lateral raise 4 x 12-15
5th exercise: Incline reverse dumbbell fly 4 x 12-15
6th exercise: Seated dumbbell shrug 4 x 10-15
7th exercise: Smith machine shrug 4 x 10-15
Shoulder Day 2
1st exercise: Seated dumbbell overhead press 4 x 8-12
2nd exercise: Behind the neck shoulder press 4 x 8-12
3rd exercise: Seated dumbbell lateral raise 4 x 10-15
4th exercise: Seated alternating dumbbell front raise 4 x 10-15
5th exercise: Incline dumbbell rear delt fly 4 x 10-15
Leg Day 1
1st exercise: Barbell back squat 4 x 6-12
2nd exercise: Romanian deadlift 4 x 8-12
3rd exercise: Dumbbell walking lunge 4 x 15 steps
4th exercise: Single leg leg extension 3 x 10
5th exercise: Lying leg curl 4 x 8-12
6th exercise: Straight leg calf raise 3 x 15
7th exercise: Seated calf raise 3 x 15
Leg Day 2
1st exercise: Stiff leg dumbbell deadlift 4 x 8-12
2nd exercise: Smith machine lunge 4 x 8-12
3rd exercise: Lying hamstring curl 4 x 10-15
4th exercise: Seated leg extension 4 x 10-15
5th exercise: Barbell good morning 4 x 8-12
6th exercise: Dumbbell walking lunge 4 x 10 steps
7th exercise: Single leg hamstring curl 4 x 10-15
Arm Day 1
1st exercise: Cable triceps pushdown (close grip) 3 x 10-15
2nd exercise: Seated dumbbell curl 3 x 10
3rd exercise: Dip machine 3 x 10
4th exercise: Standing barbell curl 3 x 10-15
5th exercise: Single arm cable triceps extension 3 x 10-15
6th exercise: Single arm machine preacher curl 3 x 10-15
7th exercise: EZ-bar skullcrusher 3 x 10 superset with EZ-bar curl 3 x 10
Arm Day 2
1st exercise: Standing barbell curl 4 x 6-10
2nd exercise: Overhead dumbbell triceps extension 4 x 10-12
3rd exercise: Seated dumbbell curl 4 x 10-12
4th exercise: Triceps cable pushdown 4 x 12-15
5th exercise: Overhead cable triceps extension superset with close grip bodyweight pull up 4 x 10-15
6th exercise: Standing dumbbell curl superset with bodyweight dip 4 x to failure
Similar Physiques
Search Terms
Zyzz diet plan
Zyzz workout routine