Healthy Grilled Burger (332 calories)
This healthy grilled burger recipe has it all – delicious juicy beef that packs plenty of flavor. The best part is, it's low in calories and only takes a few minutes to make!
Some people looking to lose a few pounds think the process is all or nothing. But eating healthier options doesn't mean you have to restrict certain foods from your diet.
That's why I love this healthy grilled burger recipe. You can easily create a juicy beef patty topped with your favorite add-ons – without all the extra calories.
It all comes down to how the burger is prepared. Choosing a lean cut of beef avoids unnecessary fat. But we can also increase the amount of flavor by ditching heavy oils and opting for spices instead.
Ingredients
Lean ground beef – You can't make a healthy grilled burger without the right ground beef. Choose either 90/10 or 93/7 ground beef for this recipe.
Spices – It's critical to add spices when cooking with a leaner cut of meat. I'm using a blend of onion powder, garlic powder, chili powder, and sea salt.
Low calorie bun – Calories can really start to add up with different kinds of buns. I'm using a 647 sandwich roll that has 33% fewer calories and 9g of fiber.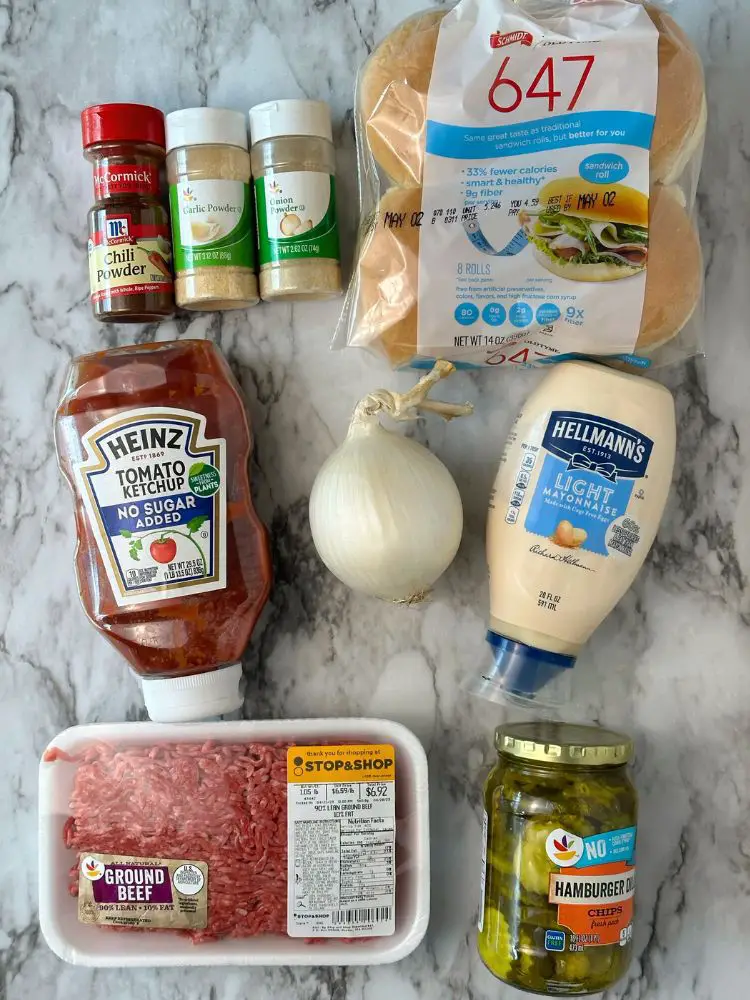 Toppings
Cheese – Adding a slice of cheese to your burger is the best topping (in my opinion). And you can still achieve that creamy taste, by finding a reduced fat version.
Caramelized onions – In addition to spices, caramelized onions will also improve the taste of your burger. Just remember to use a light amount of olive oil in the pan.
Pickles – Not everyone likes pickles, but they're a low calorie topping that add plenty of crunch. I prefer the traditional hamburger style chips.
Lettuce – Lettuce is another helpful topping that adds crunch. And lettuce is so low in calories, so you can use as much as you want on your burger.
Ketchup – You can make a classic (and healthy) burger by using reduced sugar ketchup. The regular version has slightly more sugar, calories, and carbs.
Light mayonnaise – The tangy taste of mayo will compliment the flavors of the meat and cheese in this recipe. Again, opt for the lighter version for your burger.
Instructions
Start off by adding minced garlic and olive oil to a pan on medium high heat. This will vary depending on the size of your onion, but around 1-2 tablespoons of each should work.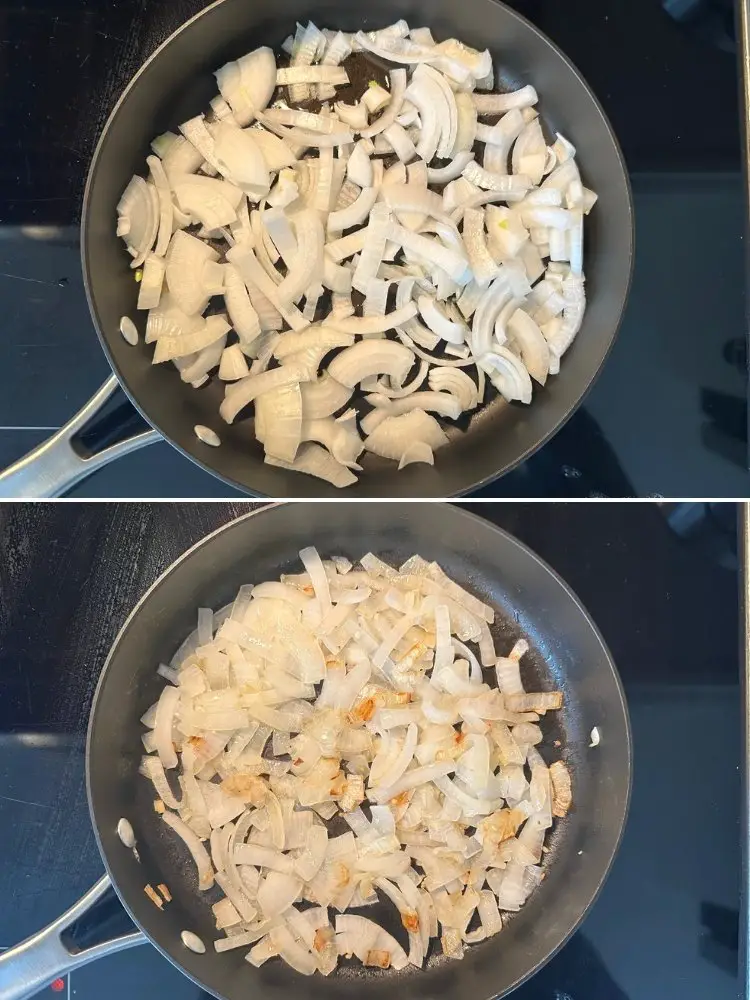 Add the chopped onion and make sure to stir it around every so often. While the onions are cooking you can turn on your grill. I like to keep it between 350-375° F when cooking burgers.
You can then form the patties while waiting for the grill to heat up. First combine your favorite spices with the beef in a large mixing bowl.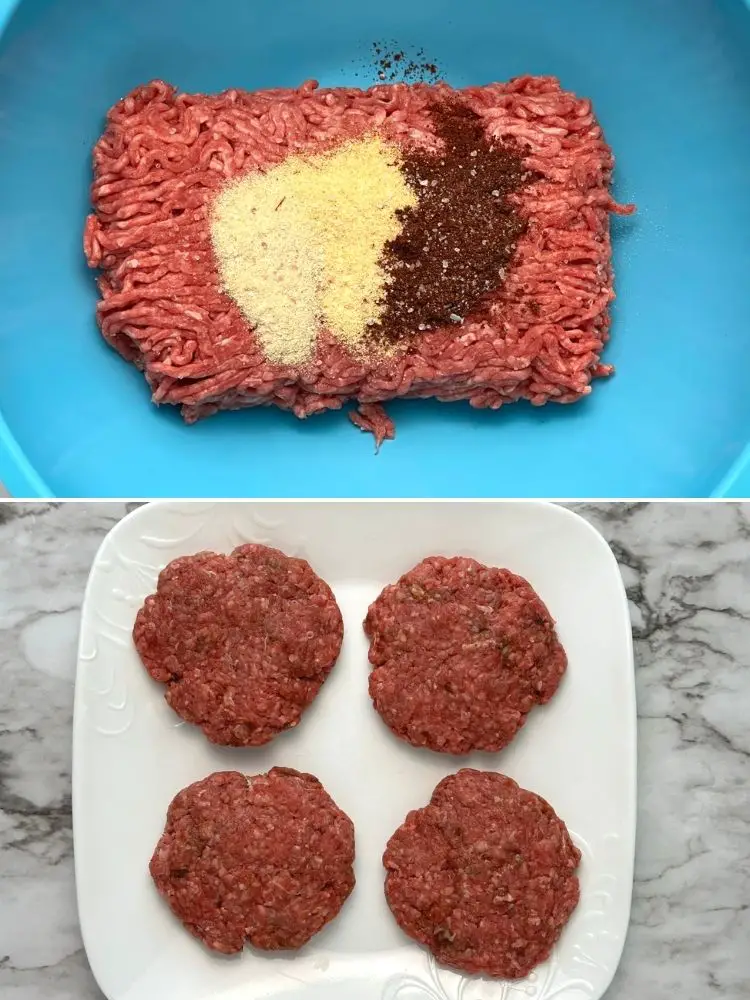 You can then shape 4 patties from one package (1lb) of ground beef. The measurements will never be exact from the store, but each burger will be around 4oz each.
Place each patty on the grill. Make sure there is enough space between the burgers so they can cook evenly. After about 3-4 minutes, flip and allow the other side to cook.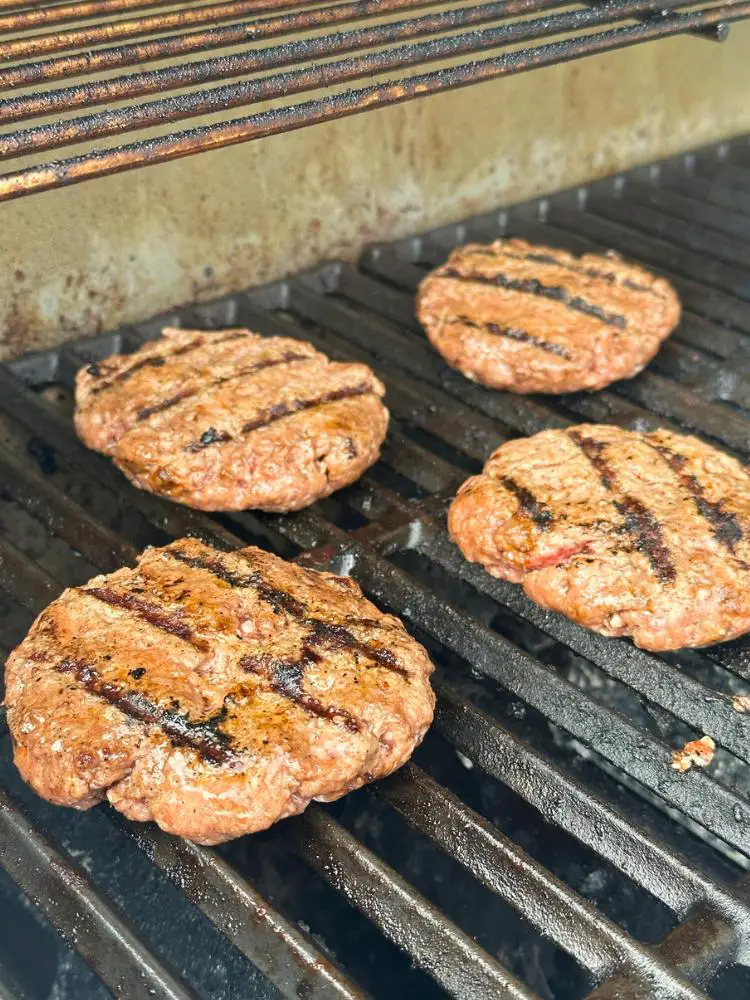 Finally, remove them from the grill and quickly place cheese (optional) on the warm burger. This will melt it just enough. Add whatever other toppings you like and enjoy!
Frequently Asked Questions
Can burgers be made healthy?
Yes, burgers can be made healthy when using the right ingredients. Using 90 percent lean beef or higher will cut back on calories. And a 4-ounce patty (uncooked) is an ideal serving size for most adults.
What is the healthiest way to cook burgers?
Grilling burgers is the healthiest (and best) way to cook them. During the grilling process, some of the fat will drip out of the patty. But grilling meat is also a great way to add more flavor – compared to other ways of cooking.
What is the leanest hamburger?
93/7 ground beef is the leanest type of hamburger. These numbers mean that only 7 percent of the beef contains fat. And if you skip cheese as a topping, this will make a very lean and healthy meal.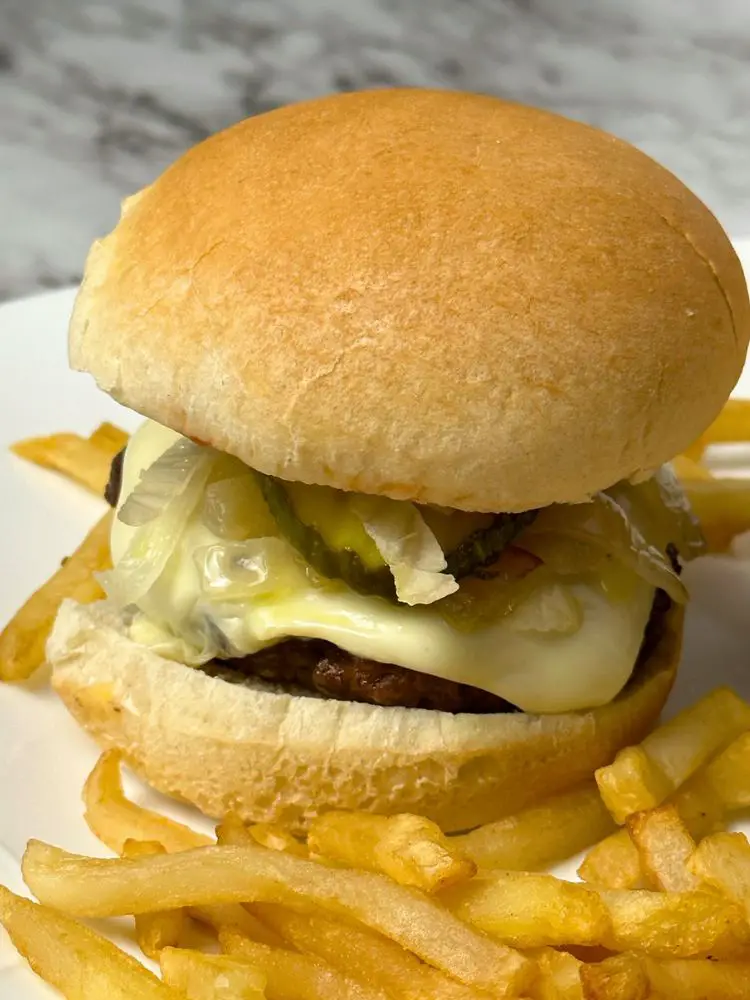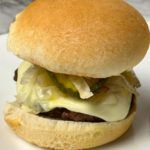 Print Recipe
Healthy Grilled Burger
This healthy grilled burger recipe has it all – delicious juicy beef that packs plenty of flavor. The best part is, it's low in calories and only takes a few minutes to make!
Ingredients
1

lbs

93/7 ground beef

4

sandwich rolls

4

slices

reduced fat cheese

1

whole

onion

4

tbsp

reduced sugar ketchup

4

tbsp

light mayonnaise

1/2

tsp

onion powder

1/2

tsp

garlic powder

1/2

tsp

chili powder

pinch

sea salt

1

tbsp

olive oil (optional)

for grilled onions

1

tbsp

minced garlic (optional)

for grilled onions
Instructions
Burgers
Add ground beef, garlic powder, onion powder, chili powder, and sea salt to a large bowl. Mix thoroughly and create four 4oz patties.

Place burgers on grill between 350-375° F (try to stay in this range even though it can be difficult maintaining temperature when cover opens and closes).

Flip the burgers after 3-4 minutes and cook the other side for this same amount of time.

Remove burgers from grill and place on buns, before adding cheese and other toppings.
Caramelized Onions
Slice a 1/2 inch off the stem ends of the onions and roots off the root end. Cut them in half through the root end. Peel back the peels and lay the onion cut side down. Make angled cuts for desired thickness.

Add olive oil and minced garlic to a pan on medium high heat. Then add onion slices and stir around to further coat them with oil. Reduce heat to medium, or medium low.

Stir the onions every few minutes (keep an eye on this part). If you stir the onions too much they won't brown. And if you don't stir them they will burn. Remove from pan and set aside when they are a rich brown color.
Nutrition
Serving:
1
burger
|
Calories:
332
kcal
|
Carbohydrates:
26
g
|
Protein:
31
g
|
Fat:
16
g
|
Saturated Fat:
5
g
|
Polyunsaturated Fat:
2
g
|
Monounsaturated Fat:
1
g
|
Cholesterol:
75
mg
|
Sodium:
865
mg
|
Fiber:
9
g
|
Sugar:
1
g