14 Macro-Friendly Wendy's Options
Finding healthy food when you're on the go can seem impossible. The good news is, there are always options to choose from when you know where to look.
That's why I came up with this list of macro-friendly Wendy's options. This fast food joint is known for their famous Baconator burger, but there are plenty of low-calorie items on the menu.
Related: Try my free macro calculator
In the sections below, every meal listed is 420 calories or less. If nutrition is something you value, there are over a dozen things you can eat without ruining your daily macronutrients.
Breakfast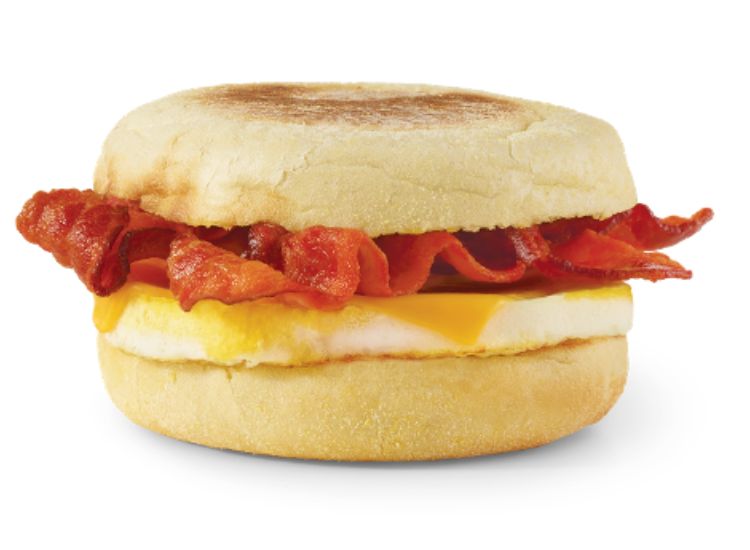 1. Egg & Cheese Biscuit
| | |
| --- | --- |
| Calories | 360 |
| Fat | 23g |
| Carbs | 27g |
| Protein | 11g |
Includes: Buttermilk biscuit, egg, American cheese slice
2. Bacon, Egg & Swiss Croissant
| | |
| --- | --- |
| Calories | 370 |
| Fat | 19g |
| Carbs | 34g |
| Protein | 13g |
Includes: Croissant, egg, Swiss cheese sauce
3. Bacon, Egg & Cheese English Muffin
| | |
| --- | --- |
| Calories | 390 |
| Fat | 21g |
| Carbs | 34g |
| Protein | 17g |
Includes: English muffin, egg, applewood smoked bacon, buttery spread
Lunch & dinner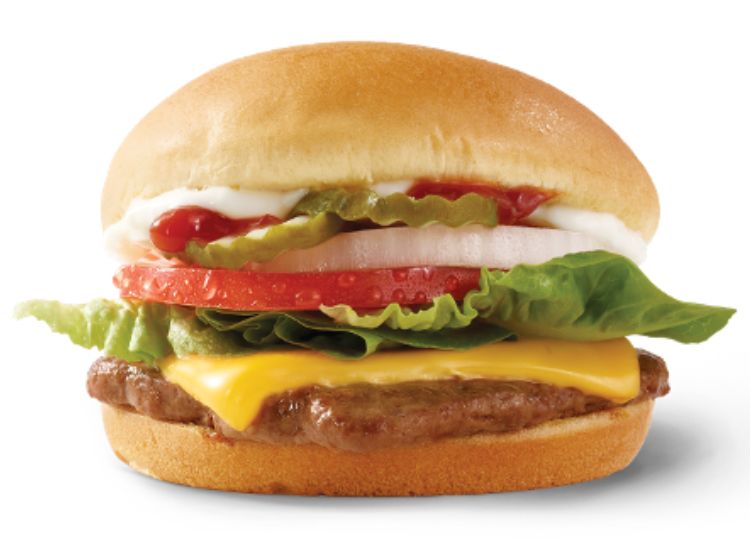 4. Chili
| | |
| --- | --- |
| Calories | 240 |
| Fat | 11g |
| Carbs | 22g |
| Protein | 16g |
Includes: Chili
5. Jr. Hamburger
| | |
| --- | --- |
| Calories | 250 |
| Fat | 11g |
| Carbs | 25g |
| Protein | 13g |
Includes: Sandwich bun, Jr. hamburger patty, crinkle cut pickles, ketchup, mustard, sweet onion
6. Chicken Nuggets (6 piece)
| | |
| --- | --- |
| Calories | 270 |
| Fat | 17g |
| Carbs | 14g |
| Protein | 15g |
Includes: Chicken nuggets
7. Spicy Chicken Nuggets (6 piece)
| | |
| --- | --- |
| Calories | 280 |
| Fat | 18g |
| Carbs | 13g |
| Protein | 15g |
Includes: Spicy chicken nuggets
8. Jr. Cheeseburger
| | |
| --- | --- |
| Calories | 290 |
| Fat | 14g |
| Carbs | 26g |
| Protein | 14g |
Includes: Sandwich bun, Jr. Hamburger patty, American cheese, crinkle cut pickles, ketchup, mustard, sweet onion
9. Crispy Chicken Sandwich
| | |
| --- | --- |
| Calories | 330 |
| Fat | 16g |
| Carbs | 33g |
| Protein | 14g |
Includes: Crispy chicken patty, sandwich bun, lettuce, mayonnaise
10. Jr. Cheeseburger Deluxe
| | |
| --- | --- |
| Calories | 340 |
| Fat | 20g |
| Carbs | 27g |
| Protein | 15g |
Includes: Sandwich bun, Jr. Hamburger patty, tomato, American cheese, lettuce, mayonnaise, crinkle cut pickles, ketchup, sweet onion
11. Jr. Bacon Cheeseburger
| | |
| --- | --- |
| Calories | 370 |
| Fat | 23g |
| Carbs | 25g |
| Protein | 18g |
Includes: Sandwich bun, Jr. Hamburger patty, tomato, American cheese, applewood smoked bacon, lettuce, mayonnaise
12. Double Stack
| | |
| --- | --- |
| Calories | 410 |
| Fat | 24g |
| Carbs | 26g |
| Protein | 23g |
Includes: Jr. Hamburger patties, sandwich bun, American cheese, crinkle cut pickles, ketchup, mustard, sweet onion
13. Grilled Chicken Wrap
| | |
| --- | --- |
| Calories | 420 |
| Fat | 16g |
| Carbs | 41g |
| Protein | 27g |
Includes: Grilled chicken, tortilla, lettuce, ranch sauce, shredded cheddar cheese
14. Crispy Chicken BLT
| | |
| --- | --- |
| Calories | 420 |
| Fat | 23g |
| Carbs | 35g |
| Protein | 19g |
Includes: Crispy chicken patty, sandwich bun, tomato, American cheese, applewood smoked bacon, lettuce, mayonnaise
Resources
Nutritional information for the above macro-friendly Wendy's options can be found here:
https://order.wendys.com/categories?site=menu&lang=en_US
More Macro-Friendly Restaurants