Gluten-Free Turkey Meatballs
Are you looking for a healthy turkey meatball recipe that won't weigh you down? Meatballs are commonly paired with pasta and sauce to make a high-carb dish. But that doesn't have to be the case.
You can use leaner meat (such as ground turkey) for a protein-packed recipe, that's lower in calories and fat. The end result is a guilt-free meal that will have plenty of flavor.
Ingredients
This quick and easy recipe only calls for seven ingredients. In other words, you won't need to spend time walking up and down the aisles of your grocery store, searching for obscure items.
Ground turkey: The foundation of any good meatball recipe starts with meat! I prefer to use the 93/7 variety, because it's more macro friendly and doesn't compromise on flavor. A 4 oz serving of ground turkey is lower in calories and fat, when comparing it to a similar amount of ground beef.
Gluten-free bread crumbs: You don't need to ditch the bread crumbs for a healthy meatball. The key is not using too much. 1/4 cup will prevent the turkey from drying out when cooking and it will absorb juices from the meat. We opt for gluten-free bread crumbs, because my wife has celiac disease.
Egg: One egg is needed to bind the turkey, bread crumbs, cheese, and spices together. But don't make the mistake of adding too many eggs to your mixing bowl. Beginners think this ingredient is key to creating moist meatballs. The truth is, it will only make them soggy and heavy.
Cheese: Is too much cheese really a thing? In all seriousness, shredded mozzarella cheese is the perfect addition to these meatballs. I like to use the kind with 2% milk, because it provides plenty of flavor without adding more fat. Once baked, warm cheese will melt in your mouth with each bite.
Spices: There's no reason to go overboard here and use a long list of spices. Italian seasoning, garlic powder, and onion powder create an ideal blend for this recipe. All of these spices combined with mozzarella cheese makes for a truly delicious Italian themed dish.
Instructions
Begin by preheating the oven to 400ºF. While the oven is warming up, combine all of the ingredients into a large mixing bowl. Make sure the bowl is big enough so you can prevent anything from spilling out.
Place the ground turkey, egg, cheese, bread crumbs, and spices into the bowl. Then, mix all of the items thoroughly with your hands.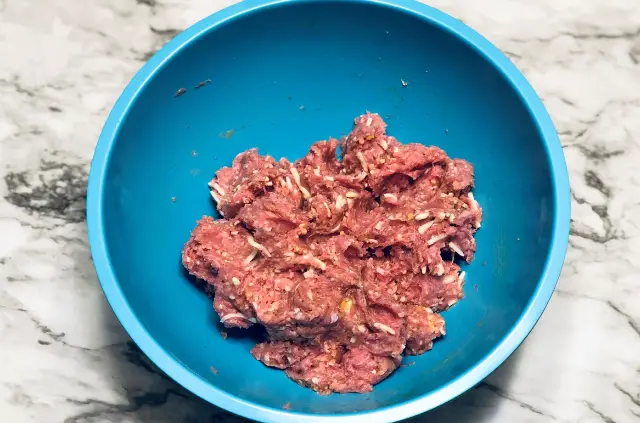 Avoid using a spoon, because the light touch of your hands will blend ingredients together without crushing the meat. If you find the turkey is 'too sticky' run water on your hands to get them a little damp.
Once you've created a nice mixture, you can start forming the meatballs. This step is totally up to you. I prefer a heartier (larger) meatball, that requires a few bites to finish.
Just make sure that all of the meatballs you create end up being around the same size. Some people will use a large spoon to form them, but I like using a food scale.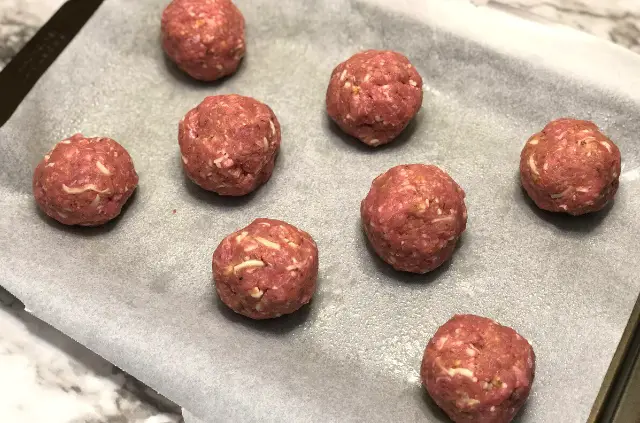 This takes a little more time, but weighing them out makes nutritional information more accurate. When all the meatballs have been formed you can then place them in the oven for 20-24 minutes.
Again, the exact amount of cooking time will depend on the size. Just make sure the internal temperature of the turkey meatballs have reached 165°F before eating. Allow them to cool down for a few minutes and enjoy!
Frequently Asked Questions
This turkey meatball recipe does not call for salt, because there is plenty of sodium in the mozzarella cheese. You can add salt and pepper to taste, but that's totally up to you.
Are turkey meatballs healthy?
Yes, this turkey meatball recipe is much healthier when comparing it to a traditional beef dish. Ground turkey has fewer calories and fat – which makes it a macro-friendly meal.
Are turkey meatballs gluten-free?
This turkey meatball recipe is gluten-free, because it calls for gluten-free bread crumbs. Most meatballs (beef or turkey) are not gluten-free. Keep this in mind the next time you eat at a restaurant.
Storing Leftovers
As you might expect, these delicious turkey meatballs taste best straight out of the oven. If you don't plan on eating them immediately, they will stay fresh for 2-3 days in the refrigerator.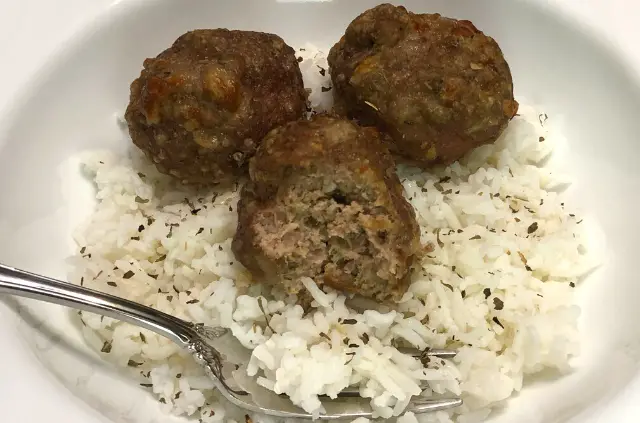 And if you want to keep them even longer, place them in a freezer for up to two months. Just make sure to allow the meatballs to cool down first, before storing them in a plastic bag or sealed container.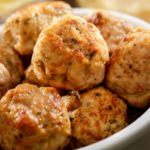 Print Recipe
Gluten-Free Turkey Meatballs
These gluten-free turkey meatballs are healthy and loaded with flavor. A combination of spices and mozzarella cheese creates a mouth-watering and hearty Italian dish.
Servings:
3
(3 meatballs each)
Equipment
Baking sheet

Mixing bowl

Parchment paper
Ingredients
1

lbs

Ground turkey 93/7

1/2

cup

Shredded mozzarella cheese (reduced fat)

1/4

cup

Gluten-free plain bread crumbs

1

Egg

1

tbsp

Italian seasoning

1

tsp

Garlic powder

1

tsp

Onion powder
Instructions
To make the meatballs:
Combine ground turkey, mozzarella cheese, gluten-free bread crumbs, 1 egg, Italian seasoning, garlic powder, and onion powder in a large mixing bowl.

Mix the ingredients thoroughly together using your hands. Shape the meatballs with a large spoon, or use a food scale for a more accurate measurement.
To bake the meatballs:
Preheat oven to 400°F. Line a rimmed baking sheet with parchment paper and coat with non-stick cooking spray for easy cleanup.

Place the meatballs on parchment paper. Make sure they are separated and not touching each other. Bake for 20-24 minutes (the internal temperature should read 165°F).
Notes
Allow the meatballs to cool for a few minutes before eating
Larger meatballs may require more baking time
Nutrition