Shredded Slow Cooker Chicken Breast
Are you tired of making dry chicken? It's easy to overcook some types of poultry, due to the low fat content. But don't throw in the towel just yet!
This recipe 👇 will revive your weekly meal prep and help you make the juiciest slow cooker chicken breast ever.
This shredded chicken is perfect for buffalo chicken wraps, or on its own!
Heads up: For the rest of this article, I'll use slow cooker and Crockpot interchangeably.
Cooking Raw Chicken in Slow Cooker
I'll be honest, I've had my share of failures with the Crockpot. The biggest lesson I've learned is that timing is crucial when it comes to making the juiciest chicken breast.
That's why you should set your Crockpot on high for 4-5 hours when cooking raw chicken in the slow cooker. Lean cuts of poultry (like chicken breast) need high heat and a shorter cook time.
If you set the slow cooker on low for 6-8 hours, chicken will get very dry (believe me, I've tried). So remember – high heat for a shorter cook time will retain moisture and keep the chicken juicy.
Ingredients
You'll only need a handful of simple ingredients to make this recipe. Specific measurements can be found in the recipe card below. Here's an outline of what you'll need: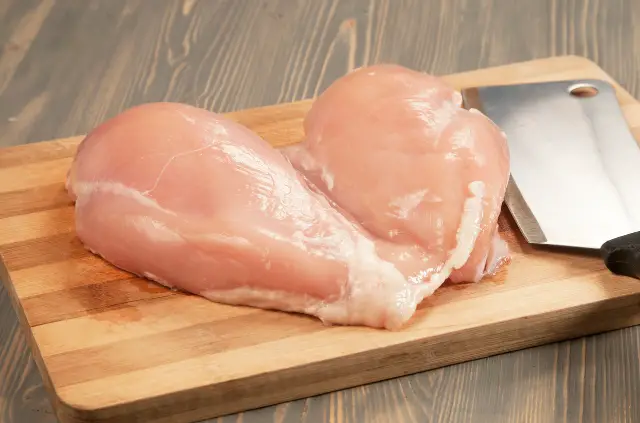 Chicken breast: This lean cut of poultry makes it best for healthy cooking. I prefer the boneless and skinless variety, because there's less preparation involved.
Seasoning: Garlic powder, onion powder, chili powder, and ground cumin create an excellent blend of spices.
Olive oil spray: Using a non-stick cooking spray won't add a burst of flavor to this recipe. But it will help you avoid scraping leftover chicken stuck to the inside of your Crockpot.
Instructions
Making slow cooker chicken is super easy, because it follows the 'set it and forget it' method. You can scroll down to the recipe card for more detailed instructions. Here are the basic steps:
First, trim any excess fat from the chicken breasts. Even though this is a lean cut of poultry, there's still some fat on them. You don't have to go crazy with this step, just remove the largest sections.
Next, place your chicken breasts in the Crockpot. Make sure to spread them out evenly – so they aren't piled up. Then all you need to do is sprinkle the spices on top of the chicken.
Set the slow cooker on high for 4 hours. That's pretty much it! You can shred up the chicken after 3.5 hours and allow it to finish cooking. And let the chicken cool down first before eating, or storing leftovers.
Frequently Asked Questions
How long does it take to cook chicken in a slow cooker?
It takes around 4-5 hours to cook raw chicken in a slow cooker. It's better to cook lean poultry on high heat, as it will help retain moisture and leave you with the juiciest chicken possible.
Can you cook chicken in slow cooker without browning first?
Yes, you can cook chicken in a slow cooker without browning it in the oven, or frying pan. A Crockpot will get hot enough so that the chicken will be able to fully cook at a safe temperature.
Can you put chicken in the slow cooker without liquid?
Yes, you can make moist chicken even without adding liquid to the slow cooker first. But there's nothing wrong with adding chicken broth, or something similar for additional flavor.
Storing Leftovers
Whenever I make this slow cooker chicken breast I typically use it in my meal prep for the week. Once the chicken is done cooking, make sure it cools for 20-30 minutes.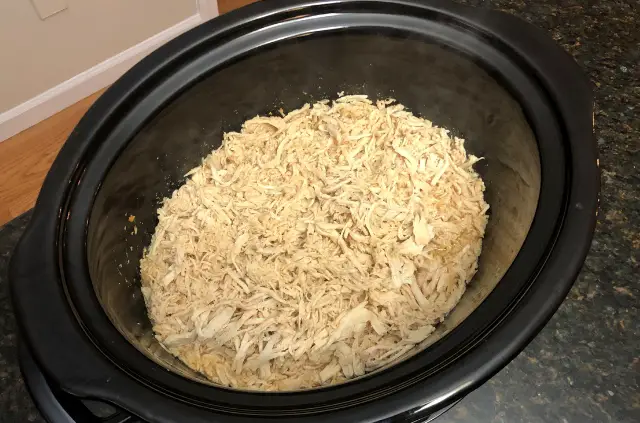 Then you can place it in the refrigerator for 3-4 days, or store in the freezer. The options are endless when it comes to using this chicken in your weekly recipes.
You can make tacos, BBQ chicken sandwiches, or serve it over rice and vegetables. It makes for a quick dinner after a long day at work.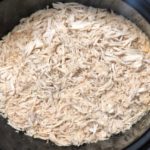 Print Recipe
JUICY Slow Cooker Chicken Breast
Juicy and healthy chicken breast you can make in the slow cooker.
Equipment
slow cooker

knife or scissors

olive oil spray
Ingredients
3-4

lbs

chicken breast

1

tbsp

garlic powder

1

tbsp

onion powder

1

tbsp

chili powder

1

tbsp

ground cumin
Instructions
Trim excess fat from the chicken breasts. You can either do this with a knife, or scissors.

Place the chicken breast in a slow cooker and sprinkle all of the ingredients on top.

Set the slow cooker on high and cook for 4 hours.

When there is 30 minutes left, remove the lid and shred chicken. Place the lid back on until the timer is done.
Notes
Allow the chicken to cool for 20-30 minutes before storing in the refrigerator, or freezer.
More High Protein recipes: