High Protein Breakfast Smoothie
Are you always in a rush before leaving each morning? Do you have trouble finding time to eat something healthy? Worry no more. This high protein breakfast smoothie is for you.
Believe me, I've tried my share of protein shake recipes. The problem I always have comes down to time. And if you're like me – you don't have the time to cut, peel, and chop fresh fruit.
There's always the option of not using fruit in your breakfast smoothie. But you'll be missing out on essential vitamins and nutrients these foods can provide to your body.
Why I love this Smoothie
This specific recipe is all about versatility. In other words, you can make it however you want. I only used the five ingredients listed below – but you can always add more (or less). It all comes down to personal preference.
If you don't like egg whites for example, you don't have to use them. But trust me – you won't even be able to taste them after making this smoothie. I always throw them in my blender, because they're a quick way to add more protein.
Ingredients
Believe me when I say this high protein breakfast smoothie is super easy to make. It only requires five ingredients – things that you might already have in your kitchen. Here's what you will need exactly: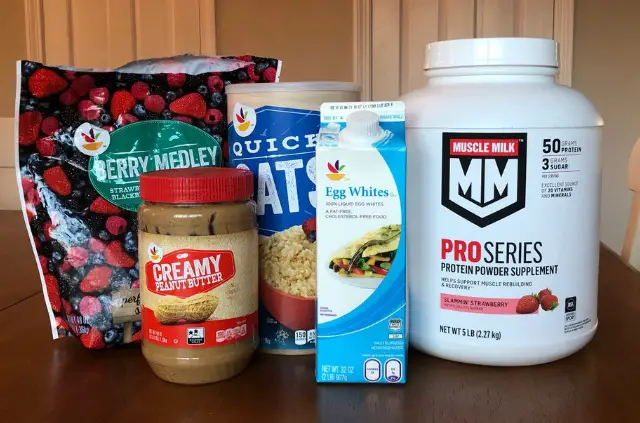 Protein powder: This is the best ingredient whenever you're looking to make a smoothie with a lot of protein. It not only adds protein, but plenty of flavor too. You can choose whatever flavor you want (I opted for strawberry for this recipe).
Egg whites: If you're looking to lose weight, egg weights are ideal for adding more protein, without the calories. And there's nothing unsafe about drinking egg whites (as long as they are pasteurized).
Peanut butter: You can't have a balanced meal without healthy fats. There's where peanut butter comes in handy. It will also improve the taste of your smoothie and make it thicker. If you're not a fan of peanut butter, you always have the option of using honey.
Oats: So far this recipe has centered around protein and fat. But what about the carbohydrates? We aren't done yet! Blending your favorite oats will not only add essential carbs to this shake, but they will also keep you more full throughout the morning.
Frozen fruit: Last but certainly not least. You can't make a breakfast smoothie without adding some fruit. Fruits are an excellent source of vitamins, minerals, and they're high in fiber. I recommend frozen fruit because it's easier to prepare and they won't go bad.
Instructions
If you've ever made a smoothie before, you know just how easy they are to make. There's really no trick to it, because all you need to do is throw all the ingredients in your blender and it's ready.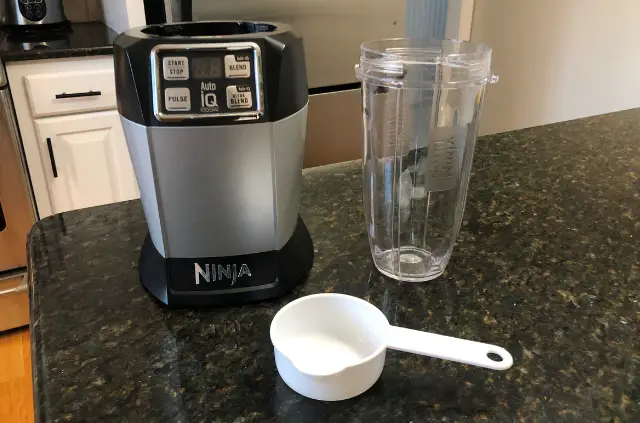 Start by adding the egg whites, frozen berries and water. I've learned that it's harder to add liquids at the end, because you won't have much room leftover.
After these ingredients are in, throw in your peanut butter and oatmeal. I always make sure to add the protein powder last – that way it won't get caked on to the blender cup.
Keep in mind, this will vary depending on the make and model of your blender. On my Nutri Nina (pictured above) the cup is connected to the machine upside down. In other words, blades will make contact with the protein powder first.
Frequently Asked Questions
Is it healthy to have a smoothie for breakfast?
There's nothing wrong with enjoying a homemade smoothie for breakfast, as long as you're using healthy ingredients. You want to avoid syrup, cream, and other heavy items. These ingredients are not only high in sugar, but can also add more calories.
Do I have to use egg whites?
No, you definitely don't have to use egg whites in this recipe. I only use them because they're an easy way to get more protein in my diet. And remember, egg whites are perfectly safe to drink (as long as they're pasteurized).
Can I use other ingredients?
Yes! Even though this recipe is a staple of mine, feel free to add, or remove whatever you want. If you're looking to make a high protein breakfast smoothie with low carbs, try taking out the oats.
Storing Leftovers
If you don't plan on drinking this high protein breakfast smoothie right away, you can always save it for later. You can either place it in the fridge, or pour the liquid into a insulated water bottle so it will stay cool.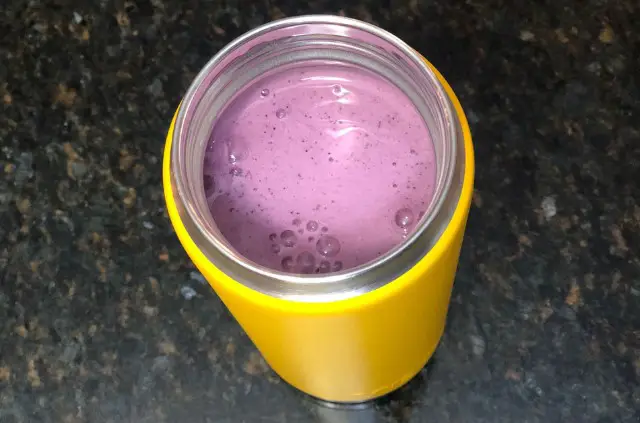 Just remember to give the smoothie a good shake before you drink it (especially if it's been sitting for a few hours). Anytime you're mixing ingredients together, there's a good chance some of the fruit will float down to the bottom.
Print Recipe
High Protein Breakfast Smoothie
Here's a quick breakfast idea that can be made in minutes.
Ingredients
1

scoop

protein powder

1/2

cup

frozen berries

6

tbsp

egg whites

1/2

cup

old fashioned oats

1

tbsp

peanut butter

8

oz

water
Instructions
Place egg whites, frozen berries and water into blender.

Then add peanut butter, oatmeal and protein powder.

Blend on high for 45-60 seconds, or until desired consistency.
Notes
Serve and drink immediately, or store the smoothie in a insulated water bottle.
Nutrition
Final Thoughts
Being in a rush doesn't mean you have to eat sugary cereal. It's no secret that fueling the body with healthy ingredients is essential.
And if you're someone with an active lifestyle, this breakfast smoothie is for you. It will not only taste delicious, but high amounts of protein will keep you full all morning.
More High Protein recipes: