Macro Friendly Bacon, Egg & Cheese
There's nothing like waking up to a freshly made bacon, egg and cheese sandwich. This classic breakfast covers all of your nutritional needs, plus it can be eaten on the go. But is this really a healthy way to start your morning?
Related: Try my free macro calculator
It all comes down to your fitness goals and the amount of ingredients being used. Below I'll walk you through how to craft a macro friendly bacon, egg and cheese sandwich that you can enjoy guilt-free.
Breakfast Sandwich Options
Versatility is what makes this breakfast sandwich so macro friendly. You can drop the egg and only use egg whites for less fat. Or you can try turkey bacon if you want to free up some calories.
The point is that not everyone needs a 422 calorie breakfast sandwich. This meal fits perfectly into my specific macronutrient needs, but it might not for you. Everyone is different – so don't be afraid to add (or remove) certain ingredients.
Ingredients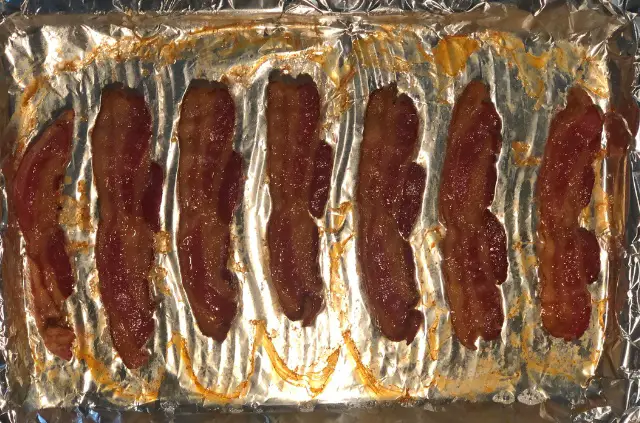 Bacon: Meat is truly the cornerstone of any breakfast sandwich (sorry vegetarians). I prefer lower sodium bacon, because this meal is already loaded with salt. You can also microwave turkey bacon for fewer calories and fat.
Egg: You can't have a bacon, egg and cheese without the egg. Just keep in mind, this is where fat and calories can really add up. I only used one fried egg here, for a more traditional breakfast sandwich taste.
Egg whites: This might be the best ingredient for people looking to add more protein to their breakfast. Egg whites can also be great for people watching fat intake. That's probably why they are a staple in the bodybuilding community.
Cheese: You can always get creative when adding cheese to your breakfast sandwich. For starters, there are dozens of cheese varieties that will satisfy any palate. But cheese can also be low fat (or no-fat) which makes it macro friendly.
Bread: A breakfast sandwich isn't complete without two quality slices of bread. Keep an eye on the macros here, as calories and carbs can sneak up on you. Just two slices of the store bought bread I used contains 140 calories and 24g carbs.
Frequently Asked Questions
Can a bacon egg and cheese be healthy?
Yes, a bacon, egg and cheese sandwich can be healthy. This meal is packed with protein and it will keep you satisfied all morning. Just remember that calories and fat can add up with cheese and bacon.
How many calories in a bacon, egg and cheese?
There are 422 calories in this bacon, egg and cheese sandwich. Keep in mind, the amount of calories will vary depending on the type of bacon and cheese, as well as the amount of ingredients used.
Is an egg and cheese healthy?
Yes, an egg and cheese breakfast sandwich is also a healthy option. This can be a perfect meal for individuals who need to eat fewer calories. Taking off the bacon will also lower the amount of fat content and sodium.
Instructions
Putting this delicious breakfast sandwich together is quite simple. I should start out by saying that I'm a big fan of cooking bacon in the oven. It will not only get perfectly crispy, but there's also less mess to clean up.
Not all bacon will cook the same – so make sure to follow the directions on your package. It helps to line a baking sheet with tin foil, so you won't have to clean up the grease after.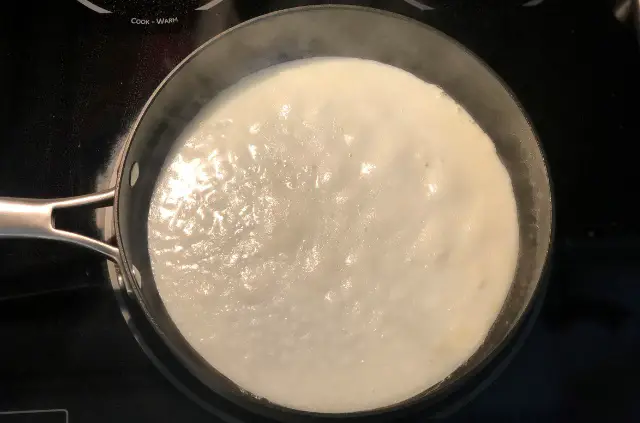 You can start the eggs while the bacon is in the oven. I recommend cooking the egg whites first, followed by the whole egg. This will give it that classic breakfast sandwich taste, because the egg won't be mixed in with the egg whites.
Don't forget to throw your bread in the toaster while the eggs are on the pan. This step is optional, as some of you might prefer soft, fluffy bread. Once everything is cooked, all you need to do is build the sandwich.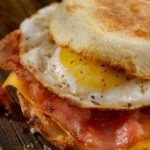 Print Recipe
Bacon, Egg & Cheese (Macro Friendly)
This macro friendly bacon, egg and cheese is the best way to start your morning.
Ingredients
1

egg

4

oz

egg whites

1

slice

cheese

2

slices

bacon

2

slices

bread
Instructions
Preheat your oven according to the temperature found on the bacon package.

Lightly spray a pan with cooking spray and add egg and egg whites.

Place bread in toaster while the eggs are cooking.

Remove bacon from oven and place on toast. Add eggs and cheese. Enjoy!
Notes
Bacon, egg and cheese (egg whites only)
352 calories – 14g fat – 26g carbs – 26g protein
Bacon, egg and cheese
422 calories – 19g fat – 26g carbs – 32g protein
Nutrition
Related Articles
Search Terms
Macro friendly bacon egg and cheese
Healthy bacon egg and cheese