Crispy Microwave Turkey Bacon
Yes, you can cook turkey bacon in the microwave! It's actually one of my favorite ways to make it. That's because it saves time and cleaning up is super easy.
All you need to do is follow the instructions in this recipe. By the end, you will have crispy turkey bacon that's cooked evenly. There's no need to use the oven!
This turkey bacon is the perfect way to start your morning. It's lower in calories and fat (compared to pork) – which makes for a healthier breakfast that won't weigh you down.
I never thought microwave turkey bacon would come close to pan-fried or oven bacon. But it tastes just as good and the process is so much easier!
Ingredients
All you need for this recipe is a package of turkey bacon. I used Original Oscar Mayer Turkey Bacon with less sodium and fat. It's also gluten-free.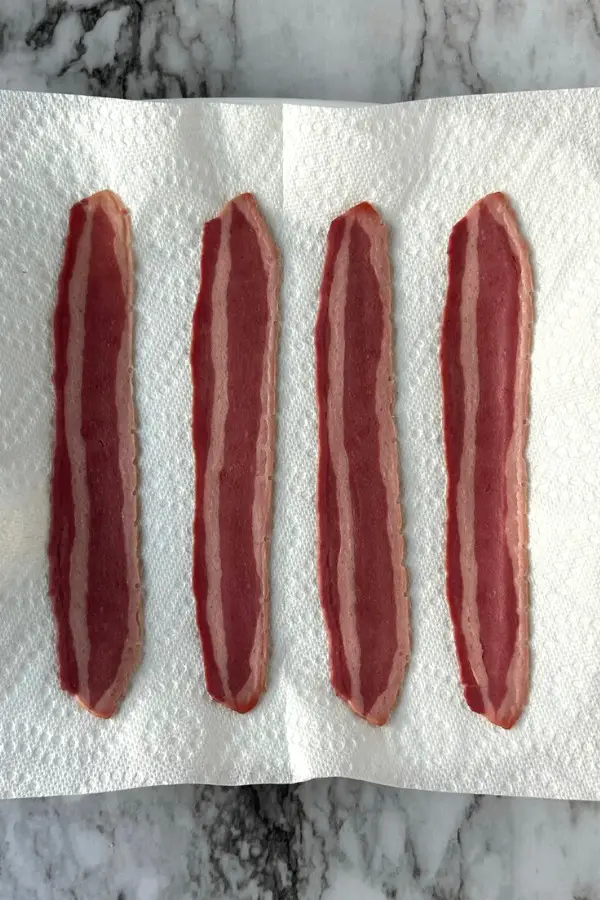 I like this brand because it's macro-friendly. A serving size (1 slice) only has 35 calories, 2.5g fat, 0g carbs, and 2g protein. It's great on its own, or you could put it on a breakfast sandwich.
Instructions
This method for cooking turkey bacon is so easy! You can scroll down to the recipe card for more detailed instructions. But here's a general explanation of the steps:
Begin by placing four slices of turkey bacon on a microwave-safe plate lined with paper towels. Make sure each slice is evenly spaced and they are not touching each other.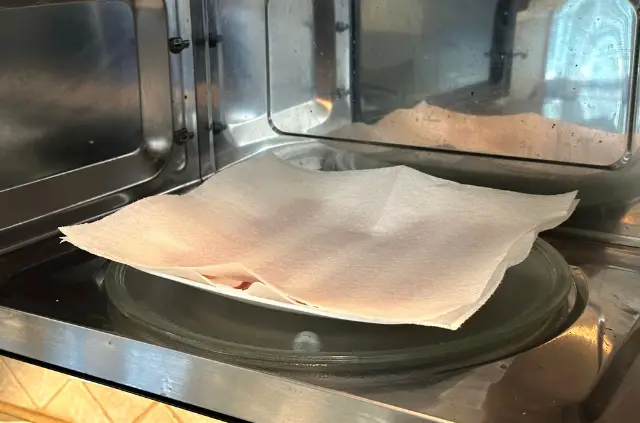 Then, cover the strips with an additional layer of paper towels. This step is critical, because it will prevent a mess in your microwave that you would need to clean later.
Finally, microwave the turkey bacon on high until crispy. In my microwave, this takes 2½ minutes. You can always do more or less time to achieve your desired texture.
Expert Tips
Microwaves come in different sizes and power levels. It's best to check after 2 minutes to see if the turkey bacon is done. You want to avoid overcooking if this is your first time.
There's always the option of cooking the turkey bacon longer. You should also be careful when removing the plate from the microwave. The plate will be very hot, so try using oven mitts.
Lastly, make sure to remove the turkey bacon from the paper towels quickly. After a few minutes the slices will begin to stick – which will make them hard to remove.
Storing Leftovers
You can keep turkey bacon leftovers in the fridge for 2-3 days. They won't taste as fresh after this amount of time has passed. It's best to use an airtight container or plastic bag.
Make sure to heat them gradually when placing them in the microwave. Put the turkey bacon on a microwave-safe plate and cover with a paper towel to prevent splattering.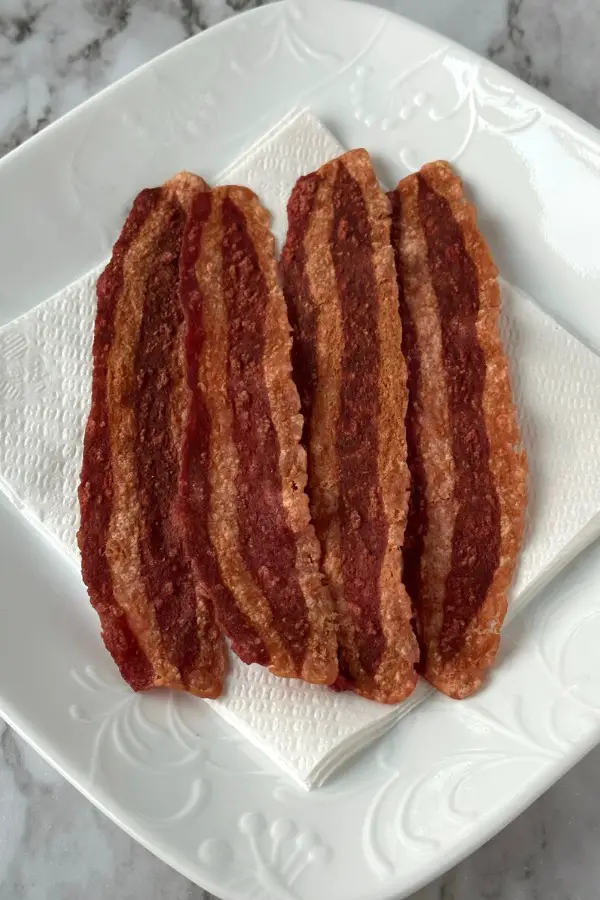 Frequently Asked Questions:
How long do you microwave turkey bacon?
Turkey bacon will take 2½ minutes to cook on high heat. But the exact amount of time will vary depending on the power of the microwave. It will sizzle and have a crispy appearance when done.
What if I like chewy bacon?
Not everyone wants crispy turkey bacon. If you prefer the slices to be more chewy, cook them for a shorter amount time. Place the turkey bacon in your microwave for 2 minutes and check to see if it's chewy enough for you.
Why do you use paper towels?
Paper towels are essential when microwaving turkey bacon. The base layer absorbs some of the fat – which helps make the slices crispy. And the top layer helps prevent splatter in your microwave.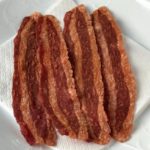 Print Recipe
Crispy Microwave Turkey Bacon
Microwaving turkey bacon is the fastest and easiest way to cook it. It comes out perfectly crispy and evenly cooked.
Instructions
Place two paper towels on a microwave-safe plate. 

Arrange four slices of turkey bacon on the paper towels, making sure there is enough space between them. 

Place two additional paper towels on top of the turkey bacon slices. 

Microwave on high until crispy. In my microwave, this takes 2½ minutes.

Take out the microwave-safe plate. Use oven mitts, as the plate will be very hot.

Repeat the steps above to make more turkey bacon.
Notes
Not all microwaves have the same power output. Check on turkey bacon after 2 minutes to see if it's done. This will prevent overcooking.
Remember to remove turkey bacon from the paper towels quickly. After a few minutes the slices will begin to stick and this will make them difficult to remove.
Nutrition per serving
Serving: 1 slice | Calories: 35 | Protein: 2g | Carbohydrates: 1g | Fat: 2.5g | Saturated Fat: 1g | Sodium 140mg
Nutrition
Don't like the taste of turkey? Try my classic oven bacon recipe instead!
Related: How Long Does Turkey Bacon Last?