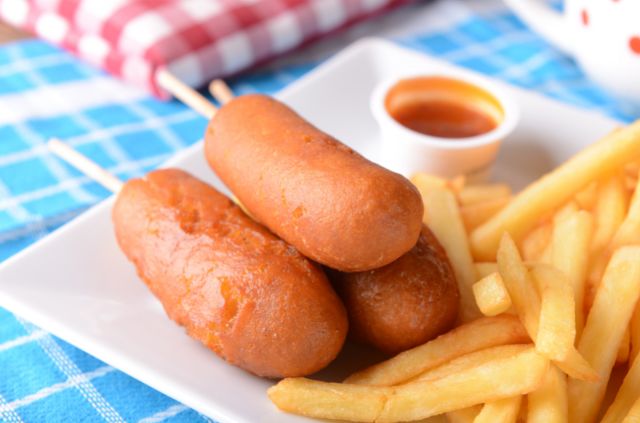 Corn dogs are an easy way to consume fried food on a stick. But people sensitive to dairy might not know the ingredients. This brings us to the following question: do corn dogs have dairy?
Unfortunately most corn dogs have dairy, because the batter will contain milk. If you avoid eating dairy it's best to skip this snack at the local fair – as it will certainly contain dairy.
If you look hard enough, you might be able to find diary free corn dogs in the frozen section of your local grocery store. And if that doesn't work, there's always the option of making them from scratch.
Corn Dog Ingredients
If you're looking for frozen corn dogs, you can easily spot whether or not the product has milk from the bold section at the bottom. Here's a list of corn dog ingredients I found off the box at my local grocery store:
Chicken frank (mechanically separated chicken, water, dextrose, salt. Contains 2% or less of corn syrup, spices, sodium phosphate, flavorings, paprika and paprika oleoresin, sodium erythorbate, sodium, nitrite), Batter (enriched flour [wheat flour, niacin, iron, thiamine mononitrate, riboflavin, folic acid], sugar, degermed yellow corn meal, salt, leavening [sodium acid pyrophosphate, sodium bicarbonate], soy flour, soybean oil, dried honey, onion powder, soy lecithin, nonfat milk, egg) Water, Cooked in Vegetable Oil (contains one or more of: corn oil, cotton seed oil, soybean oil). Contains Milk, Eggs, Wheat and Soy.

Source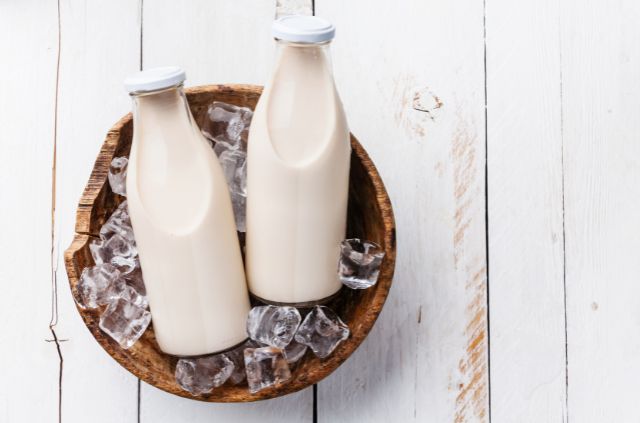 Notice that the last sentence mentions milk, as well as other popular ingredients people tend to avoid. People with dietary restrictions and allergies can skip down to this part for a quick summary.
Dairy Free Corn Dog Recipe
If you're unsuccessful in the search for dairy free corn dogs, the other option is to make them from scratch. The homemade recipe below will taste much better than the frozen option and you will know exactly what's in them.
Ingredients
1 1/4 cup oat milk (or dairy free milk)
1 tbsp ground flax seeds
1 tbsp white vinegar
2 tbsp water
1 cup cornmeal
1 cup flour
1 tsp salt
1 1/2 tsp baking powder
1/4 tsp baking soda
1/4 tsp red pepper
1 tbsp agave
8 hot dogs (or sausages)
Oil
Directions
Begin by filling a tall pot with oil and heat. The oil should be able to cover the hot dogs (make sure not to fill it up too much).
In a mixing bowl, combine the oat milk and vinegar.
Then mix the flax seeds and water in a smaller bowl and let it set for five minutes.
Add the flour, cornmeal, salt, baking powder, baking soda, and red pepper to the first bowl and whisk.
Then combine the flax seeds and water, before adding the agave.
Now that the batter is made, begin dipping the hot dogs in to coat the exterior. Don't forget to put sticks in when you're done.
Then place the hot dogs into the oil in order to fry them. This can take anywhere from 3-6 minutes – depending on the temperature of the pot.
The corn dogs will be done when the outside looks golden brown. Make sure not to over crowd the pot, as it will only take longer for the corn dogs to cook.
Let the corn dogs sit for a few minutes, so they can cool down before eating. You can enjoy them plain, or with ketchup, mustard, or your favorite sauce.
Further Reading
Search Terms
Do corn dogs have dairy?
Are corn dogs dairy free?