Do Corn Dogs Have Gluten?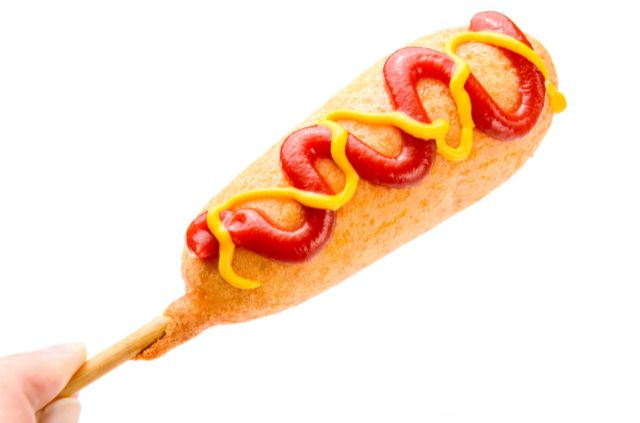 There's nothing like the smell of fresh corn dogs. They are not only delicious, but corn dogs are super easy to eat on a stick. This brings us to the question of the day: do corn dogs have gluten?
Unfortunately, most corn dogs have gluten, as they contain wheat flour. That means they are not gluten free and you should avoid them on your next trip to the local fair.
The good news is, you can always make your own recipe at home and ditch the wheat flour. Continue reading if you still have a hankering to bite into a crispy and fluffy fried corn dog.
What are Corn Dogs?
When it comes to fair food, corn dogs are an American staple. Corn dogs are made by inserting a stick into a hot dog (or sausage), covering it in batter, and finally deep frying the outside.
In other words, they are deep fried pieces of meat that are extremely unhealthy. But the end result is a crispy outer shell, combined with a fluffy interior mixed with your favorite meat.
Plus, they're easy to eat on a stick – which makes them one of America's most popular fair foods. Because we all know that eating fast food on the go is about as good as it gets.
Hot Dogs and Gluten
Even when corn dog batter doesn't have wheat flour, there's still a chance for gluten. You might be surprised to learn that not all hot dogs are gluten free.
That means if you're making corn dogs from scratch, using gluten free batter isn't enough. So, you should know which brands to avoid, even if you're having a hot dog without the bun.
Gluten Free Hot Dog Brands
Applegate Naturals
Bar-S
Boar's Head
Hebrew National
Hoffy
Jennie-O
Kayem
Kirckland
Kunzler
Miller's
Nathan's Famous
Omaha Steaks
Organic Valley
Sahlen's
These are just some brands that offer gluten free hot dogs. However, it's still a good idea to check the label before consuming. There's a small chance some companies can change their list of ingredients.
And if you have celiac disease, or are sensitive to gluten in general, you might want to avoid eating products that have been manufactured in a facility with wheat.
Gluten Free Corn Dog Recipe
The safest option when it comes to eating gluten free corn dogs is to make your own. You will know exactly what's in them, but they will also taste better than the frozen kind.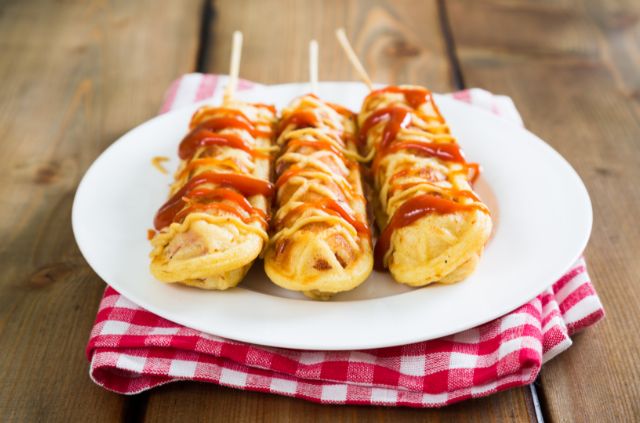 Ingredients
Gluten free hot dogs of your choice
1/2 cup gluten free corn flour
1/2 cup milk
1 tbsp sugar
2 tsp baking powder
1/2 tsp salt
1 egg
Vegetable oil
Skewer sticks
Instructions
Mix the corn flour, sugar, baking powder, and salt into a large bowl.
Then add the egg and milk, and whisk.
Add the oil to a tall pot and make sure there is enough to cover the hot dogs.
Bring the oil to 350°F over medium-high heat. You can place the skewers in the hot dogs while this warms up.
Place the hot dogs into the batter (mixed earlier) before slowly submerging them into the oil for frying.
Let the corn dog float for 2-3 minutes in the oil, then flip. This will make sure both sides are evenly cooked.
Continue following this process for the remaining hot dogs.
You can cook more than one hot dog at a time, but be careful not to overcrowd the pan. This will make the process take much longer and the corn dogs may not cook evenly.
Further Reading
Search Terms
Do corn dogs have gluten?
Gluten free corn dog recipe
How to make gluten free corn dogs