Protein Rice Krispies Treats
Let me warn you – these protein Rice Krispies treats are highly addictive! I'll admit… I sampled them before they had time to cool down.
What's so great about this recipe? Everyone knows just how good Rice Krispies are. The problem is they have very little nutritional value.
That's why I designed these homemade protein Rice Krispies treats. You won't even be able to taste the difference when using unflavored whey protein powder.
Ingredients
Marshmallows: The foundation of this protein Rice Krispies recipe begins with marshmallows. Make sure to buy the mini marshmallows, because they will be easier to measure and melting them down takes less time.
Rice Cereal: Regular Rice Krispies (or rice cereal) will work for this recipe. I opted for the store brand variety to save some money. At the end of the day, you won't be able to taste a difference with the other ingredients.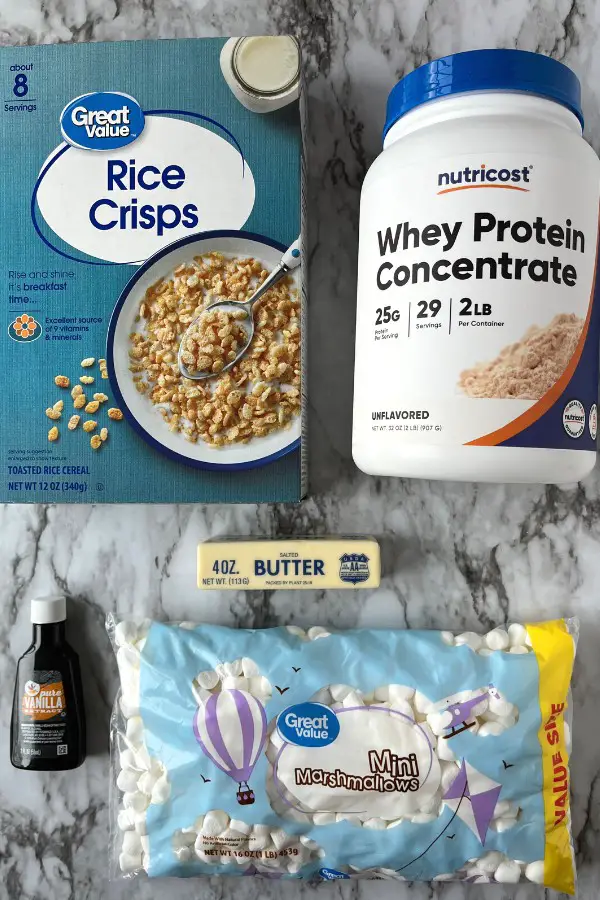 Unflavored Whey: The problem with traditional Rice Krispies is that they lack protein. This is where unflavored whey can help. It mixes right in with melted marshmallows and the unflavored variety won't come with a weird aftertaste.
Butter & Vanilla Extract: There's nothing special about these final ingredients. A small amount of butter will give these treats richness and structure. Vanilla extract on the other hand will enhance flavor of other ingredients in this recipe.
Instructions
Begin by melting the butter in a pot on low heat. Make sure the pot is large enough, because it needs to hold the marshmallows and rice cereal together.
Once the butter has melted, add marshmallows and begin to stir. Even on low heat, the marshmallows will begin to melt quickly and you will need to stir them periodically.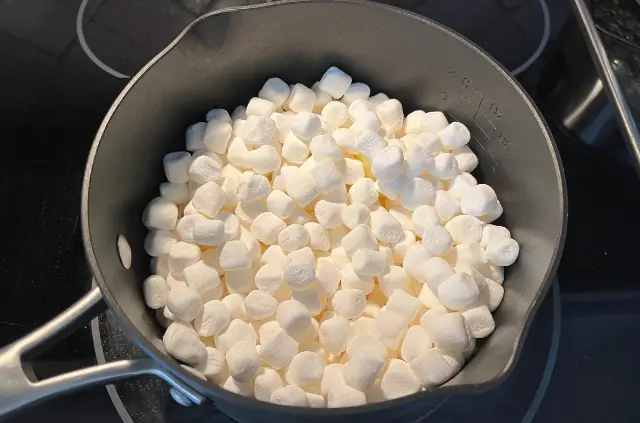 Remove the pan once the marshmallows have melted (the mixture should be smooth, with no lumps). Then, slowly pour in the unflavored whey protein powder.
At this point it's important to work quickly, because the mixture can begin to get tougher to stir. That's because marshmallows will start to harden once removed from heat.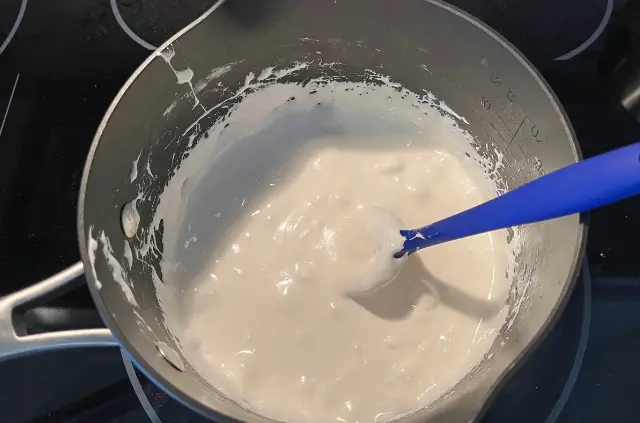 Finally, add the rice cereal and stir until everything is combined. You can then transfer the mixture to a 9×9 pan – just make sure to spray it first with cooking oil.
Use your spatula and scrap any remaining marshmallows from the sides of the bowl. Try using the back of a spoon, or your hands to press the mixture into the pan.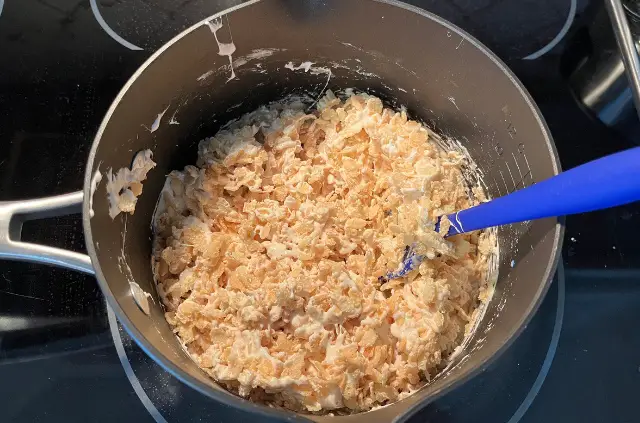 This is the challenging part – as the mixture can be very sticky to deal with. You can also spray a piece of parchment paper with non-stick cooking spray and place it over the mixture to spread it out.
Frequently Asked Questions
Why do bodybuilders eat Rice Krispie Treats?
Fueling your body before exercising is critical. And while complete meals are ideal, you need easily digestible carbs as the workout gets closer. Rice Krispie Treats provide the body with quick energy that will help fuel your training session.
Do Rice Krispies have a lot of protein?
Kellogg's Rice Krispies Treats have less than 1 gram of protein per serving size. These protein Rice Krispies have over 7 grams per bar. And while this isn't a substantial amount of protein, it's much more than the original version.
Can I add more whey protein powder?
You can add as much protein powder as you want. Just remember to slowly stir it in, because whey can be very dry. I find that 2 scoops is the perfect amount for these bars, as it adds just enough protein without sacrificing taste.
Are Rice Krispies just puffed rice?
Yes, Rice Krispies are made from puffed rice grains. The main ingredients in Rice Krispies are rice, sugar, salt, and barley malt flavoring. For this recipe, I used a store brand rice cereal that works just as well.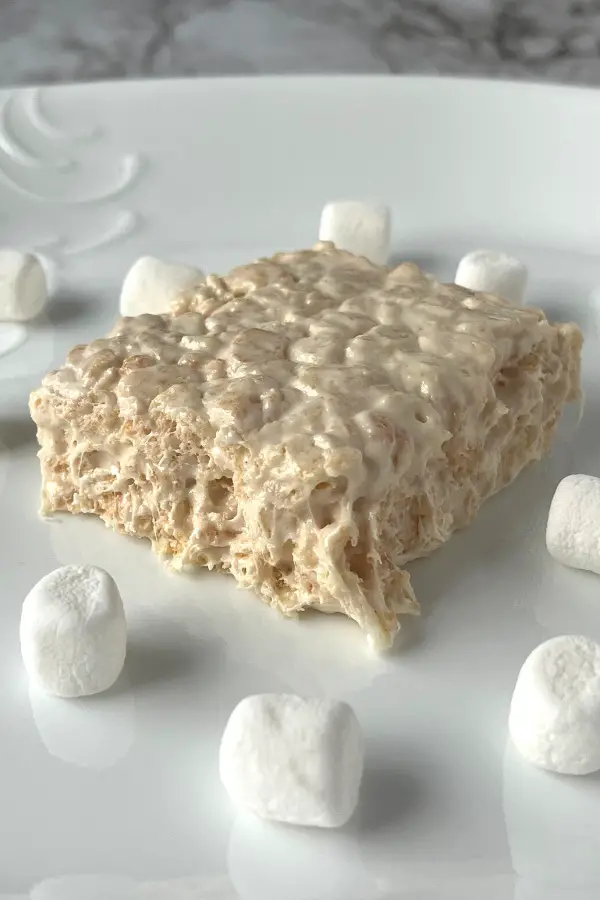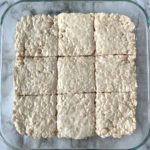 Print Recipe
Protein Rice Krispies Treats
These protein Rice Krispies are addictive! With 7.5g of protein per bar, they're the perfect pre-workout snack you can enjoy guilt-free.
Equipment
9×9 baking dish

1 large pot

1 spatula
Ingredients
3

tbsp

butter

6

cups

mini marshmallows (10 ounces)

4

cups

rice cereal (4 ounces)

2

scoops

unflavored whey protein
Instructions
Melt the butter in a large pot over low heat.

Once melted, add marshmallows and stir periodically. Remove from heat when the marshmallows are smooth and all lumps are gone.

Add the protein powder in and mix with a spatula. Make sure to work quickly, as the marshmallows will begin to harden.

Lastly, add the rice cereal and mix until everything is combined.

Transfer the mixture into a 9×9 pan sprayed with cooking oil. Use the spatula and scrape any remaining mixture from the bowl.

Use the back of a spoon, or your hands to press the mixture into the pan. Let it sit for 30 minutes, before cutting up the bars.
Notes
Serving: 1 bar | Calories: 180kcal | Carbohydrates: 37g | Protein: 7.5g | Fat: 2g
Rice cereal and marshmallows can be very sticky when handling. Try lightly wetting your hands if you're having trouble transferring the mixture into a pan.
Then, spray a piece of parchment paper and place it over the mixture. Press your hands over the mixture, spreading it out evenly in the pan. This will make things easier, because parchment paper will act as a barrier between the mixture and your hands.
Nutrition
Further reading:
Search Terms
Protein rice krispies
Protein rice crispy treats